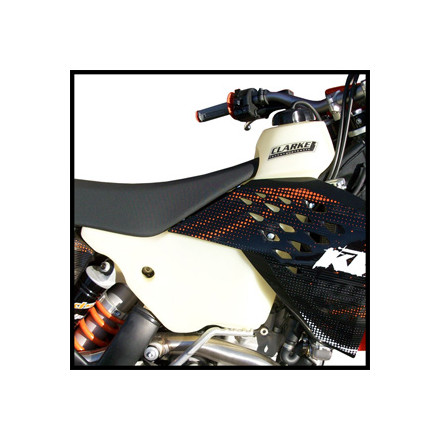 5 Star
19
4 Star
6
3 Star
2
2 Star
3
1 Star
5
Fitment was great
Fitment on bike was great good-looking product fast shipment.
2 months 22 days ago
California
Fit perfectly love it!
Great thank had to drill fuel valve hole bigger other than that very satisfied
3 months 14 days ago
Syracuse
Ovwrsized
Bought for my kx125. Larger then the stock gas tank. Can see through to see gas level. Ok product.
Over 6 months ago
Albuquerque
Clark tank
Going to fit the bill. Looks great . Have not mounted yet but from what I've read which is why I ordered it in the first place. Glad I did .
Over 8 months ago
California
Decent tank
I bought this a little while ago and put it on and 2 of the holes don't line up like not even close it's not that big of a deal but they should be more precise. Also the tank was not cleaned out. I should have cleaned it out.
Over 10 months ago
North Bonneville wa.
Clarke gas tank
I got my new Clarke gas tank it fix right on. Now I can ride a lot farther than I could before. It is nice not to worry about fuel. And it looks good.
Awesome!
Bought a month ago and it's been doing the job great! I've read some review and some people said they had to cut and drill holes to make the petcock fit, I wouldn't recommend that, what I did was heated up the gas tank with a hair dryer for a minute or so and then the petcock fit perfectly no leaks, love these tanks especially for two stokes going on long rides, my plastics fit also when I put them back on, strongly recommend this product.
Over 11 months ago
fort irwin
1 year 3 months ago
Wasilla Ak
Easy install
Got the 3.9 tank for my DRZ 400, easy install only problem is they say you can use factory petcock, while technically you can it doesn't work with fuel tube. The bends are so tight it collapses the line. I wrapped mine in spring until I get Clark petcock. I would suggest buying Clarke petcock with your tank then no issues.
See all bikes that this part fits...
| Product Variant | Manufacturer Part # |
| --- | --- |
| Clear / 3.1 Gallon | 11496-01 |
| Clear / 3.2 Gallon | 11448-01 |
| Clear / 4.0 Gallon | 11416-IN-01 |
| Clear / 1.7 Gallon | 11489-01 |
| Clear / 2.3 Gallon | 11600-01 |
| Clear / 3.3 Gallon | 11436-01 |
| Clear / 3.9 Gallon | 11409-01 |
| Clear / 3.5 Gallon | 11459-01 |
| Clear / 3.0 Gallon | 11467-01 |
| Clear / 3.3 Gallon | 11389-01 |
| Clear / 3.4 Gallon | 11413-01 |
| Clear / 3.6 Gallon | 11487-01 |
| Clear / 3.3 Gallon | 11388-01 |
| Clear / 3.8 Gallon | 11338-01 |
| Clear / 4.0 Gallon | 11387-01 |
| Clear / 4.7 Gallon | 11322-01 |
| Clear / 3.1 Gallon | 11437-01 |
| Clear / 3.1 Gallon | 11339-01 |
| Clear / 3.9 Gallon | 11435-01 |
| Clear / 2.6 Gallon | 11469-01 |
| Clear / 3.2 Gallon | 11476-01 |
| Clear / 2.8 Gallon | 11442-01 |
| Clear / 3.0 Gallon | 11449-01 |
| Clear / 2.6 Gallon | 11458-01 |
| Clear / 3.1 Gallon | 11468-01 |
| Clear / 2.8 Gallon | 11614-01 |
| Black / Stock | 11410-03 |
| Black / 1.7 Gallon | 11489-03 |
| Black / 5.0 Gallon | 11304-03 |
| Black / 3.1 Gallon | 11437-03 |
| Black / Stock | 11439-03 |
| Black / 2.6 Gallon | 11469-03 |
| Black / 3.2 Gallon | 11476-03 |
| Black / Stock | 11470-03 |
| Black / 2.8 Gallon | 11442-03 |
| Black / 3.0 Gallon | 11449-03 |
| Black / Stock | 11474-03 |
| Black / 2.3 Gallon | 11600-03 |
| Black / 2.6 Gallon | 11458-03 |
| Black / Stock | 11473-03 |
| Stock / 3.2 Gallon | 11434-03 |
| Stock / 3.3 Gallon | 11436-03 |
| Stock / 3.1 Gallon | 11437-09 |
| Stock / 3.1 Gallon | 11339-09 |
| Stock / 3.3 Gallon | 11388-09 |
| Stock / Stock | 11418-09 |
| White / 3.5 Gallon | 11305-IN-02 |
| White / Stock | 11410-02 |
| White / 3.1 Gallon | 11437-02 |
| 2001+ Yellow / 3.9 Gallon | 11409-15 |
| Red / 4.7 Gallon | 11322-04 |
| YZ Reflex Blue / Stock | 11439-09 |