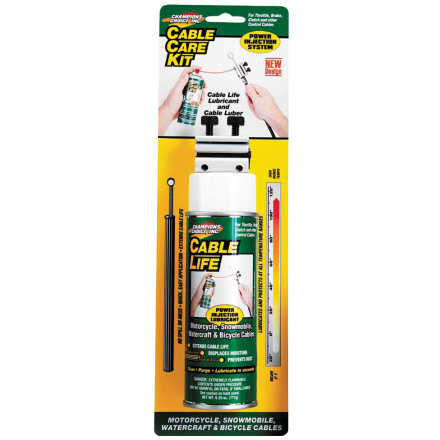 Champions Choice Cable Luber Kit
13 Reviews
6

reviews

3

reviews

2

reviews

0

reviews

2

reviews
All Reviews
1 year 7 months ago
Norcal
This product is terrible.
This does not work at all. Just makes a mess.
1 year 8 months ago
Bismarck, ND, USA
Expand the life of your cables!
If you want to save money on cables and also not have stuck throttle and sticky clutch lever this is what you need!
1 year 9 months ago
Des Moines, IA
1 year 10 months ago
Irmo, SC, USA
Does the job but messy
It does get lube in the cable but the majority of the lube ends up on the floor. Really messy to deal with. Make sure you have plenty of rags around because you're going to need them. I still think it's better than the old school way of lubing a cable.
2 years 7 months ago
Atlanta, GA, USA
Lube it up
Did the job of lubing my clutch cable nicely. A little messy, but much easier with the cable luber tool than it would be without it.
Easy to use
Some fluid does leak out but it's not a big problem it's a lot easier and a lot less of a mess then doing it without it
Quick and easy
Works as advertised makes a tedious maintenance issue quick and simple.
Over 4 years ago
Bargersville, IN, USA
Very easy to use
The product works just as described. The clamp has easy to grip screws and does seal very well. The lube is great about not running out for days after application.
Over 6 years ago
Temecula
The cheese
If you don't have this in you toolbox, you should switch to a Razor scooter. Along with a tire pressure gauge, this should be with you at all times.
Over 7 years ago
Portland, OR
Cable luber does what it say....
Works pretty well, but it does leak out of the ends no matter how you position the cable within the rubber holder. Keeping a rag handy is a must. All in all, the cables do get the lube and I get to keep riding.
Ask a Question
There have been no questions asked about the Champions Choice Cable Luber Kit.
# Part Numbers
| Product Variant | Manufacturer Part # |
| --- | --- |
| Champions Choice Cable Luber Kit | 20006 |