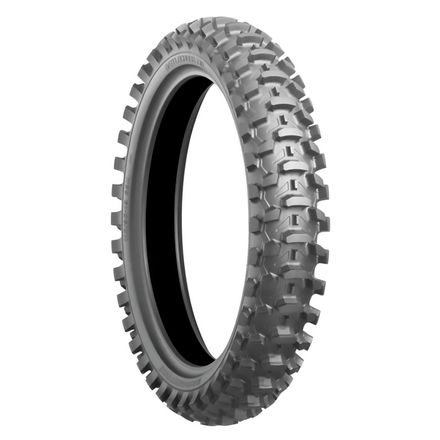 Bridgestone Battlecross X10 Rear Tire
---
36% Off - Save up to $50.00
---
5 Star
72
4 Star
21
3 Star
5
2 Star
1
1 Star
1
2 months 28 days ago
Alabama
Great tires!
I put a set of these x40's on my 03 suzuki DR-Z 250. They feel and look great!
4 months 25 days ago
Bowling green ky
Need more sauce? Here ya go
As good quality as the expensive Dunlop's and maxxis tires good tire good grip just don't ride on road or these knobs are gone in a split second
Big knobbies
Bought this for my son's bike. He's impressed with the knobs and wear so far
Over 8 months ago
Kingman, az
Excellent grip,wear
This tire has held up very well, and works well across a variety of terrain
Over 10 months ago
Jasper County, Mo
Great features!
I am happy with this tire great bite in softball and rocky terrain good all around tire. Medium tread will last on the trails and great sidebite for hitting the berms hard.
Over 11 months ago
Greeneville, Tn
Awesome tire
Not my first review on these tires. Bought front and rear in a package. Great overall traction noted in hard packed, loose sand, mud and normal terrain. Recommend these highly. The knobs on these tires stand about an inch tall or higher!
Amazing tire life!
I bought this tire for my Alta mxr (replacing the factory Dunlop mx3)...the Bridgestone is amazing on traction and so far the tire has 12 hours of ride time on it and it looks like the day it was installed! I will be buying more of these as time goes on!
1 year ago
Greeneville, Tn
Pretty Badas- tires
Bought the front and rear of these a few weeks back. They grip like crazy, cant keep the front end down on my thumper. Great choice of tire for sand, clay, soft dirt conditions. Haven't rode on hard packed yet. Thought I would post a picture of both the front and rear. Meaty isn't the word. Cheers to Bridgestone.
Only good for blue groove, that's it...
There is nothing intermediate about this tire. Dry, Hard pack ONLY!!! After only 200 miles of rocky hardpack gravel and varied New England terrain I've come to the conclusion this F & R combo was the absolute WORST I have EVER ridden... I wouldn't even give them away to any of my riding buds.. I tried Tu-bliss @5 psi with little better result, 2 psi works the best because of the ridiculously stiff sidewall, almost no tire squirm at 0 psi on Tu-bliss!!! Front worked the best around 6-8 psi. Dry conditions no complaints (wear like steel, harder than a DOT tire), Damp conditions start to get sketchy and unpredictable.... NOW, exposed tree roots, mossy slick conditions, loose muck, wet rocks, wet leaves, riverbeds, sand, sticky mud and silt, or mountainsides FORGET ABOUT IT, almost useless... Wet log crossing is a chore and loose or damp rock gardens almost GUARANTEE a front end wash-out. If you live in the North east and its wet, stay away from this tire. The most UN-versatile Intermediate-Hard tire avail... Wish Bridgestone would bring back the old tried and proven 403/404's...
Great tire!
First new tire I've ever had and I couldn't be more impressed.
Josh
Q: Would the front tire make a difference in the sand dunes? or just get any knobby?
DaveGearhead
Over 9 months ago
A: The front sand tire will allow for easier turning. That being said, most people just run a knobby up front.
Bronson
Q: What is the hardness of this tire hard, medium, or soft?
honda2017
2 years 8 months ago
A: medium to hard terrain but works well in all conditions. we use this x40 on the rear and an x30 on the front for all of our racing conditions on four different bikes.
See all bikes that this part fits...
| Product Variant | Manufacturer Part # |
| --- | --- |
| 110/90-19 | 007211 |
| 100/90-19 | 007210 |