Braking
Braking W-FIX Brake Rotor - Rear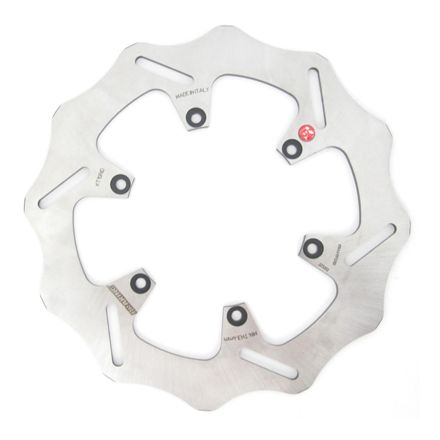 Braking W-FIX Brake Rotor - Rear
---
10% Off - Save up to $17.00
---
5 Star
3
4 Star
2
3 Star
0
2 Star
0
1 Star
0
Write a Review
Write your review and you'll automatically be entered in our monthly drawing. Include an image or video to DOUBLE your chances to win!
Write Your Review
99 KX250
Good so far. Not enough hours to give 5 stars
1 year ago
Pennsylvania, USA
Braking W-Fix rotor
If you have an aftermarket hub, double check clearance of mounting bolts with the rear brake caliper bracket. My hub was slightly wider and required me to modify my bracket for the wheel to spin without interference. Check before you mount it and apply pads to it. Other than that it is a fantastic replacement and has lasted awhile so far. Durable and cool looking.
Over 4 years ago
Powhatan, VA 23139, USA
Rotorhead
We like Braking rotors because they have that factory works bike look and the performance is phenomenal.
Over 5 years ago
Michigan, USA
High quality part with minor fit issues
This rotor replaces my stock wave rear rotor. The finish has excellent cross-hatching and looks great. Run-out is very precise and the braking feel right away is very good with fresh pads. The bolt holes are a little larger than those on the stock rotor, so the rotor doesn't index tightly on the hub. Also the counter-sinks are shallower than on the stock rotor so the bolt heads stick out a little bit more than stock. This is causing slight interference with my Enduro Engineering disc guard carrier. I expect to have a satisfying long service life from this product.
shafly
Q: What is the diameter of this rotar?
Looking for about 220mm
MotoSportExpert
2 years 11 months ago
A: We would need to know which model bike you have. Please give us a call at 888-676-8853 and we would be happy to help you out with your order.
ACESJB
Q: Braking w-fix brake rotors, front and rear
Why are the ftont and rear rotors a different design
MotoSportBrett
Over 4 years ago
A: The front rotor is a more aggressive design than the rear because most of your stopping should be done with the front brake.
See all bikes that this part fits...
| Product Variant | Manufacturer Part # |
| --- | --- |
| Braking W-FIX Brake Rotor - Rear | HO60RID |
| Braking W-FIX Brake Rotor - Rear | HO25RID |
| Braking W-FIX Brake Rotor - Rear | HO06RID |
| Braking W-FIX Brake Rotor - Rear | HO13RID |
| Braking W-FIX Brake Rotor - Rear | KW41RID |
| Braking W-FIX Brake Rotor - Rear | KW01RID |
| Braking W-FIX Brake Rotor - Rear | KW32RID |
| Braking W-FIX Brake Rotor - Rear | KW18RID |
| Braking W-FIX Brake Rotor - Rear | KT11RID |
| Braking W-FIX Brake Rotor - Rear | KT06RID |
| Braking W-FIX Brake Rotor - Rear | KT07RID |
| Braking W-FIX Brake Rotor - Rear | SZ21RID |
| Braking W-FIX Brake Rotor - Rear | SZ40RID |
| Braking W-FIX Brake Rotor - Rear | SZ01RID |
| Braking W-FIX Brake Rotor - Rear | SZ38RID |
| Braking W-FIX Brake Rotor - Rear | SZ44RID |
| Braking W-FIX Brake Rotor - Rear | YA52RID |
| Braking W-FIX Brake Rotor - Rear | YA10RID |
| Braking W-FIX Brake Rotor - Rear | YA22RID |
| Braking W-FIX Brake Rotor - Rear | BW05RID |
| Braking W-FIX Brake Rotor - Rear | WF7508 |
| Braking W-FIX Brake Rotor - Rear | BL02RID |
| Braking W-FIX Brake Rotor - Rear | DC05RID |
| Braking W-FIX Brake Rotor - Rear | AP08RID |
| Braking W-FIX Brake Rotor - Rear | BW06RID |
| Braking W-FIX Brake Rotor - Rear | BW03RID |
| Braking W-FIX Brake Rotor - Rear | DC04RID |
| Braking W-FIX Brake Rotor - Rear | YA08RID |
| Braking W-FIX Brake Rotor - Rear | HO22RID |
| Braking W-FIX Brake Rotor - Rear | HO51RID |
| Braking W-FIX Brake Rotor - Rear | WF7503 |
| Braking W-FIX Brake Rotor - Rear | KW40RID |
| Braking W-FIX Brake Rotor - Rear | KW38RID |
| Braking W-FIX Brake Rotor - Rear | KW30RID |
| Braking W-FIX Brake Rotor - Rear | WF7501 |
| Braking W-FIX Brake Rotor - Rear | SZ08RID |
| Braking W-FIX Brake Rotor - Rear | SZ22RID |
| Braking W-FIX Brake Rotor - Rear | WF7511 |
| Braking W-FIX Brake Rotor - Rear | YA34RID |
| Braking W-FIX Brake Rotor - Rear | YA24RID |
| Braking W-FIX Brake Rotor - Rear | HO40RID |
| Braking W-FIX Brake Rotor - Rear | HO47RID |
| Braking W-FIX Brake Rotor - Rear | HO53RID |
| Braking W-FIX Brake Rotor - Rear | WF9501 |
| Braking W-FIX Brake Rotor - Rear | SZ43RID |
| Braking W-FIX Brake Rotor - Rear | YA30RID |
| Braking W-FIX Brake Rotor - Rear | YA43RID |
| Braking W-FIX Brake Rotor - Rear | YA51RID |
| Braking W-FIX Brake Rotor - Rear | WF4509 |
| Braking W-FIX Brake Rotor - Rear | WF7502 |
| Braking W-FIX Brake Rotor - Rear | WF7504 |
| Braking W-FIX Brake Rotor - Rear | WF7514 |
| Braking W-FIX Brake Rotor - Rear | WF7518 |
| Braking W-FIX Brake Rotor - Rear | WF7528 |
| Braking W-FIX Brake Rotor - Rear | WF7533 |
| Braking W-FIX Brake Rotor - Rear | WF8510 |
| Braking W-FIX Brake Rotor - Rear | HO09RID |
| Braking W-FIX Brake Rotor - Rear | KT10RID |