Boyesen
Boyesen Supercooler Water Pump Kit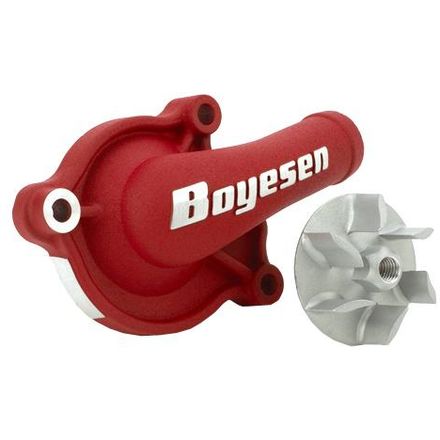 Boyesen Supercooler Water Pump Kit
---
10% Off - Save up to $22.00
---
5 Star
36
4 Star
5
3 Star
1
2 Star
0
1 Star
1
Write a Review
Write your review and you'll automatically be entered in our monthly drawing. Include an image or video to DOUBLE your chances to win!
Write Your Review
3 days 13 hours ago
Florida
Looks great
I purchased it about two weeks ago and the notice my bike is much cooler
5 days 11 hours ago
Troy, ohio
Excellent product
Easy to install, looks great, keeps bike cooler then stock impeller!
Works well.
I bought this to keep our hot running YFZ 450 cooler. It works well.
Didnt fit, neither of the 2 did!
Bought 2 for the same bike neither of then fit, it was as if they came morphed
Great product and easy to install
I bought the the supercooler to help my bike run cooler. It was easy to install and adds a factory bike look to the bike. I also added engine ice to lower the temps by 10-20 degrees.
3 months 9 days ago
Fargo nd
Sweet look!
Grate product easy installation
4 months 10 days ago
Columbus
No more overheating
Replaced my OEM water pump after overheating, no more problems overheating after riding hard.
4 months 20 days ago
Columbus,Ohio
Great product
Keeps the bike running awesome
Over 5 months ago
Nashua NH
Stopped my bike from overheating
Works great on 2008 CRF250R. The bike is older and one of the issues was radiator fluid overheating and coming out o f the overflow tube. I use Engine Ice to help but this new water pump did the trick. I also got the OEM bearing and washers for the water pump from Motosport while i was at it. I used to ride in Glamis a lot and this is the first thing that anyone who rides in extremely hot climates says to do to a bike.
See all bikes that this part fits...
| Product Variant | Manufacturer Part # |
| --- | --- |
| Magnesium | WPK-06AM |
| Red | WPK-06AR |
| White | WPK-06AW |
| Magnesium | WPK-06M |
| Magnesium | WPK-07AM |
| Red | WPK-07AR |
| White | WPK-07AW |
| Magnesium | WPK-07M |
| Red | WPK-07R |
| White | WPK-07W |
| Magnesium | WPK-09M |
| Red | WPK-09R |
| White | WPK-09W |
| Blue | WPK-10L |
| Magnesium | WPK-10M |
| White | WPK-10W |
| Black | WPK-17AB |
| Blue | WPK-17AL |
| Magnesium | WPK-17AM |
| Blue | WPK-17L |
| White | WPK-17W |
| Black | WPK-18AB |
| Blue | WPK-18AL |
| Magnesium | WPK-18AM |
| White | WPK-18AW |
| Blue | WPK-18L |
| White | WPK-18W |
| Black | WPK-20B |
| Magnesium | WPK-20M |
| Red | WPK-20R |
| White | WPK-20W |
| Magnesium | WPK-26AM |
| Red | WPK-26AR |
| White | WPK-26AW |
| Blue | WPK-32AL |
| White | WPK-32AW |
| Blue | WPK-37AL |
| White | WPK-37AW |
| Magnesium | WPK-37M |
| Magnesium | WPK-38AM |
| Blue | WPK-38CL |
| White | WPK-38CW |
| Magnesium | WPK-38M |
| Black | WPK-41B |
| Blue | WPK-41L |
| Magnesium | WPK-41M |
| Orange | WPK-41O |
| White | WPK-41W |
| Black | WPK-44AB |
| Blue | WPK-44AL |
| Magnesium | WPK-44AM |
| Orange | WPK-44AO |
| White | WPK-44AW |
| Blue | WPK-44L |
| White | WPK-44W |
| Black | WPK-45AB |
| Blue | WPK-45AL |
| Magnesium | WPK-45AM |
| Orange | WPK-45AO |
| White | WPK-45AW |
| Blue | WPK-45L |
| White | WPK-45W |
| Black | WPK-07B |
| Black | WPK-07AB |
| Black | WPK-06B |
| Black | WPK-06AB |
| Black | WPK-17B |
| Black | WPK-18B |
| Black | WPK-27B |
| Black | WPK-26B |
| Black | WPK-26AB |
| Black | WPK-08B |
| Black | WPK-37B |
| Black | WPK-38B |
| Black | WPK-38AB |
| Black | WPK-01B |
| Black | WPK-08AB |
| Black | WPK-09B |
| Black | WPK-10B |
| Black | WPK-12AB |
| Black | WPK-24B |
| Black | WPK-31AB |
| Black | WPK-32AB |
| Black | WPK-37AB |
| Black | WPK-38CB |
| Black | WPK-44B |
| Black | WPK-45B |
| Black | WPK-80B |
| Silver | WPK-17 |
| Silver | WPK-18 |
| Silver | WPK-27 |
| Silver | WPK-26 |
| Silver | WPK-37 |
| Silver | WPK-24 |
| Silver | WPK-28 |
| Silver | WPK-31 |
| Magnesium | WPK-17M |
| Magnesium | WPK-18M |
| Magnesium | WPK-27M |
| Magnesium | WPK-26M |
| Magnesium | WPK-24-M |
| Magnesium | WPK-31AM |
| Magnesium | WPK-32AM |
| Magnesium | WPK-37AM |
| Magnesium | WPK-38CM |
| Magnesium | WPK-44M |
| Magnesium | WPK-45M |
| Blue | WPK-31AL |
| White | WPK-31AW |
| Orange | WPK-44O |
| Orange | WPK-45O |