Boyesen
Boyesen Supercooler Water Pump Kit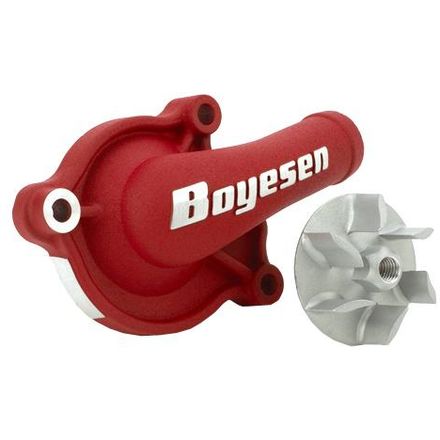 Boyesen Supercooler Water Pump Kit
---
10% Off - Save up to $22.00
---
5 Star
34
4 Star
3
3 Star
1
2 Star
0
1 Star
0
Write a Review
Write your review and you'll automatically be entered in our monthly drawing. Include an image or video to DOUBLE your chances to win!
Write Your Review
1 month 15 days ago
Fargo nd
Sweet look!
Grate product easy installation
2 months 16 days ago
Columbus
No more overheating
Replaced my OEM water pump after overheating, no more problems overheating after riding hard.
2 months 26 days ago
Columbus,Ohio
Great product
Keeps the bike running awesome
3 months 18 days ago
Nashua NH
Stopped my bike from overheating
Works great on 2008 CRF250R. The bike is older and one of the issues was radiator fluid overheating and coming out o f the overflow tube. I use Engine Ice to help but this new water pump did the trick. I also got the OEM bearing and washers for the water pump from Motosport while i was at it. I used to ride in Glamis a lot and this is the first thing that anyone who rides in extremely hot climates says to do to a bike.
Works great for keeping the motor cool
Awesome product, but sometimes it's a little difficult to install due to the tight tolerances of the impeller shaft
Easy bolt on performance
Definitely a wise investment to keep your bike running as cool as possible!!! Motor temps are between 7-12 degrees cooler after a 15 minute Moto. Installation was extremely easy won't have a bike without one ever again!!!!
Best mod for trail riding
Since installing the pump I haven't noticed the FE501 Getting too hot in the slow tight tech stuff. Best mod for a big bore four-stroke!
4 months 27 days ago
Eatonton Georgia,31024
It's awesome
Very happy with my purchase
Over 6 months ago
Whiteville, NC 28472, USA
Awesome!
I bought this pump for my two Yamaha's and now my ktm. I would highly recommend this product to anyone. It definitely helps out here in the hot summers we have in the Carolinas.
See all bikes that this part fits...
| Product Variant | Manufacturer Part # |
| --- | --- |
| Magnesium | WPK-06AM |
| Red | WPK-06AR |
| White | WPK-06AW |
| Magnesium | WPK-06M |
| Magnesium | WPK-07AM |
| Red | WPK-07AR |
| White | WPK-07AW |
| Magnesium | WPK-07M |
| Red | WPK-07R |
| White | WPK-07W |
| Magnesium | WPK-09M |
| Red | WPK-09R |
| White | WPK-09W |
| Blue | WPK-10L |
| Magnesium | WPK-10M |
| White | WPK-10W |
| Black | WPK-17AB |
| Blue | WPK-17AL |
| Magnesium | WPK-17AM |
| White | WPK-17AW |
| Blue | WPK-17L |
| White | WPK-17W |
| Black | WPK-18AB |
| Blue | WPK-18AL |
| Magnesium | WPK-18AM |
| White | WPK-18AW |
| Blue | WPK-18L |
| White | WPK-18W |
| Black | WPK-20B |
| Magnesium | WPK-20M |
| Red | WPK-20R |
| White | WPK-20W |
| Magnesium | WPK-26AM |
| Red | WPK-26AR |
| White | WPK-26AW |
| Blue | WPK-32AL |
| White | WPK-32AW |
| Blue | WPK-37AL |
| White | WPK-37AW |
| Magnesium | WPK-37M |
| Magnesium | WPK-38AM |
| Blue | WPK-38CL |
| White | WPK-38CW |
| Magnesium | WPK-38M |
| Black | WPK-41B |
| Blue | WPK-41L |
| Magnesium | WPK-41M |
| Orange | WPK-41O |
| White | WPK-41W |
| Black | WPK-44AB |
| Blue | WPK-44AL |
| Magnesium | WPK-44AM |
| Orange | WPK-44AO |
| White | WPK-44AW |
| Blue | WPK-44L |
| White | WPK-44W |
| Black | WPK-45AB |
| Blue | WPK-45AL |
| Magnesium | WPK-45AM |
| Orange | WPK-45AO |
| White | WPK-45AW |
| Blue | WPK-45L |
| White | WPK-45W |
| Black | WPK-07B |
| Black | WPK-07AB |
| Black | WPK-06B |
| Black | WPK-06AB |
| Black | WPK-17B |
| Black | WPK-18B |
| Black | WPK-27B |
| Black | WPK-26B |
| Black | WPK-26AB |
| Black | WPK-08B |
| Black | WPK-37B |
| Black | WPK-38B |
| Black | WPK-38AB |
| Black | WPK-01B |
| Black | WPK-08AB |
| Black | WPK-09B |
| Black | WPK-10B |
| Black | WPK-12AB |
| Black | WPK-24B |
| Black | WPK-31AB |
| Black | WPK-32AB |
| Black | WPK-37AB |
| Black | WPK-38CB |
| Black | WPK-44B |
| Black | WPK-45B |
| Black | WPK-80B |
| Silver | WPK-17 |
| Silver | WPK-18 |
| Silver | WPK-27 |
| Silver | WPK-26 |
| Silver | WPK-37 |
| Silver | WPK-24 |
| Silver | WPK-28 |
| Silver | WPK-31 |
| Magnesium | WPK-17M |
| Magnesium | WPK-18M |
| Magnesium | WPK-27M |
| Magnesium | WPK-26M |
| Magnesium | WPK-24-M |
| Magnesium | WPK-31AM |
| Magnesium | WPK-32AM |
| Magnesium | WPK-37AM |
| Magnesium | WPK-38CM |
| Magnesium | WPK-44M |
| Magnesium | WPK-45M |
| Blue | WPK-31AL |
| White | WPK-31AW |
| Orange | WPK-44O |
| Orange | WPK-45O |