Boyesen
Boyesen Rad Valve Replacement Reeds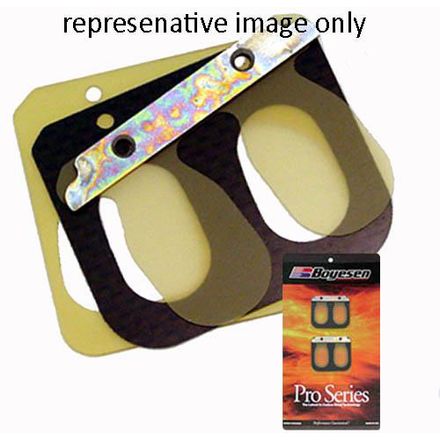 Boyesen Rad Valve Replacement Reeds
---
6% Off - Save up to $4.00
---
Enter to Win $500
Write your review and you'll automatically be entered in our monthly drawing. Include an image or video to DOUBLE your chances to win!
Write Your Review
Dan 710
Q: Will these go with the stock valve? 
Paul
2 months 4 days ago
A: The Boyesen Rad Valve Replacement Reeds are designed ONLY for Boyesen RAD Valves.
Johnny
Q: What brand are stock reed valves on 1989 Rm 125?
Michael
Over 9 months ago
A: This is an answer that you may possibly find in your owner's manual, and no where else. Unless you contact Suzuki directly.
See all bikes that this part fits...
| Product Variant | Manufacturer Part # |
| --- | --- |
| Boyesen Rad Valve Replacement Reeds | PSR-001 |
| Boyesen Rad Valve Replacement Reeds | PSR-012 |
| Boyesen Rad Valve Replacement Reeds | PSR-034 |
| Boyesen Rad Valve Replacement Reeds | PSR-100 |
| Boyesen Rad Valve Replacement Reeds | PSR-110 |
| Boyesen Rad Valve Replacement Reeds | PSR-116 |
| Boyesen Rad Valve Replacement Reeds | PSR-118 |
| Boyesen Rad Valve Replacement Reeds | PSR-12 |
| Boyesen Rad Valve Replacement Reeds | PSR-120 |
| Boyesen Rad Valve Replacement Reeds | PSR-135 |
| Boyesen Rad Valve Replacement Reeds | PSR-14 |
| Boyesen Rad Valve Replacement Reeds | PSR-140 |
| Boyesen Rad Valve Replacement Reeds | PSR-142 |
| Boyesen Rad Valve Replacement Reeds | PSR-145 |
| Boyesen Rad Valve Replacement Reeds | PSR-150 |
| Boyesen Rad Valve Replacement Reeds | PSR-16 |
| Boyesen Rad Valve Replacement Reeds | PSR-166 |
| Boyesen Rad Valve Replacement Reeds | PSR-168 |
| Boyesen Rad Valve Replacement Reeds | PSR-17 |
| Boyesen Rad Valve Replacement Reeds | PSR-170 |
| Boyesen Rad Valve Replacement Reeds | PSR-171 |
| Boyesen Rad Valve Replacement Reeds | PSR-172 |
| Boyesen Rad Valve Replacement Reeds | PSR-173 |
| Boyesen Rad Valve Replacement Reeds | PSR-174 |
| Boyesen Rad Valve Replacement Reeds | PSR-178 |
| Boyesen Rad Valve Replacement Reeds | PSR-181 |
| Boyesen Rad Valve Replacement Reeds | PSR-183 |
| Boyesen Rad Valve Replacement Reeds | PSR-185 |
| Boyesen Rad Valve Replacement Reeds | PSR-19 |
| Boyesen Rad Valve Replacement Reeds | PSR-190 |
| Boyesen Rad Valve Replacement Reeds | PSR-192 |
| Boyesen Rad Valve Replacement Reeds | PSR-194 |
| Boyesen Rad Valve Replacement Reeds | PSR-196 |
| Boyesen Rad Valve Replacement Reeds | PSR-199 |
| Boyesen Rad Valve Replacement Reeds | PSR-203 |
| Boyesen Rad Valve Replacement Reeds | PSR-205 |
| Boyesen Rad Valve Replacement Reeds | PSR-207 |
| Boyesen Rad Valve Replacement Reeds | PSR-213 |
| Boyesen Rad Valve Replacement Reeds | PSR-22 |
| Boyesen Rad Valve Replacement Reeds | PSR-23 |
| Boyesen Rad Valve Replacement Reeds | PSR-54 |
| Boyesen Rad Valve Replacement Reeds | PSR-65 |
| Boyesen Rad Valve Replacement Reeds | PSR-66 |
| Boyesen Rad Valve Replacement Reeds | PSR-67 |
| Boyesen Rad Valve Replacement Reeds | PSR-89 |
| Boyesen Rad Valve Replacement Reeds | PSR-96 |
| Boyesen Rad Valve Replacement Reeds | PSR-99 |
| Boyesen Rad Valve Replacement Reeds | RL-06 |
| Boyesen Rad Valve Replacement Reeds | RL-07 |
| Boyesen Rad Valve Replacement Reeds | RL-08 |
| Boyesen Rad Valve Replacement Reeds | RL-12 |
| Boyesen Rad Valve Replacement Reeds | RL-18 |
| Boyesen Rad Valve Replacement Reeds | RL-20 |
| Boyesen Rad Valve Replacement Reeds | RL-21 |
| Pro Series | PSR-002 |
| Pro Series | PSR-040 |
| Pro Series | PSR-115 |
| Pro Series | PSR-119 |
| Pro Series | PSR-121 |
| Pro Series | PSR-122 |
| Pro Series | PSR-13 |
| Pro Series | PSR-133 |
| Pro Series | PSR-15 |
| Pro Series | PSR-153 |
| Pro Series | PSR-167 |
| Pro Series | PSR-195 |
| Pro Series | PSR-197 |
| Pro Series | PSR-20 |
| Pro Series | PSR-201 |
| Pro Series | PSR-209 |
| Pro Series | PSR-21 |
| Pro Series | PSR-211 |
| Pro Series | PSR-215 |
| Pro Series | PSR-50 |
| Pro Series | PSR-71 |
| Pro Series | PSR-87 |
| Pro Series | PSR-91 |
| Power Series | RL-02 |
| Power Series | RL-03 |
| Power Series | RL-05 |
| Power Series | RL-11 |
| Power Series | RL-19 |