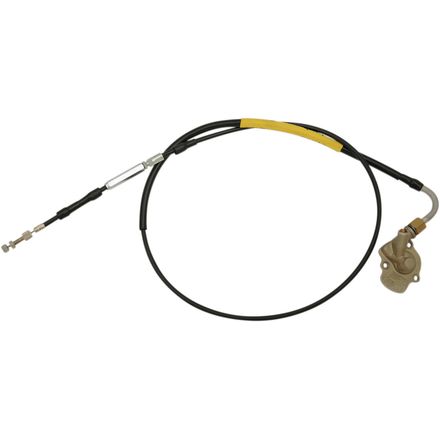 5 Star
2
4 Star
1
3 Star
0
2 Star
0
1 Star
1
Awesome
Launches hard - love it! Cable not long enough to follow original cable routing, but all good.
Over 8 years ago
nampa,ID
Dont go without qs3
Awsome product, installed on my 05 crf250 to get rid of the low end bog. not only does it solve the bog issue it starts much easier, and the throttle response is amazing. I dont think it gave the bike any more power it just made what it already had much smoother and easier to accelerate out of corners. Dont try and tune your carb to get rid of the bog, GO BUY THE QS3. Every bike is different so your qs3 might need to be adjusted a little different than the instructions recomend but they will get you very close to perfect.
Over 9 years ago
San Diego, Ca
Great product
This has turned out to be an excellent product! I installed the qs3 on a 2002 yz250f and it fit great. The cable was plenty long enough and came with clear instructions. The bike now has almost instant throttle response and no bog whatsoever. I installed it at the same time as an aftermarket jet kit, so getting the exact jetting and carb tuning took a little time, but this bike has never run so good.
The product gets 4 out of 5 stars because as good as The QuickStart Is, boyensen did not include a new pump diaphram or o-rings in the kit, so you are forced to track them down and order them seperately.
Over 9 years ago
Denver, CO
Did not work
The Quick Start Kit does not work in a 2009 YZ450F. The cable is too short and it pulls the hot start ever so slightly from the bottom of the Quick Shot 3. The throttle response when released idles high and then idles down a few seconds later. When trying to jet for this product I am unable to eliminate the back fire. When replaced with just the Quick Shot 3 the bike runs perfect.
Luke
Q: Will this fit on a 07 crf150r stock carb?
SamS
2 months 13 days ago
A: Yes the Boyeson Quick Start Kit will fit the stock carburetor on your 2007 CRF150R. Just make sure to enter the make, model and year of your bike when ordering because they are bike specific.
Omar
Q: Will this make it an electric start? I have a 2005 yz250f and I need an electric start.
Slim
Q: What happens to the hot start port on my carb if using this product? Does it get plugged and if so , with what?
robert
1 year 1 month ago
A: Its is depend on the bike, this will include the cap for your hot start assist.
Alopes503
Q: Will this fit a 99 yz400f?
TylerGearhead
1 year 3 months ago
A: If you profile you specific machine, year make and model, you can find parts for you own bike. We do have this available for your bike!
Charlie
Q: How does this system work?
I own a rmz250 2008 model in Australia. My bike is a pain to kick start when its hot. My bike already has a hot starter lever but does minimal to assist in kickstarting. Id like to know how this system works and whether it makes hot starts easier.
Ejay
Q: Hot Start Procedure
What is the "problem hot start procedure" mentioned? My 07 KX450F is very hard to start if I drop it whilst it is hot. Should this product make it easier to start in this situation?
MotoSportExpert
Over 3 years ago
A: The Boyesen Quick Start Kit solves tricky 4-stroke hot engine starting problems. Provides an adjustable leak jet circuit for quick hand tuning.Eliminate boggong and hesitation from trapped air in the system.
KPCRF
Q: This was already installed on the CRF450R I bought used but how do I replace the cable? Do I have to buy the entire Quick Start unit again?
The OEM hot-start cable is too short.
MotoSportExpert
Over 4 years ago
A: A replacement hot start cable for the Boyesen QuickStart can be purchased separately. The replacement hot start cable to fit a Honda bike, is part # APC-QC1.
If the part is available through one of our suppliers, we would be happy to order it for you. Please contact one of our sales professionals to inquire about special orders and availability.
Dirt Bike / ATV: 1-888-676-8853
450crfbrap
Q: Can I run the Boyeson QuickStart with R&D powerbowl 2 on my 2005 Crf 450?
MotoSportExpert
Over 4 years ago
A: No. The R&D power bowl uses special internal features that will not be compatible with the Boyesen quick start and shot products.
Matt
Q: Will this work on my quad
I have a 07 outlaw Ktm 525 motor it has a fcr carb witch has started hard when warm from new it does not have a factory hot start set up will this set up work on my machine
MotoSportExpert
Over 4 years ago
A: No. You must have a factory hotstart system on the carb for this product to work.
chris
Q: What to do with top cable and inlet
crf250r honda 2007 installing boysen quick shot
MotoSportRyanT
Over 5 years ago
A: Installation of this kit would required removal of the hot-start cable on your bike as the cable for this would replace the hot-start cable. Additionally, there is a plug that has to be installed to block off the stock hot start's air leak.
See all bikes that this part fits...
| Product Variant | Manufacturer Part # |
| --- | --- |
| Boyesen Quick Start Kit | APC-3QS |
| Boyesen Quick Start Kit | APC-3QSK |