Boyesen
Boyesen Pro Series Carbon Fiber Dual Stage Reeds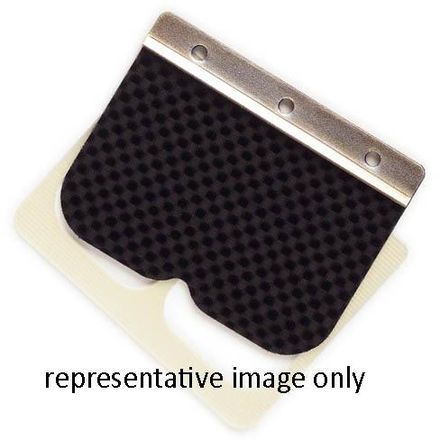 Boyesen Pro Series Carbon Fiber Dual Stage Reeds
---
7% Off - Save up to $4.96
---
5 Star
1
4 Star
0
3 Star
0
2 Star
0
1 Star
0
Write a Review
Write your review and you'll automatically be entered in our monthly drawing. Include an image or video to DOUBLE your chances to win!
Write Your Review
Double reeds
Just bought for Ktm 50 and they really helped the low end pull harder.
Parle
Q: Im looking for carbon fiber low tension reeds for a stock 2012 kx 85 case. Do these come in a LT? (low tension)
Michael
1 month 27 days ago
A: I do not have these available for you, but what you are looking for is manufacturer part #CT176LT
Mike
Q: Do these reeds fit on the oem reed cage or do you need the Boyesen cage?
rknight
2 months 27 days ago
A: These do work with the stock cage.
Mike
Q: Will I have to change the jetting on my carb?
I have a 1994 RM125 I'm rebuilding and I want more power out of it and I'm going to have to get a new Keihin pilot and main jet the stock sizes are 168 and 50 I believe but I would like to know if I could run a setup with these reeds before I buy them because parts are so sparse for the bike. I don't mind to change up the jetting.
Motoexpert
Over 5 months ago
A: Jetting changes are not required or needed when using after market reeds.
Rdav
Q: Is this replacement reeds for the factory cage on a 2001 RM250?
Vforce dowsnt make a reed cage for my bike and boyeson doesn't produce one anymore. So I want to make sure these fit the factory rad valve because the factory reeds suck!
Alex
Over 5 months ago
A: No, these are for a Boyesen cage only. It is still possible to find these cages online, then you can replace the reed!
Erock
Q: Is this replacement for the stock Reed cage?
David
Over 6 months ago
A: Yes
David
Q: Is this Boyesen part number PSR-034
Thumbs
1 year 4 months ago
A: psr-034 the replacement reeds for the rad valve, you have the correct part number but we do not have that set of reeds in stock on our site.
See all bikes that this part fits...
| Product Variant | Manufacturer Part # |
| --- | --- |
| Boyesen Pro Series Carbon Fiber Dual Stage Reeds | PRO-216 |
| Boyesen Pro Series Carbon Fiber Dual Stage Reeds | PSR-55 |
| Boyesen Pro Series Carbon Fiber Dual Stage Reeds | PRO-01 |
| Boyesen Pro Series Carbon Fiber Dual Stage Reeds | PRO-07 |
| Boyesen Pro Series Carbon Fiber Dual Stage Reeds | PRO-111 |
| Boyesen Pro Series Carbon Fiber Dual Stage Reeds | PRO-112 |
| Boyesen Pro Series Carbon Fiber Dual Stage Reeds | PRO-113 |
| Boyesen Pro Series Carbon Fiber Dual Stage Reeds | PRO-114 |
| Boyesen Pro Series Carbon Fiber Dual Stage Reeds | PRO-123 |
| Boyesen Pro Series Carbon Fiber Dual Stage Reeds | PRO-124 |
| Boyesen Pro Series Carbon Fiber Dual Stage Reeds | PRO-125 |
| Boyesen Pro Series Carbon Fiber Dual Stage Reeds | PRO-126 |
| Boyesen Pro Series Carbon Fiber Dual Stage Reeds | PRO-134 |
| Boyesen Pro Series Carbon Fiber Dual Stage Reeds | PRO-139 |
| Boyesen Pro Series Carbon Fiber Dual Stage Reeds | PRO-141 |
| Boyesen Pro Series Carbon Fiber Dual Stage Reeds | PRO-144 |
| Boyesen Pro Series Carbon Fiber Dual Stage Reeds | PRO-146 |
| Boyesen Pro Series Carbon Fiber Dual Stage Reeds | PRO-147 |
| Boyesen Pro Series Carbon Fiber Dual Stage Reeds | PRO-149 |
| Boyesen Pro Series Carbon Fiber Dual Stage Reeds | PRO-151 |
| Boyesen Pro Series Carbon Fiber Dual Stage Reeds | PRO-152 |
| Boyesen Pro Series Carbon Fiber Dual Stage Reeds | PRO-154 |
| Boyesen Pro Series Carbon Fiber Dual Stage Reeds | PRO-157 |
| Boyesen Pro Series Carbon Fiber Dual Stage Reeds | PRO-163 |
| Boyesen Pro Series Carbon Fiber Dual Stage Reeds | PRO-164 |
| Boyesen Pro Series Carbon Fiber Dual Stage Reeds | PRO-165 |
| Boyesen Pro Series Carbon Fiber Dual Stage Reeds | PRO-182 |
| Boyesen Pro Series Carbon Fiber Dual Stage Reeds | PRO-186 |
| Boyesen Pro Series Carbon Fiber Dual Stage Reeds | PRO-187 |
| Boyesen Pro Series Carbon Fiber Dual Stage Reeds | PRO-191 |
| Boyesen Pro Series Carbon Fiber Dual Stage Reeds | PRO-198 |
| Boyesen Pro Series Carbon Fiber Dual Stage Reeds | PRO-02 |
| Boyesen Pro Series Carbon Fiber Dual Stage Reeds | PRO-200 |
| Boyesen Pro Series Carbon Fiber Dual Stage Reeds | PRO-204 |
| Boyesen Pro Series Carbon Fiber Dual Stage Reeds | PRO-208 |
| Boyesen Pro Series Carbon Fiber Dual Stage Reeds | PRO-210 |
| Boyesen Pro Series Carbon Fiber Dual Stage Reeds | PRO-212 |
| Boyesen Pro Series Carbon Fiber Dual Stage Reeds | PRO-214 |
| Boyesen Pro Series Carbon Fiber Dual Stage Reeds | PRO-215 |
| Boyesen Pro Series Carbon Fiber Dual Stage Reeds | PRO-217 |
| Boyesen Pro Series Carbon Fiber Dual Stage Reeds | PRO-218 |
| Boyesen Pro Series Carbon Fiber Dual Stage Reeds | PRO-04 |
| Boyesen Pro Series Carbon Fiber Dual Stage Reeds | PRO-43 |
| Boyesen Pro Series Carbon Fiber Dual Stage Reeds | PRO-44 |
| Boyesen Pro Series Carbon Fiber Dual Stage Reeds | PRO-45 |
| Boyesen Pro Series Carbon Fiber Dual Stage Reeds | PRO-47 |
| Boyesen Pro Series Carbon Fiber Dual Stage Reeds | PRO-48 |
| Boyesen Pro Series Carbon Fiber Dual Stage Reeds | PRO-05 |
| Boyesen Pro Series Carbon Fiber Dual Stage Reeds | PRO-52 |
| Boyesen Pro Series Carbon Fiber Dual Stage Reeds | PRO-56 |
| Boyesen Pro Series Carbon Fiber Dual Stage Reeds | PRO-58 |
| Boyesen Pro Series Carbon Fiber Dual Stage Reeds | PRO-59 |
| Boyesen Pro Series Carbon Fiber Dual Stage Reeds | PRO-06 |
| Boyesen Pro Series Carbon Fiber Dual Stage Reeds | PRO-60 |
| Boyesen Pro Series Carbon Fiber Dual Stage Reeds | PRO-64 |
| Boyesen Pro Series Carbon Fiber Dual Stage Reeds | PRO-72 |
| Boyesen Pro Series Carbon Fiber Dual Stage Reeds | PRO-73 |
| Boyesen Pro Series Carbon Fiber Dual Stage Reeds | PRO-08 |
| Boyesen Pro Series Carbon Fiber Dual Stage Reeds | PRO-85 |
| Boyesen Pro Series Carbon Fiber Dual Stage Reeds | PRO-86 |
| Boyesen Pro Series Carbon Fiber Dual Stage Reeds | PRO-09 |
| Boyesen Pro Series Carbon Fiber Dual Stage Reeds | PRO-97 |
| Boyesen Pro Series Carbon Fiber Dual Stage Reeds | PRO-98 |