Boyesen
Boyesen Dual Stage Power Reeds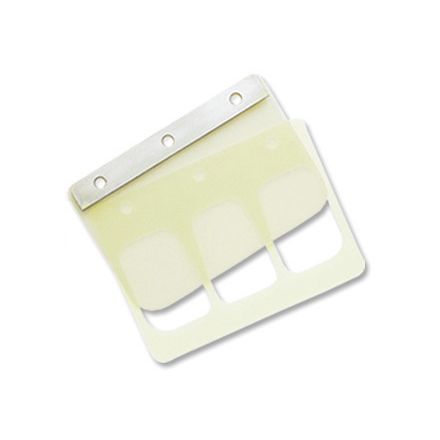 Boyesen Dual Stage Power Reeds
---
6% Off - Save up to $3.00
---
5 Star
46
4 Star
7
3 Star
0
2 Star
0
1 Star
0
Write a Review
Write your review and you'll automatically be entered in our monthly drawing. Include an image or video to DOUBLE your chances to win!
Write Your Review
Works great
I bought this a few weetago for my son's bike and it has done what it is supposed to. Great product for the price
2 months 6 days ago
Baraboo, wi
Great power upgrade
I put these reeds in with a fresh top and and after breaking it in, my 125 was pulling power wheelies at 60. Crazy power and it idles very smooth now.
3 months 6 days ago
Peetz, CO
Helps both low and top end power
Very noticeable power increase both at low end torque and top end. Also helps even out mid range powerband. Installed on my KTM 200 EXC
4 months 23 days ago
Kansas
Works great!
Exactly what I wanted. Fast shipping!
Over 5 months ago
Saint Louis MO
Looks legit
Bought it a month ago, looks great. Looks just like the original and like what the motorsports shop carries.
Over 6 months ago
Stafford Va
Great reeds for the price
Brought my 89' yz250 back to life without needing to change anything. Firat ride on it, so I'm not really sure if it changed the power delivery at all.
Over 10 months ago
Southern California, CA, USA
Great upgrade when doing a rebuild
I replace the reeds whenever I rebuild the top end on my trusty old 1992 CR250. I wouldn't say they give you more power but the dual stage reeds certainly change the character of the power. Last rebuild I did I installed regular single stage Boysen reeds and totally changed/lamed out the bikes power band. I will be going back to the dual stage next time around.
Can't go wrong
I've used Boyesen power reeds in every bike I've owned, from Cr, kx ,Rm an kdx, an every set has increased my HP an control , can't go wrong, don't forget a gasket
Works great.
Bought these to replace the Boyesen reeds that were already in the bike. They work great and I'll be buying them for my new project as well.
See all bikes that this part fits...
| Product Variant | Manufacturer Part # |
| --- | --- |
| Boyesen Dual Stage Power Reeds | 623 |
| Boyesen Dual Stage Power Reeds | 627 |
| Boyesen Dual Stage Power Reeds | 631 |
| Boyesen Dual Stage Power Reeds | 664 |
| Boyesen Dual Stage Power Reeds | 682 |
| Boyesen Dual Stage Power Reeds | 690 |
| Boyesen Dual Stage Power Reeds | 695 |
| Boyesen Dual Stage Power Reeds | 6109 |
| Boyesen Dual Stage Power Reeds | 6117 |
| Boyesen Dual Stage Power Reeds | 6127 |
| Boyesen Dual Stage Power Reeds | 633 |
| Boyesen Dual Stage Power Reeds | 684 |
| Boyesen Dual Stage Power Reeds | 696 |
| Boyesen Dual Stage Power Reeds | 6103 |
| Boyesen Dual Stage Power Reeds | 6110 |
| Boyesen Dual Stage Power Reeds | 6118 |
| Boyesen Dual Stage Power Reeds | 6128 |
| Boyesen Dual Stage Power Reeds | 636 |
| Boyesen Dual Stage Power Reeds | 622 |
| Boyesen Dual Stage Power Reeds | 693 |
| Boyesen Dual Stage Power Reeds | 646 |
| Boyesen Dual Stage Power Reeds | 6124 |
| Boyesen Dual Stage Power Reeds | 691 |
| Boyesen Dual Stage Power Reeds | 6100 |
| Boyesen Dual Stage Power Reeds | 6115 |
| Boyesen Dual Stage Power Reeds | 6120 |
| Boyesen Dual Stage Power Reeds | 607 |
| Boyesen Dual Stage Power Reeds | 638 |
| Boyesen Dual Stage Power Reeds | 683 |
| Boyesen Dual Stage Power Reeds | 688 |
| Boyesen Dual Stage Power Reeds | 692 |
| Boyesen Dual Stage Power Reeds | 6116 |
| Boyesen Dual Stage Power Reeds | 6121 |
| Boyesen Dual Stage Power Reeds | 6129 |
| Boyesen Dual Stage Power Reeds | 615 |
| Boyesen Dual Stage Power Reeds | 6104 |
| Boyesen Dual Stage Power Reeds | 687 |
| Boyesen Dual Stage Power Reeds | 698 |
| Boyesen Dual Stage Power Reeds | 6113 |
| Boyesen Dual Stage Power Reeds | 6122 |
| Boyesen Dual Stage Power Reeds | 647 |
| Boyesen Dual Stage Power Reeds | 676 |
| Boyesen Dual Stage Power Reeds | 681 |
| Boyesen Dual Stage Power Reeds | 699 |
| Boyesen Dual Stage Power Reeds | 6114 |
| Boyesen Dual Stage Power Reeds | 6123 |
| Boyesen Dual Stage Power Reeds | 648 |
| Boyesen Dual Stage Power Reeds | 6105 |
| Boyesen Dual Stage Power Reeds | 642 |
| Boyesen Dual Stage Power Reeds | 694 |
| Boyesen Dual Stage Power Reeds | 697 |
| Boyesen Dual Stage Power Reeds | 6111 |
| Boyesen Dual Stage Power Reeds | 6119 |
| Boyesen Dual Stage Power Reeds | 6130 |
| Boyesen Dual Stage Power Reeds | 644 |
| Boyesen Dual Stage Power Reeds | 679 |
| Boyesen Dual Stage Power Reeds | 689 |
| Boyesen Dual Stage Power Reeds | 6102 |
| Boyesen Dual Stage Power Reeds | 6112 |
| Boyesen Dual Stage Power Reeds | 6131 |
| Boyesen Dual Stage Power Reeds | 685 |
| Boyesen Dual Stage Power Reeds | 6101 |
| Boyesen Dual Stage Power Reeds | 617 |
| Boyesen Dual Stage Power Reeds | 686 |
| Boyesen Dual Stage Power Reeds | 675 |
| Boyesen Dual Stage Power Reeds | 600 |
| Boyesen Dual Stage Power Reeds | 601 |
| Boyesen Dual Stage Power Reeds | 602 |
| Boyesen Dual Stage Power Reeds | 603 |
| Boyesen Dual Stage Power Reeds | 604 |
| Boyesen Dual Stage Power Reeds | 605 |
| Boyesen Dual Stage Power Reeds | 606 |
| Boyesen Dual Stage Power Reeds | 608 |
| Boyesen Dual Stage Power Reeds | 609 |
| Boyesen Dual Stage Power Reeds | 610 |
| Boyesen Dual Stage Power Reeds | 6107 |
| Boyesen Dual Stage Power Reeds | 611 |
| Boyesen Dual Stage Power Reeds | 614 |
| Boyesen Dual Stage Power Reeds | 620 |
| Boyesen Dual Stage Power Reeds | 624 |
| Boyesen Dual Stage Power Reeds | 625 |
| Boyesen Dual Stage Power Reeds | 626 |
| Boyesen Dual Stage Power Reeds | 628 |
| Boyesen Dual Stage Power Reeds | 630 |
| Boyesen Dual Stage Power Reeds | 634 |
| Boyesen Dual Stage Power Reeds | 637 |
| Boyesen Dual Stage Power Reeds | 639 |
| Boyesen Dual Stage Power Reeds | 640 |
| Boyesen Dual Stage Power Reeds | 643 |
| Boyesen Dual Stage Power Reeds | 645 |
| Boyesen Dual Stage Power Reeds | 662 |
| Boyesen Dual Stage Power Reeds | 665 |
| Boyesen Dual Stage Power Reeds | 668 |
| Boyesen Dual Stage Power Reeds | 673 |
| Boyesen Dual Stage Power Reeds | 674 |
| Boyesen Dual Stage Power Reeds | 677 |
| Boyesen Dual Stage Power Reeds | 680 |