Boyesen
Boyesen Clutch Cover Gasket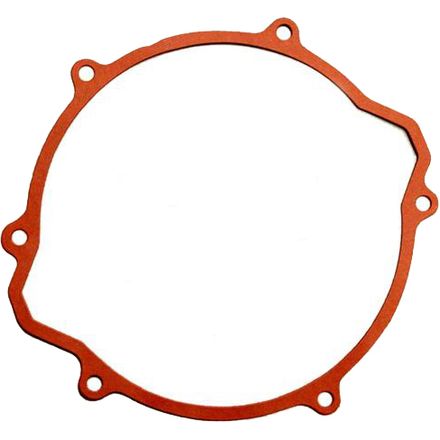 Boyesen Clutch Cover Gasket
5 Star
1
4 Star
2
3 Star
0
2 Star
0
1 Star
1
Over 5 months ago
Portland Oregon
Good
Works like it's supposed to
Over 9 months ago
Jackson, WY
Gasket Leaks bad
I bought this and installed on my 2007 KTM 300xc to replace my worn out gasket. This gasket is leaking worse than my blown out one. Had the bike sitting on kickstand for just 2 hours and it is already leaking to the point of dripping.

Save time and money and order OEM gasket. Just ordered oem and well see... hopefully its better. At least I only waisted $7 plus shipping...
John
Q: Will it fit a stock cover
monstergage24
Q: Will this fit a stock 2004 yz450f clutch cover
DaveGearhead
1 year 8 months ago
A: Yes. Part Number #N14518 is the part that fits your Yamaha.
See all bikes that this part fits...
| Product Variant | Manufacturer Part # |
| --- | --- |
| Boyesen Clutch Cover Gasket | CCG-01 |
| Boyesen Clutch Cover Gasket | CCG-02 |
| Boyesen Clutch Cover Gasket | CCG-02A |
| Boyesen Clutch Cover Gasket | CCG-06 |
| Boyesen Clutch Cover Gasket | CCG-06A |
| Boyesen Clutch Cover Gasket | CCG-06X |
| Boyesen Clutch Cover Gasket | CCG-07 |
| Boyesen Clutch Cover Gasket | CCG-07A |
| Boyesen Clutch Cover Gasket | CCG-11 |
| Boyesen Clutch Cover Gasket | CCG-11A |
| Boyesen Clutch Cover Gasket | CCG-12 |
| Boyesen Clutch Cover Gasket | CCG-12A |
| Boyesen Clutch Cover Gasket | CCG-17 |
| Boyesen Clutch Cover Gasket | CCG-17A |
| Boyesen Clutch Cover Gasket | CCG-18 |
| Boyesen Clutch Cover Gasket | CCG-21A |
| Boyesen Clutch Cover Gasket | CCG-22 |
| Boyesen Clutch Cover Gasket | CCG-26 |
| Boyesen Clutch Cover Gasket | CCG-26A |
| Boyesen Clutch Cover Gasket | CCG-27 |
| Boyesen Clutch Cover Gasket | CCG-30 |
| Boyesen Clutch Cover Gasket | CCG-31 |
| Boyesen Clutch Cover Gasket | CCG-32 |
| Boyesen Clutch Cover Gasket | CCG-32A |
| Boyesen Clutch Cover Gasket | CCG-33 |
| Boyesen Clutch Cover Gasket | CCG-37 |
| Boyesen Clutch Cover Gasket | CCG-38 |
| Boyesen Clutch Cover Gasket | CCG-41 |
| Boyesen Clutch Cover Gasket | CCG-42 |
| Boyesen Clutch Cover Gasket | CCG-44 |
| Boyesen Clutch Cover Gasket | CCG-44A |
| Boyesen Clutch Cover Gasket | CCG-46 |
| Boyesen Clutch Cover Gasket | CCG-06B |
| Boyesen Clutch Cover Gasket | CCG-18A |
| Boyesen Clutch Cover Gasket | CCG-38A |
| Boyesen Clutch Cover Gasket | CCG-41A |
| Boyesen Clutch Cover Gasket | CCG-42A |
| Boyesen Clutch Cover Gasket | CCG-44B |