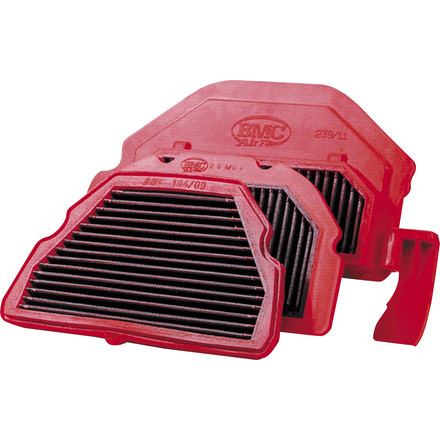 BMC High Performance Air Filter
---
10% Off - Save up to $24.60
---
5 Star
11
4 Star
1
3 Star
1
2 Star
0
1 Star
1
Write a Review
Write your review and you'll automatically be entered in our monthly drawing. Include an image or video to DOUBLE your chances to win!
Write Your Review
1 month 27 days ago
Racine
Does not fit
I do not recommend. I bought a K&N, fit great.
Motosport made returning the BMC filter easy.
Over 5 months ago
Fort Myers, FL, USA
Time will tell.
Looks well made fit was great,quality product.
Over 9 months ago
South Haven Michigan
9/10
Perfect fit, fast shipping and great quality. 9/10 only because protection foam they supply you with is pretty cheap th glue doesn't stick well. When applying be very careful.
The more air the better
If you want increased airflow for the street without the worry of the thin membrane and possible particles entering your engine from a full race filter....look no further
1 year 3 months ago
Moore Oklahoma
2017 gsxr-1000r air filter replacement.
This in my opinion is the best aftermarket air filter you can buy, I like it better than K&N. You can really feel the difference in performance. And the filter is very good quality.
1 year 7 months ago
Wethersfield, CT, USA
BMC air filter 2015 Triumph Daytona 675
i bought this filter for my Daytona, i had the Racefit slip on and the Arrow Tune and this filter help gain HP, i put 3k on it already and no complaints !! def recommend this filter !!
2 years 1 month ago
Pennsylvania
BMC filter
Air filter fit perfect, no issues. Noticeable improvement in engine performance. Good product., Hard to find performance filters for my MV Agusta, BMC fits like factory part!
Not year correct
Filter is not the filter labeled on outside of box. This is an issue with BMC not MotoSport as BMC does not make correct replacement filter for 2010 and up machines. The 2008-2009 filter that was in box fits BUT is not same as OEM.
2 years 2 months ago
Meridian, MS, USA
Awesome product
Best air filter you can buy
2 years 2 months ago
Portland, OR
BMC Air Filter - Street
Sound from the intake is a lot louder over stock, though this upgrade is pretty much cookie cutter for everyone.
See all bikes that this part fits...
| Product Variant | Manufacturer Part # |
| --- | --- |
| BMC High Performance Air Filter | FM916/20 |
| BMC High Performance Air Filter | FM917/20 |
| BMC High Performance Air Filter | FM951/04 |
| BMC High Performance Air Filter | FM403/08 |
| BMC High Performance Air Filter | FM424/08 |
| BMC High Performance Air Filter | FM707/04 |
| BMC High Performance Air Filter | FM727/04 |
| BMC High Performance Air Filter | FM645/04 |
| BMC High Performance Air Filter | FM617/20 |
| BMC High Performance Air Filter | FM373/01 |
| BMC High Performance Air Filter | FM236/04 |
| BMC High Performance Air Filter | FM439/01 |
| BMC High Performance Air Filter | FM569/08 |
| BMC High Performance Air Filter | FM244/06 |
| BMC High Performance Air Filter | FM397/01 |
| BMC High Performance Air Filter | FM556/20 |
| BMC High Performance Air Filter | FM583/01 |
| BMC High Performance Air Filter | FM324/19 |
| BMC High Performance Air Filter | FM482/08 |
| BMC High Performance Air Filter | FM104/01 |
| BMC High Performance Air Filter | FM248/01 |
| BMC High Performance Air Filter | FM452/08 |
| BMC High Performance Air Filter | FM356/01 |
| BMC High Performance Air Filter | FM194/09 |
| BMC High Performance Air Filter | FM336/04-02 |
| BMC High Performance Air Filter | FM374/16 |
| BMC High Performance Air Filter | FM527/04 |
| BMC High Performance Air Filter | FM542/08 |
| BMC High Performance Air Filter | FM114/04 |
| BMC High Performance Air Filter | FM239/11 |
| BMC High Performance Air Filter | FM300/04 |
| BMC High Performance Air Filter | FM610/04 |
| BMC High Performance Air Filter | FM187/04 |
| BMC High Performance Air Filter | FM144/04 |
| BMC High Performance Air Filter | FM256/19 |
| BMC High Performance Air Filter | FM323/04 |
| BMC High Performance Air Filter | FM376/19 |
| BMC High Performance Air Filter | FM415/04 |
| BMC High Performance Air Filter | FM481/04 |
| BMC High Performance Air Filter | FM466/04 |
| BMC High Performance Air Filter | FM531/04 |
| BMC High Performance Air Filter | FM551/04 |
| BMC High Performance Air Filter | FM554/04 |
| BMC High Performance Air Filter | FM196/03 |
| BMC High Performance Air Filter | FM579/04 |
| BMC High Performance Air Filter | FM438/04 |
| BMC High Performance Air Filter | FM592/04 |
| BMC High Performance Air Filter | FM346/10 |
| BMC High Performance Air Filter | FM599/04 |
| BMC High Performance Air Filter | FM172/03 |
| BMC High Performance Air Filter | FM131/04 |
| BMC High Performance Air Filter | FM534/20 |
| BMC High Performance Air Filter | FM526/20 |
| BMC High Performance Air Filter | FM499/20 |
| BMC High Performance Air Filter | FM360/19 |
| BMC High Performance Air Filter | FM611/19 |
| BMC High Performance Air Filter | FM394/19 |
| BMC High Performance Air Filter | FM268/04 |
| BMC High Performance Air Filter | FM204/11 |
| BMC High Performance Air Filter | FM354/04-02 |
| BMC High Performance Air Filter | FM343/04 |
| BMC High Performance Air Filter | FM393/04 |
| BMC High Performance Air Filter | FM440/04 |
| BMC High Performance Air Filter | FM529/04 |
| BMC High Performance Air Filter | FM557/04 |
| BMC High Performance Air Filter | FM378/04 |
| BMC High Performance Air Filter | FM294/02 |
| BMC High Performance Air Filter | FM628/04 |
| BMC High Performance Air Filter | FM173/08 |
| BMC High Performance Air Filter | FM163/04 |
| BMC High Performance Air Filter | FM465/04 |
| BMC High Performance Air Filter | FM310/06 |
| BMC High Performance Air Filter | FM425/04 |
| BMC High Performance Air Filter | FM631/20 |
| BMC High Performance Air Filter | FM302/04 |
| BMC High Performance Air Filter | FM202/09 |
| BMC High Performance Air Filter | FM355/04 |
| BMC High Performance Air Filter | FM450/04 |
| BMC High Performance Air Filter | FM467/04 |
| BMC High Performance Air Filter | FM515/04 |
| BMC High Performance Air Filter | FM553/04 |
| BMC High Performance Air Filter | FM365/04 |
| BMC High Performance Air Filter | FM456/04 |
| BMC High Performance Air Filter | FM623/04 |
| BMC High Performance Air Filter | FM162/04 |
| BMC High Performance Air Filter | FM249/09 |
| BMC High Performance Air Filter | FM718/04 |
| BMC High Performance Air Filter | FM903/04 |
| BMC High Performance Air Filter | FM910/04 |
| BMC High Performance Air Filter | FM788/04 |
| BMC High Performance Air Filter | FM735/04 |
| BMC High Performance Air Filter | FM733/20 |
| BMC High Performance Air Filter | FM504/20 |
| BMC High Performance Air Filter | FM595/04 |
| BMC High Performance Air Filter | FM764/20 |
| BMC High Performance Air Filter | FM775/08 |
| BMC High Performance Air Filter | FM787/01 |
| BMC High Performance Air Filter | FM796/20 |
| BMC High Performance Air Filter | FM679/20 |
| BMC High Performance Air Filter | FM817/04 |
| BMC High Performance Air Filter | FM856/04 |
| BMC High Performance Air Filter | FM528/20-01 |
| BMC High Performance Air Filter | FM834/04 |