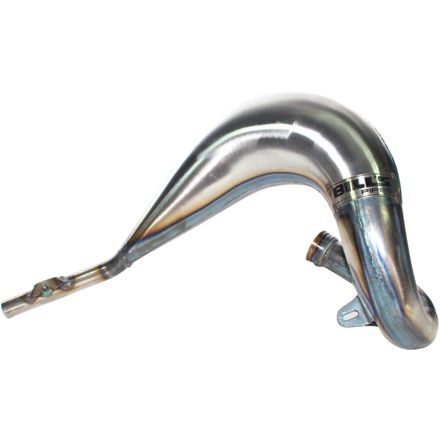 Bill's Pipes MX2 Works Pipe - 2-Stroke
5 Star
4
4 Star
0
3 Star
0
2 Star
1
1 Star
1
Quentin pullen
I ordered and exhaust for my YZC 250 2019 silencer and pipe both did not fit
4 months 14 days ago
Gonzales,La
Sounds amazing.
This pipe woke up my 2019 yz125. Night and day difference compared to stock. Be sure to oil the pipe with WD40 when in storage. Works finish looks amazing
1 year 5 months ago
Atlanta, Ga
Great Pipe!
I bought this pipe and silencer about a month ago, Motorsport had it on sale, fit and finish and very good,.bolted right up.. Installed on a '14 yz250, really woke this thing up, especially in the midrange & top plus it sounds Awesome!!
1 year 7 months ago
Covington, La
Great power
Bill's pipe is the only way to go with a Zook 2 stroke! I tried 3 different pipes on the 125 and this is by far the best.
Over 3 years ago
Louisville, KY, USA
Quality Could Be Better
I bought a Bill's works pipe and silencer to replace my 4 year old Pro Circuit system, but the quality of the pipe I received wasn't that great. The pipe already had surface rust on it and one of the mounts didn't have the nut welded on it so I had to add a nut in order to install the pipe. If extra hardware is required for installation then it should be included. I sent a message to Bill's Pipes to ask them about it but never received a reply. It is still nasty in KY so I haven't had a chance to ride the bike yet, hopefully the performance will make up for the installation issues. If I had it to do over again I would have just bought another PC works pipe and R304 silencer.
See all bikes that this part fits...
| Product Variant | Manufacturer Part # |
| --- | --- |
| Bill's Pipes MX2 Works Pipe - 2-Stroke | H-82 |
| Bill's Pipes MX2 Works Pipe - 2-Stroke | KT-11 |
| Bill's Pipes MX2 Works Pipe - 2-Stroke | S-16 |
| Bill's Pipes MX2 Works Pipe - 2-Stroke | S-25 |
| Bill's Pipes MX2 Works Pipe - 2-Stroke | S-82 |
| Bill's Pipes MX2 Works Pipe - 2-Stroke | Y-23 |
| Bill's Pipes MX2 Works Pipe - 2-Stroke | Y-82 |
| Bill's Pipes MX2 Works Pipe - 2-Stroke | K-82 |
| Bill's Pipes MX2 Works Pipe - 2-Stroke | KT-12 |
| Bill's Pipes MX2 Works Pipe - 2-Stroke | Y-15 |
| Bill's Pipes MX2 Works Pipe - 2-Stroke | KT-83 |
| Bill's Pipes MX2 Works Pipe - 2-Stroke | K-25 |
| Bill's Pipes MX2 Works Pipe - 2-Stroke | KT-16 |
| Bill's Pipes MX2 Works Pipe - 2-Stroke | H-25 |
| Bill's Pipes MX2 Works Pipe - 2-Stroke | KT-27 |
| Bill's Pipes MX2 Works Pipe - 2-Stroke | KT-19 |
| Bill's Pipes MX2 Works Pipe - 2-Stroke | KT-88 |
| Bill's Pipes MX2 Works Pipe - 2-Stroke | KT-66 |
| Bill's Pipes MX2 Works Pipe - 2-Stroke | Y-68 |
| Bill's Pipes MX2 Works Pipe - 2-Stroke | Y-89 |