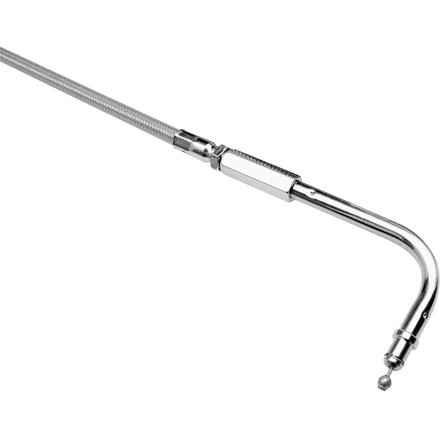 Biker's Choice Armor Coat Throttle Cable
---
10% Off - Save up to $4.00
---
kokoloko
Q: Are there, the throttle and the iddle cable set?
dirt
Over 10 years ago
A: if you are talking about the push pull. then yes.
Cyclefreak999
Q: What is the overall legth of these cables?
james718
Over 10 years ago
A: These are all stock (OEM) length.
sporty1200c
Q: How long are the throttle cables for the HD XL 1200C?
I have a 4" riser with 10" Mini Ape Hangers. I had drag bars on the bike, and just change out to the 10" Mini Apes. The drag bars were on the same 4" riser. I was told I need +12" longer than I have now. I also need to know about both Throttle and Idle cable, Clutch cable, and wiring harness for turn signals, light switches, horn, etc.
harleydave
Over 11 years ago
A: Sorry, we are only stocking the stock length on these cables at this point.
See all bikes that this part fits...
| Product Variant | Manufacturer Part # |
| --- | --- |
| Stock / 90 Degree | 66-0255 |
| Stock / 90 Degree | 66-0394 |
| +7" / 90 Degree | 66-0259 |
| +7" / 90 Degree | 66-0255 |
| +6" / 90 Degree | 66-0348 |
| Stock / 70 Degree | 66-0280 |
| +1" / 90 Degree | 66-0304 |
| Stock / 70 Degree | 66-0350 |
| Stock / 90 Degree | 66-0300 |
| Stock / 90 Degree | 66-0385 |
| Stock / 90 Degree | 66-0179 |
| +6" / 90 Degree | 66-0187 |
| Stock / 70 Degree | 66-0212 |
| +6" / 70 Degree | 66-0213 |
| +6" / 70 Degree | 66-0378 |
| Stock / 90 Degree | 66-0270 |
| +6" / 90 Degree | 66-0272 |
| Stock / 90 Degree | 66-0320 |
| +6" / 90 Degree | 66-0276 |
| Stock / 0 Degree | 66-0324 |
| Stock / 45 Degree | 66-0182 |
| Stock / 90 Degree | 66-0276 |
| +6" / 90 Degree | 66-0304 |
| Stock / 90 Degree | 66-0209 |
| +6" / 90 Degree | 66-0210 |
| Stock / 90 Degree | 66-0180 |
| +6" / 90 Degree | 66-0188 |
| Stock / 45 Degree | 66-0070 |
| +6" / 45 Degree | 66-0071 |
| +6" / 45 Degree | 66-0189 |
| +5" / 70 Degree | 66-0212 |
| Stock / 70 Degree | 66-0264 |
| Stock / 90 Degree | 66-0298 |
| +6" / 70 Degree | 66-0280 |
| Stock / 45 Degree | 66-0352 |
| Stock / 45 Degree | 66-0283 |
| Stock / 45 Degree | 66-0289 |
| Stock / 45 Degree | 66-0336 |
| Stock / 45 Degree | 66-0181 |
| +6" / 45 Degree | 66-0395 |
| +8" / 45 Degree | 66-0399 |
| +10" / 45 Degree | 66-0401 |
| +12.25" / 45 Degree | 66-0403 |