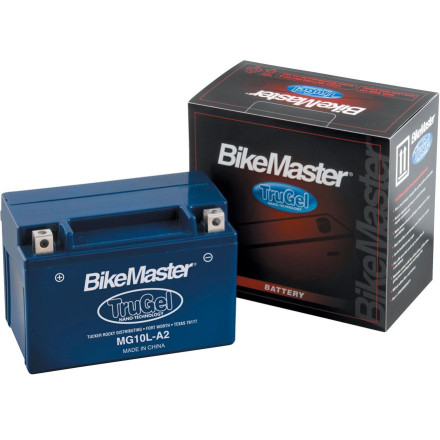 BikeMaster TruGel Battery
---
10% Off - Save up to $15.50
---
5 Star
66
4 Star
13
3 Star
3
2 Star
5
1 Star
4
Write a Review
Write your review and you'll automatically be entered in our monthly drawing. Include an image or video to DOUBLE your chances to win!
Write Your Review
12 days ago
Mansfield ohio
Quality battery
This is the second one I've bought for another bike because the first one has been so good.
Great value fit and functionality
Installed easily and fit perfect. Cranking powere is excellent. Great value!
Priced right
Tough little battery for the dirt bike. Arrived charged and ready to go.
Good features
bought this battery may 2016 lasted to may 2019 and bought another one
1 month 23 days ago
Memphis, TN
TruGel Battery A+ for price and performance
I have bought these for utility atv's and performance quads and dirt bikes. They always do great.
2 months 10 days ago
Arvada, Colorado
NEW
I bought it and had to return it because when it arrived it only had 8 volts and it wouldn't take or hold a charge.
4 months 19 days ago
San Antonio, TX, USA
Packaging & Voltage
What is still fresh on my mind is the poor packaging! the battery was out of it's box and just rolling & sliding around, no package filler of any kind was used. My Battery voltage was not 13.5 -13.9, it was 12.9. Which is OK, no charging needed just the same. I have used my Busa 3 times, has started each time with out an issue. The battery has been cold soak each time and had not let me down yet. My first gel-battery I had 7years of service, hope this will go has far.
Over 6 months ago
Boca ratón
Battery complete down
I buy a new battery for my dirt bike and no work is totally down
Over 6 months ago
Jacksonville FL
Excellent choice
I had purchased a battery from a local battery supply house that cost a ton and only lasted a year.
Decided to go with this Gel Cell and was a great choice. Highly recommend this battery for all those little bikes that have electric start
Krayzee Dee
Q: Can I trickle charge this battery at all?
Paul
4 months 5 days ago
A: Yes, the BikeMaster TruGel Battery should be trickle-charged.
Flyer6
Q: I have a 1999 Honda Spirirt 1100 C.  I'm looking at the BikeMaster TruGel battery part #HYB16A. My battery looks different and part # is HYB16A-AB. The Honda dealer called it a "T Battery". Will the BikeMaster battery fit my bike??  
Michael
1 year ago
A: HYB16A-A this is the correct Bikemaster TruGel for that Spirit!
Slag
Q: What type of battery tender works with the bikemaster tru gel motorcycle battery?
kyle
Q: Does this battery need to be charged before first use?
Chester
Over 3 years ago
A: I did place it on a trickle charge before I used it but it wasn't on there for very long before I had a green light (Fully Charged).
I don't think it would have needed a charge, but I wanted the battery charger to do the work and not have to have the bike work to charge the battery.
fixitdad
Over 3 years ago
A: No, The battery should be holding a charge already.
Doug
Q: What are the CCA for this battery?
(Cold Cranking Amps) CCA
MotoSportExpert
Over 3 years ago
A: Model: MG9-BS.
Equivalent Yuasa battery: YTX9-BS.
Cranking CCA (-18° Celsius): 110.
PaleRider
Q: Are you 100% positive this battery will fit under the seat of a 2007 Honda CRF250X?
MotoSportExpert
Over 3 years ago
A: Yes according to BikeMaster this TruGel Battery will fit your 2007 Honda CRF250X. Just be sure to correctly select the Year/Make/Model of your bike before ordering so we can be sure to send you the correct battery for your bike. Also, feel free to give us a call at 888-676-8853 and we would be happy to help you out with your order.

Model: MG7ZS \ MG7Z-S
Dimensions (mm): 114L x 71W x 106H x 106HL.
Rocky
Q: I have a Cheetah 200cc (Chinese) bike, would this fit?
MotoSportExpert
Over 3 years ago
A: Unfortunately we do not have specs for the 2002 Cheetah 200 however if you are able to tell us the battery number we may be able to match something up for you. Please contact one of our sales professionals to inquire about special orders and availability.
Dirt Bike / ATV: 1-888-676-8853
Holiday
Q: How much does the battery weigh?
MotoSportExpert
Over 4 years ago
A: BikeMaster TruGel Battery weight varies by application.
Chester
Over 4 years ago
A: This battery is very light weight.
Alavigne7
Q: Will this battery fit a 03 TTR 250 Yamaha? And is the battery ready to use or does it have to be charged first?
Husky
Over 5 years ago
A: The battery "should" come with at least a 90%+ charge on it already but as with any new battery, you should throw it on a trickle charger first to make sure the battery is in fact holding a charge and does not need to be sent back. The battery I purchased only had to sit on the charger for about 3 minutes or less before it indicated the battery was at full charge.
MotoSportRyanT
Over 5 years ago
A: Yes, This battery would work perfectly in your 2003 Yamaha TTR250. The battery comes with a light charge and should be ready for use right out of the box. It would not be a bad idea to hook the battery up to a trickle charger to bring it up to fully charged though.
chris
Q: Will this battery fit a coolster 125cc go kart
also will the 16x8x7 tires fit the coolster
MotoSportRyanT
Over 5 years ago
A: Unfortunately, I would not have any application chart to show me if this battery would fit go-carts.
See all bikes that this part fits...
| Product Variant | Manufacturer Part # |
| --- | --- |
| Yuasa: YB14A-A2 | MG14A-A2 |
| Yuasa: YB9A-A | MG9A-A |
| Yuasa: YB12C-A | MG12C-A |
| Yuasa: YB3L-A | MG3L-A |
| Yuasa: YB5L-B | MG5-3B |
| Yuasa: YT4B-BS | MG4B-BS |
| Yuasa: YB7C-A | MG7C-A |
| Yuasa: YTX4L-BS | MG4L-BS |
| Yuasa: YTX5L-BS | MG5L-BS |
| Yuasa: YT12A-BS | MG12A-BS |
| Yuasa: YB12AL-A | MG12A-3A1 |
| Yuasa: YB4L-B | MG4L-B |
| Yuasa: YTX7A-BS | MG7A-BS |
| Yuasa: YT9B-BS | MG9B-4 |
| Yuasa: YB12A-A | MG12A-4A1 |
| Yuasa: YT12B-BS | MG12B-4 |
| Yuasa: YTZ12S | MG12Z-S |
| Yuasa: YT14B-BS | MG14B-4 |
| Yuasa: YTZ14S | MG14Z-S |
| Yuasa: YTX12-BS | MG12-BS |
| Yuasa: YTX14AH-BS | MG14-A2 |
| Yuasa: YB10L-A2 | MG10L-A2 |
| Yuasa: YTZ10S | MG10Z-S |
| Yuasa: YTX7L-BS | MG7L-BS |
| Yuasa: YTX14-BS | MG14-BS |
| Yuasa: YB14L-A2 | MG14L-A2 |
| Yuasa: YTX9-BS | MG9-BS |
| Yuasa: YT7B-BS | MG7B-4 |
| Yuasa: YTZ7S | MG7Z-S |
| Yuasa: YB14A-A1 | MG14A-A1 |