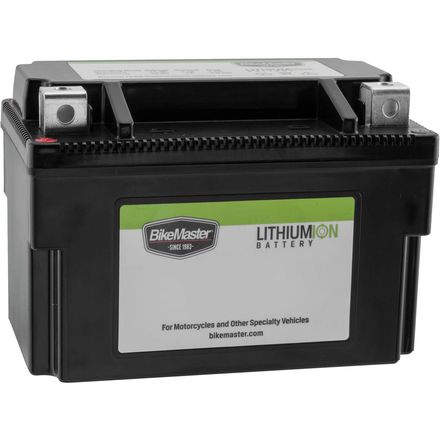 BikeMaster Lithium Ion Battery
---
10% Off - Save up to $32.61
---
5 Star
37
4 Star
9
3 Star
2
2 Star
0
1 Star
5
0/10 would recommend
Left me broke down out on the trails of Hatfield McCoy after its first weekend of use. Would not recommend
1 month 27 days ago
Suwanee, GA
Great Battery
Stock battery did not work with the high compression upgrades to my bike and this battery sure was a great upgrade. 550 CCA and under 5 lbs, starts in 1-2 seconds
2 months 2 days ago
Niceville, FL
Great cranking power
I installed this battery about a month ago...best MC battery I have ever used. Great starting power and super light weight. If it lasts longer than a lead-acid battery, it will be worth the extra cost.
2 months 13 days ago
Minneapolis mn
Horrible
Had the battery for less then year doesnt wanna start the bike or anything
Save your money
3 months 22 days ago
St. Louis, MO
Excellent cranking power!
I bought this several months ago after an OEM battery I had for only two years wouldn't crank in warmer weather. I love the higher cold cranking amperage, now my bike fires right up. The free charger with the battery made for a good deal and made for an easy decision to purchase through Motosport.
3 months 25 days ago
Louisiana
Fits perfect, no foam needed
This is a no brainer, it spins my 3 XR650L's all with no decompression on cam without any issues, NO 12v power drop either when there's a compression lock that normally kills power to my GPS with the OEM battery. Has never needed charging yet after 2 years .
Seems ok
Put it in quad and worked fine but its still new
Over 6 months ago
seattle Wa
Who packs this stuff?
Great price fast delivery. The shipping box left a lot to be desired. The battery in its factory packaging was in a much larger box with 1 air bag leaving the battery to just bounce around. That might be fine for plastics and wearables but for a lithium battery?
Over 7 months ago
Blue Ridge Mountains, VA
VERY lightweight
Too soon to tell how long it will last, but it shaved a good five pounds from my bike.
Over 7 months ago
New Mexico
Good Battery
It's a battery that works as expected. Low price and fast shipping.
See all bikes that this part fits...
| Product Variant | Manufacturer Part # |
| --- | --- |
| DLFP-5L-B / 90CCA | DLFP-5L-B |
| DLFP-5L-BS / 90CCA | DLFP-5L-BS |
| DLFP-5ZS / 90CCA | DLFP-5ZS |
| DLFP-7A-BS / 125CCA | DLFP-7A-BS |
| DLFP-7B-BS / 125CCA | DLFP-7B-BS |
| DLFP-7ZS / 125CCA | DLFP-7ZS |
| DLFP-9B-BS / 150CCA | DLFP-9B-BS |
| DLFP-9-BS / 150CCA | DLFP-9-BS |
| DLFP-12A-A / 180CCA | DLFP-12A-A |
| DLFP-12-BS / 180CCA | DLFP-12-BS |
| DLFP-14-A / 250CCA | DLFP-14-A |
| DLFP-14B-BS / 250CCA | DLFP-14B-BS |
| DLFP-14-BS / 250CCA | DLFP-14-BS |
| DLFP-14L-A / 250CCA | DLFP-14L-A |
| DLFP-14L-BS / 250CCA | DLFP-14L-BS |
| DLFP-14ZS / 250CCA | DLFP-14ZS |
| DLFP-16B-A / 270CCA | DLFP-16B-A |
| DLFP-20L-BS / 375CCA | DLFP-20L-BS |
| DLFP-51913 / 375CCA | DLFP-51913 |
| DLFP-20HL-BS / 500CCA | DLFP-20HL-BS |
| DLFP-30L-BS / 625CCA | DLFP-30L-BS |
| DLFP-12AL-A / 180CCA | DLFP-12AL-A |
| DLFP-12B-BS / 180CCA | DLFP-12B-BS |