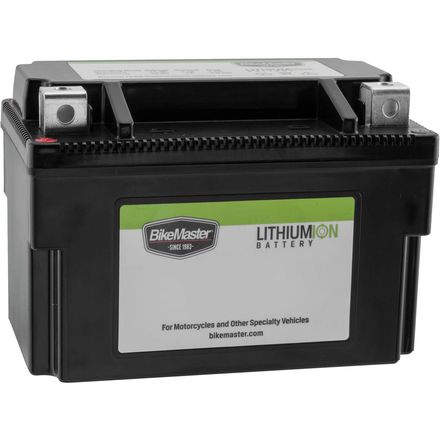 BikeMaster Lithium Ion Battery
---
10% Off - Save up to $33.60
---
5 Star
27
4 Star
4
3 Star
2
2 Star
0
1 Star
0
Write a Review
Write your review and you'll automatically be entered in our monthly drawing. Include an image or video to DOUBLE your chances to win!
Write Your Review
12 days ago
Hollister, Ca.
Excellent battery
Was looking to shed a few pounds on my 2013 WR450F and came across this when it was on sale. This an excellent battery, its pounds lighter than stock. The weight difference feels like lifting a gallon of milk and then lifting the jug when there is one glass of milk left in it. The only downside is that if you're like me and switching from a standard battery to this one (lithium) you'll need to purchase the charger separately.
1 month 26 days ago
Washington state
Better than the average battery
Bought the battery a few weeks ago and is far superior than the cell battery's
1 month 26 days ago
Algonquin Illinois
Very Powerful, Extreemly Light.
I've owned this motorcycle since new in 1977, This LITHIUM Battery is by far the most powerful battery I'v ever had in this bike.Super Light very powerful, delivered on time and as expected in new condition. KEEP IN MIND: TERMINALS ARE REVERSED!
1 month 27 days ago
Las Vegas, NV
A Must Have!
Purchased this Lithium Iron battery to replace the liquid acid stock battery and what I am impressed with the most is the 1.5 lb weight of the this new battery. It is so light i thought that it was just the shell of the battery. That's just extra bonus on top of the fact the battery is awesome. I can let this thing sit 2+ weeks in between rides (sitting in garage 110 degrees plus) and get 0.00 voltage loss. Very happy with this purchase.
3 months 16 days ago
Billings, MT
Easy Install
I bought the "DLFP-9B-BS / 150CCA" for my DRZ400S. Thought it may be a hassle to convert to Lithium, but this battery was exactly the same size as my stock lead acid battery ("YT7B-BS)." The new battery came with several foam spacers, but I didn't need them for my application. Terminals were in the right place, slid right in, bolted right up. Came with sufficient charge that I didn't even need to charge it. Punched the button and it spun the starter like never before. DRZ's seem to drain batteries over time. Hopefully, this will hold its charge longer than the lead acid batteries.
Good performance
I am using this and a KTM 350 exc-f motorcycle. I've had it in for about 5 months and have had no problem with it. I have never put it on a charger and it gets used about two or three times a month. Never had an issue starting up. So far so good it's very small and very light fit nicely into the stock battery box.
Over 5 months ago
Missouri
Good fit. Light weight
More power for my electronic devices
Over 5 months ago
Montgomery,Alabama
Well worth the money
Wow is only one of the words I can say about this battery. This battery is so light and powerful ( I got the higher one of the two ) over my stock one it's funny and surprising. Well worth the money. Lithium Ion batteries are the best way to go.
Over 7 months ago
Morrow, OH 45152, USA
Buy someone elses battery
BikeMaster does NOT include any hardware and the terminals are small. Probably a decent battery but, most batteries come with new hardware and are comparably priced.
Jpbelair66
Q: Installed this battery to my 05 Yamaha WR450 2 months ago with a out of the box charge of around 12.5v.  The bike cranked right over no problem.  2 months later without riding and the battery is now flat!? What can I do to exchange for a new 1?
DaveGearhead
2 months 18 days ago
A: These batteries requires being charged whenever they are not in use, and they require a lithium ion charger. If this was not done then the battery dies. You can call and speak with one of our agents to discuss your options.
Jeanpi
Q: Can I use this battery with a 12volt inverter - charger?
Jeff T
Q: What battery do need for my 2008 Polaris Ranger 700 4 x 4 EFI
TylerGearhead
3 months 22 days ago
A: If you profile your machine, you will find that DLFP-30L-BS.
Pookie
Q: I wanna buy this battery for my 2013 WR250R but I have a concern. My concern is heat. Ion batteries DO NOT like heat. I live in Arkansas and it gets over 100° with 100% humidity at times. How safe is this battery in those conditions?
rknight
4 months 2 days ago
A: Hello,

I cannot specifically say if these work in heat or not. We have sold thousands of these all over the country. They have a great warranty so if they quit due to heat we can warranty them. We have sold a ton to hot locations and not had them come back saying they stopped working due to heat.
Bergy27
Q: Will this work on a 2007 Honda trx 450r
Paul
4 months 16 days ago
A: Yes, we have the BikeMaster Lithium Ion Battery DLFP-7ZS for your 2007 Honda TRX450R.
BigMac
Q: Will this battery work on my 1981 honda cb900, charge etc?
David
Over 8 months ago
A: Yes it will. You'll need to make sure you profile your bike in before adding to the cart.
Benjabiker
Q: What is the capacity in ah for this battery?
For model DLFP-5ZS / 90CCA, what is the capacity? Thank you.
David
Over 10 months ago
A: For model DLFP-5ZS / 90CCA, the capacity is 3Ah
Benjabiker
Q: What version of this battery is the least expensive?
I am trying to find the version that costs 67.46. I am building a custom setup that doesn't need a particular size so I'd like to know the specs and capacity on the model that costs the least. Thanks.
Alex
Over 10 months ago
A: This battery for a "2015 Honda CRF110" Will be the lowest cost! Model: DLFP-5ZS / 90CCA
Jack
Q: What are the cranking amps and what kind of warranty.
robert
1 year 1 month ago
A: The cca (cold crank amp) is dependent per model of vehicle and they come with a 2 year manufacture warranty.
Mique
Q: Safety
How does this battery ensure safety from overheating and possible firel?
See all bikes that this part fits...
| Product Variant | Manufacturer Part # |
| --- | --- |
| DLFP-5L-B / 90CCA | DLFP-5L-B |
| DLFP-5L-BS / 90CCA | DLFP-5L-BS |
| DLFP-5ZS / 90CCA | DLFP-5ZS |
| DLFP-7A-BS / 125CCA | DLFP-7A-BS |
| DLFP-7B-BS / 125CCA | DLFP-7B-BS |
| DLFP-7ZS / 125CCA | DLFP-7ZS |
| DLFP-9B-BS / 150CCA | DLFP-9B-BS |
| DLFP-9-BS / 150CCA | DLFP-9-BS |
| DLFP-10L-B / 180CCA | DLFP-10L-B |
| DLFP-12A-A / 180CCA | DLFP-12A-A |
| DLFP-12-BS / 180CCA | DLFP-12-BS |
| DLFP-14-A / 250CCA | DLFP-14-A |
| DLFP-14B-BS / 250CCA | DLFP-14B-BS |
| DLFP-14-BS / 250CCA | DLFP-14-BS |
| DLFP-14L-A / 250CCA | DLFP-14L-A |
| DLFP-14L-BS / 250CCA | DLFP-14L-BS |
| DLFP-14ZS / 250CCA | DLFP-14ZS |
| DLFP-16B-A / 270CCA | DLFP-16B-A |
| DLFP-20L-BS / 375CCA | DLFP-20L-BS |
| DLFP-51913 / 375CCA | DLFP-51913 |
| DLFP-20HL-BS / 500CCA | DLFP-20HL-BS |
| DLFP-30L-BS / 625CCA | DLFP-30L-BS |
| DLFP-12AL-A / 180CCA | DLFP-12AL-A |
| DLFP-12B-BS / 180CCA | DLFP-12B-BS |