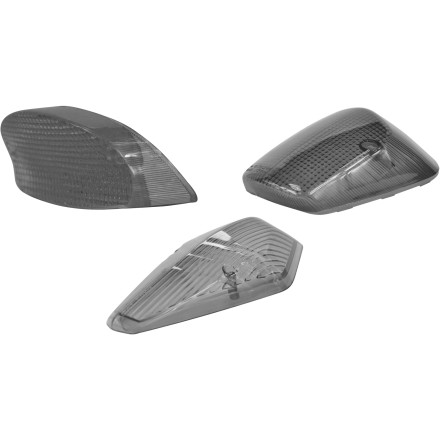 BikeMaster Integrated Tail Light
---
10% Off - Save up to $13.99
Rating: 4.8 out of 5 stars
---
4 Reviews
3

reviews

1

reviews

0

reviews

0

reviews

0

reviews
All Reviews
Exactly as described
Very bright easy to install and looks great. Pleased with my purchase
Would buy again
Came with resistors needed to slow the flash. Easy to install and wire up. Instructions are good enough to get by.
Over 3 years ago
Wolfeboro, NH
Solid delivery.
First time using Motosport.com and I can say they delivered
perfectly. This light was exactly what I was looking for to put
on my 07 R6. Clean look, highly visible turn/brake lights.
Snug fit, great stock replacement. Recommended for sure.
Fitment
See all bikes that this part fits...
# Part Numbers
| Product Variant | Manufacturer Part # |
| --- | --- |
| Clear | TZH-052-IN, TZH-078-IN, TZH-096-IN, TZH-124-IN, TZH-146-IN, TZH-180-IN, TZH-208-IN, TZH-230-IN, TZK-028-IN, TZK-108-IN, TZK-118-IN, TZK-160-IN, TZK-196-IN, TZK-198-IN, TZK-206-IN, TZK-244-IN, TZK-300-IN, TZS-018-IN, TZS-052-IN, TZS-100-IN, TZS-120-IN, TZS-132-IN, TZS-150-INT, TZS-192-IN, TZS-200-IN, TZY-042-IN, TZY-076-IN, TZY-086-IN, TZY-110-IN, TZY-142-IN, TZY-154-IN, TZY-158-IN, TZY-190-IN, TZY-202-IN, TZY-238-IN, TZY-256-IN, TZBMW-302-, TZH-026-IN, TZH-094-IN, TZH-312-IN, TZK-058-IN, TZK-140-IN, TZS-030-IN |
| Smoke | TZH-052-IN, TZH-078-IN, TZH-096-IN, TZH-124-IN, TZH-146-IN, TZH-180-IN, TZH-208-IN, TZH-230-IN, TZK-028-IN, TZK-108-IN, TZK-118-IN, TZK-160-IN, TZK-196-IN, TZK-198-IN, TZK-206-IN, TZK-216-IN, TZK-244-IN, TZK-300-IN, TZS-018-IN, TZS-036-IN, TZS-052-IN, TZS-100-IN, TZS-120-IN, TZS-132-IN, TZS-150-IN, TZS-192-IN, TZS-200-IN, TZS-260-IN, TZY-042-IN, TZY-076-IN, TZY-086-IN, TZY-110-IN, TZY-142-IN, TZY-154-IN, TZY-158-IN, TZY-190-IN, TZY-202-IN, TZY-210-IN, TZY-238-IN, TZY-256-IN, TZBMW-302-, TZH-026-IN, TZH-094-IN, TZH-312-IN, TZK-058-IN, TZK-140-IN, TZK-258-IN, TZS-030-IN |