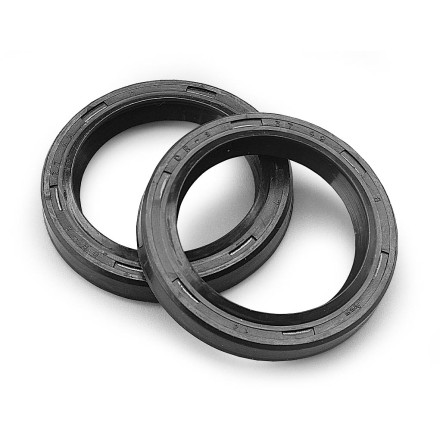 ---
10% Off - Save up to $2.00
---
5 Star
2
4 Star
1
3 Star
0
2 Star
2
1 Star
0
2 years 5 months ago
Fort Dodge, IA.
BikeMaster Fork Seals
Exact fit for my Kawasaki Voyager XII.
Over 5 years ago
Green Bay, WI, USA
Only half of the seals
kinda aggravated me off that this is only the upper seals and NOT the lower ones, Why would you only sell half of what you need in a seal kit?
Over 5 years ago
Austin, TX, USA
Wrong size
I have a 1971 Honda CB175 and these seals do not fit. The seals I received are not even the same seals shown in this photograph.
Over 7 years ago
Nashville,TN
That'll fix those ol leaky fork seals real good!
well kids,these are replacement fork seals.they fit nice and do there job as you would expect them too.also they were the cheapest and best i can find.perfect!
Over 7 years ago
Raleigh, NC
Quality part
seem to be the same quality as oem for a lot less money.
See all bikes that this part fits...
| Product Variant | Manufacturer Part # |
| --- | --- |
| BikeMaster Fork Seals | P40FORK455 |
| BikeMaster Fork Seals | P40FORK455 |
| BikeMaster Fork Seals | P40FORK455 |
| BikeMaster Fork Seals | P40FORK455 |
| BikeMaster Fork Seals | P40FORK455 |
| BikeMaster Fork Seals | P40FORK455 |
| BikeMaster Fork Seals | P40FORK455 |
| BikeMaster Fork Seals | P40FORK455 |
| BikeMaster Fork Seals | P40FORK455 |
| BikeMaster Fork Seals | P40FORK455 |
| BikeMaster Fork Seals | P40FORK455 |
| BikeMaster Fork Seals | P40FORK455 |
| BikeMaster Fork Seals | P40FORK455 |
| BikeMaster Fork Seals | P40FORK455 |
| BikeMaster Fork Seals | P40FORK455 |
| BikeMaster Fork Seals | P40FORK455 |
| BikeMaster Fork Seals | P40FORK455 |
| BikeMaster Fork Seals | P40FORK455 |
| BikeMaster Fork Seals | P40FORK455 |
| BikeMaster Fork Seals | P40FORK455 |
| BikeMaster Fork Seals | P40FORK455 |
| BikeMaster Fork Seals | P40FORK455 |
| BikeMaster Fork Seals | P40FORK455 |
| BikeMaster Fork Seals | P40FORK455 |
| BikeMaster Fork Seals | P40FORK455 |
| BikeMaster Fork Seals | P40FORK455 |
| BikeMaster Fork Seals | P40FORK455 |
| BikeMaster Fork Seals | P40FORK455 |
| BikeMaster Fork Seals | P40FORK455 |
| BikeMaster Fork Seals | P40FORK455 |
| BikeMaster Fork Seals | P40FORK455 |
| BikeMaster Fork Seals | P40FORK455 |
| BikeMaster Fork Seals | P40FORK455 |
| BikeMaster Fork Seals | P40FORK455 |
| BikeMaster Fork Seals | P40FORK455 |
| BikeMaster Fork Seals | P40FORK455 |
| BikeMaster Fork Seals | P40FORK455 |
| BikeMaster Fork Seals | P40FORK455 |
| BikeMaster Fork Seals | P40FORK455 |
| BikeMaster Fork Seals | P40FORK455 |
| BikeMaster Fork Seals | P40FORK455 |