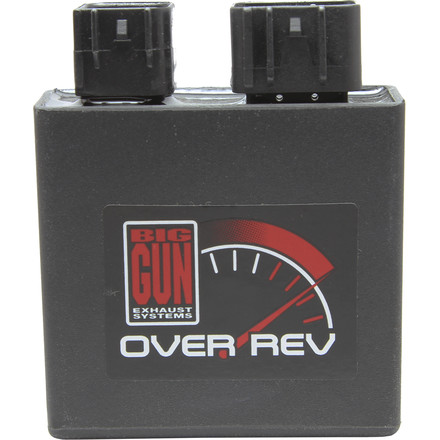 ---
10% Off - Save up to $20.00
---
5 Star
10
4 Star
1
3 Star
1
2 Star
0
1 Star
3
Write a Review
Write your review and you'll automatically be entered in our monthly drawing. Include an image or video to DOUBLE your chances to win!
Write Your Review
Great features
I bought this a month ago and i'm so glad i did
Instant change to the power
Took less than 5 minutes to install and had immediate results.
2 years 5 months ago
Michigan
Over 4 years ago
Austintown, OH
Works great
I've had this for about two years now and I've had no problems with it. It does make a difference in power and top speed.
Over 6 years ago
San Diego, Ca.
Not so happy....
the big gun rev box I got and installed in my quad did not work for some reason it made my quad run like grud, so I called motosport to see what they can do for me and some guy named Isaac said "it's a electronic device so we can't take it back call the manufacture see what they say".... sweet thanks
Over 6 years ago
Portland, MI
Waste of money
i have a 2009 TRX 450er , i plugged this box in and it literally did nothing for me. i felt absolutely no increase in power and my top speed was clocked actually a little bit slower, from 80 to 76. maybe i just got a bad box, but i am not pleased.
Over 6 years ago
Boron ca
Bad product
I put this on my bike and it made it run terrible worst 200 dollars I've ever spent stock box works better
Over 6 years ago
Manhattan, KS
2007 trx450r
Product works great! Big differance in the rpms. pulls hard in 4th and 5th gear can really tell the differance. Awesome!!!!
Over 7 years ago
butler, PA
Bad luck
pulged it in & it worked great for about a month. then my fan stoped wotking & my indicator lights didnt work. i put the old one back on & everything worked again... MOTOSPORT is a great company to deal with. they got it warrantied by big gun & being the only differance was the higher rev limiter i took the credit towards some other parts.. it cant hurt to try it. mabey you will have better luck than me....
Over 7 years ago
seattle washington
Good for the price
helped wake up my 660. it should run like this from the factory
David Reynozo
Q: Why does it show it has 2 plug Ins and my Suzuki Ltz250 only have one plug in??
Paul
10 days 23 hours ago
A: Please disregard our photo of the Big Gun Rev Box. The photo shown may or may not be the unit specific to your motorcycle or ATV.
If you correctly profile your Suzuki LTZ250, including the model year, we will send you the specific unit to precisely fit your vehicle.
Bhovs
Q: Will this cdi bolt up same as the stock one? 2019 Honda trx250x
Dan Gearhead
1 month 9 days ago
A: Yes, this unit should install the same as your OE piece.
Nicki77
Q: Will this work on a 2008 Yamaha raptor 250 
robert
1 month 18 days ago
A: Yes this will fit the 2008 raptor 250.
Biggun dave
Q: I need a cdi unit for my 2008 suzuki ltz 400 will this work as a replacement
Paul
1 month 19 days ago
A: The CDI for your '08 LTZ400 is Suzuki part 32900-07G10, available at this link: https://www.motosport.com/atv/oem-parts/suzuki/2008/ltz400/electrical

The Big Gun Rev Box will help you to improve power and control fuel management, however it is not a replacement for your stock CDI.
Fullerk82
Q: Will this fit a 06 Yamaha raptor 50? 
Isaac
1 month 19 days ago
A: Yes the product is offered for your model.
David 58696
Q: Will this fit my 2007 Suzuki ltz250 that has a hmf slip on ??. 
robert
2 months 4 days ago
A: Yes this would work with your atv.
Scooter
Q: Will this fit my Apollo 125cc
Thumbs
3 months 18 days ago
A: This will not fit your Apollo 125.
maddog
Q: Does it work on a 2008 Honda TRX250EX
TylerGearhead
4 months 10 days ago
A: Yes, if you profile your machine accordingly, this will provide you the part needed for your 2008 TRX250EX.
Ben80
Q: How is this compared to the bbr cdi box in terms of power?
Thumbs
Over 6 months ago
A: They are extremely similar and very very close in rpm and overall power gains.
hugh
Q: Will it fit my 2007 Honda 250ex
ExpertJohnB
Over 6 months ago
A: Yes it will just make sure you profile you make model and year before adding to the cart
See all bikes that this part fits...
| Product Variant | Manufacturer Part # |
| --- | --- |
| Big Gun Rev Box | N/A |
| Big Gun Rev Box | 40-R10A |
| Big Gun Rev Box | 40-R10C |
| Big Gun Rev Box | 40-R19A |
| Big Gun Rev Box | 40-R19 |
| Big Gun Rev Box | 40-R21 |
| Big Gun Rev Box | 40-R05C |
| Big Gun Rev Box | 40-R32 |
| Big Gun Rev Box | 40-R10B |
| Big Gun Rev Box | 40-R09A |
| Big Gun Rev Box | 40-R11 |
| Big Gun Rev Box | 40-R28 |
| Big Gun Rev Box | 40-R20 |
| Big Gun Rev Box | 40-R22 |
| Big Gun Rev Box | 40-R01 |
| Big Gun Rev Box | 40-R24 |
| Big Gun Rev Box | 40-R16 |
| Big Gun Rev Box | 40-R03 |
| Big Gun Rev Box | 40-R06 |
| Big Gun Rev Box | 40-R04 |
| Big Gun Rev Box | 40-R09 |
| Big Gun Rev Box | 40-R02B |
| Big Gun Rev Box | 40-R02 |
| Big Gun Rev Box | 40-R02A |
| Big Gun Rev Box | 40-R30A |
| Big Gun Rev Box | 40-R10 |
| Big Gun Rev Box | 40-R10G |
| Big Gun Rev Box | 40-R25 |
| Big Gun Rev Box | 40-R31 |