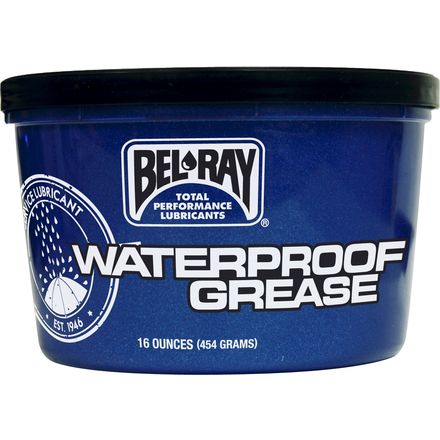 5 Star
46
4 Star
1
3 Star
0
2 Star
1
1 Star
0
Over 9 months ago
Glasgow ya bass
Makes it slip right in
But can I say she loves it
Over 10 months ago
Fallston,md
Perfect
Pull all my bikes apart when new to install grease in all the bearings. Usually do a regease at 20hrs and everything still looks brand new.
Over 11 months ago
East TX
Good Product
I bought this a few weeks ago. Good and consistent lubrication.
Perfect.
My favorite grease, works great, I use it for shock linage, wheel bearings and what not. No issues yet, as long as its made I will use this grease.
Outstanding
grease is very helpful. easy to put on but hard to get off. I use it for everything on my dirt bike.
Over 3 years ago
Southern California, CA, USA
Good quality. .
Good stuff my bike is a bit more quiet..
Over 3 years ago
Jamesville, Ny
A must for every rider
This is a must have product for every one that owns a dirtbike or quad. Makes bearings last longer. Don't hesitate, buy yourself a tub!
Great product for the price, should definitely last multiple seasons with no problem, realy makes a difference when you throw some grease on the axels.
Over 4 years ago
Honolulu
Best grease ever
Best grease ever. Water proof. Very tacky. Superior to store brands.
150Racer
Q: Is this grease ok to use inside the engine. like on the oil filter spring?
RMZ450199
Q: Can i use it for my air filter?
around the seal?
Cr250
Over 10 years ago
A: Yes, it is a standard grease.
jr061194
Over 10 years ago
A: yes you can put it around the seal i use it on everything i put it around the air box lid seal and it keeps all water or mud out
fla450
Over 10 years ago
A: OH YEAH! The only stuff I trust here in the Florida sand. Will not thin out in the heat or occasional water spot we may hit. Will wash out with any air cleaner on the market as well as diesel fuel which I use.
JesseC
Over 10 years ago
A: you sure can!
Dkelvt
Verified Purchaser
Top 50
Over 10 years ago
A: For greasing the seal Absolutely, for the filter itself you need Bel-Ray fome filter oil.
Loop
Over 10 years ago
A: You do not put it on the whole filter just the part that seals against the air filter gage, filter, and the air filter housing or air box
| Product Variant | Manufacturer Part # |
| --- | --- |
| Bel-ray Grease | 99540-Tb16W |