Barnett
Barnett Clutch Kit With Carbon Fiber Friction Plates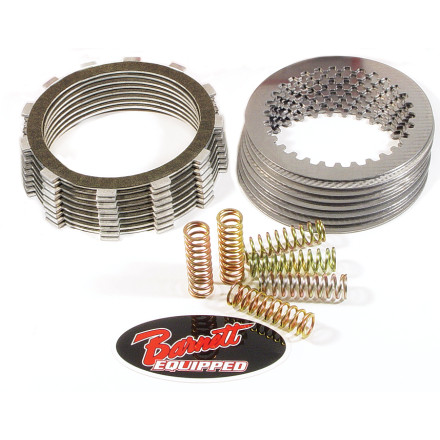 Barnett Clutch Kit With Carbon Fiber Friction Plates
5 Star
7
4 Star
0
3 Star
0
2 Star
0
1 Star
1
1 year ago
Valley springs Ca
Great kit!
Purchased for my sons Crf150rb made a huge difference in overall performance and gets the power down consistently!
Good clutch, but destroys stock basket
This would've been a good clutch. But they failed to mention that with these in the stock basket won't even last a full day of riding. I installed before. Ride rode 25 miles by then the quad wouldn't even go in neutral and had a horribly hard clutch pull. Only possible way to run this thing would be to have Barnetts clutch basket. It destroys Hinson billetproof to. Need a lot more detail on description.
Over 5 years ago
Prairieville, LA, USA
Best Clutches Made...
We always use Barnett Clutches, They are the BEST...
Over 5 years ago
Prairieville, LA, USA
Best Clutch Plates Made...
Barnett Clutches are great !! Perfect Fit and last forever !!
Great clutch for racing
I installed this clutch in my 2009 yfz 450 r. It was easy to install and could tell a difference on the first ride. The clutch springs are heavy duty, and the carbon fiber plates are great. I race quads and this quad is sure to help keep me in front of the competition.
Good product if you dont want to pay OEM prices
this clutch is nice but it has a different feel than stock to it, i feather the clutch a bit more than i should and these plates have already purpled and discolored but still holding up well with no clutch fade, run oil on the high side or run a little bit more than the manual says to help coat the clutch to prolong its life
Over 7 years ago
burdett new york
Great clutch
this clutch kit was easy to install,works great!won the first race of the season using this clutch!
Tom M
Q: Need to replace stock clutch in Yamaha venture trike. Concerned about carbon particles contaminating my oil. I think the cork material is safer especially if there is a failure. Your thoughts are appreciated as I need to replace the clutch asap. Thanks.
Paul
4 months 23 days ago
A: To help us to find parts to fit, we will need to know the year and full model description of your Yamaha Venture.
Most motorcycles use a wet clutch, sharing the engine oil. The Venture is not unique in this case. All motorcycle motor-oils are made to be used with the wet clutch, unlike automotive oils.
You're right; as the clutch wears the friction material breaks down and mixes with the engine oil. This is why it is critical that the oil be changed per the manufacturers' recommended intervals.
Ram Rod
Q: Years ago, I purchased a Barnett clutch pack for my 1978 Suzuki DR 370 it lasted 40 yrs, I need another one now. But I don't see it listed. Can you tell me if another Suzuki PAC will work?
Isaac
Over 7 months ago
A: Unfortunately we do not offer a clutch kit for your model.
Morgan006
Q: Will this kit work with the stock clutch basket on my 2006 kx250f without causing any problems?
Paul
Over 7 months ago
A: Yes, the Barnett Clutch Kit With Carbon Fiber Friction Plates fits your stock Kawasaki clutch basket with no problems.
Paul
Q: Do you have a clutch kit for a 2002 Suzuki Intruder 1400?
robert
1 year 6 months ago
A: We currently do no have any intruder clutch fitments from Barnett.
Krider87000
Q: If I install this in to my KX 250F with a stock clutch basket, will it destroy the clutch basket?
Jteets24
Q: Do I need to replace the basket?
I need a new clutch for my 2005 Honda TRX450R but I'm unsure if the stock basket will fit any or all aftermarket clutch kits. Do I need an aftermarket basket to match the clutch kits or am I able to use the stock basket?
MotoSportExpert
Over 4 years ago
A: The Barnett Clutch Kit With Carbon Fiber Friction Plates will work with your stock basket.
thorracing005
Q: Are these friction plates carbon fiber like the description says or are they Kevlar?
MotoSportGrantK
Over 5 years ago
A: The Friction Plates will be Carbon Fiber not Kevlar.
2tone
Q: We have a 1986 KTM500 2stroke MX bike and we want fibre and steel plates...
MotoSportRyanT
Over 5 years ago
A: Unfortunately, I do not have a listing for any KTM parts pre-1990. I would have to recommend contacting your nearest KTM dealership for parts for your 1986 KTM 500.
corprate
Q: Does this kit include springs or is it just plates
DrewKlann
Over 9 years ago
A: Yes, the springs are included.
H80bens
Q: Do these plates need to soak in oil 24 hours prior to installation?
DrewKlann
Over 9 years ago
A: Yes soak them just like your standard friction plates.
See all bikes that this part fits...
| Product Variant | Manufacturer Part # |
| --- | --- |
| Barnett Clutch Kit With Carbon Fiber Friction Plates | 303-35-20030 |
| Barnett Clutch Kit With Carbon Fiber Friction Plates | 303-35-20021 |
| Barnett Clutch Kit With Carbon Fiber Friction Plates | 303-35-20050 |
| Barnett Clutch Kit With Carbon Fiber Friction Plates | 303-35-200 |
| Barnett Clutch Kit With Carbon Fiber Friction Plates | 303-35-20029 |
| Barnett Clutch Kit With Carbon Fiber Friction Plates | 303-70-20046 |
| Barnett Clutch Kit With Carbon Fiber Friction Plates | 303-70-20064 |
| Barnett Clutch Kit With Carbon Fiber Friction Plates | 303-70-200 |
| Barnett Clutch Kit With Carbon Fiber Friction Plates | 303-35-20024 |
| Barnett Clutch Kit With Carbon Fiber Friction Plates | 303-90-20065 |