Athena
Athena Top End Gasket Kit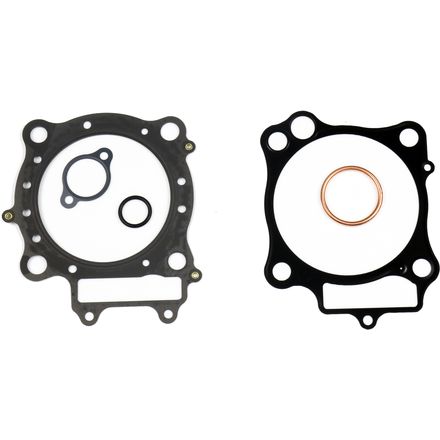 Athena Top End Gasket Kit
---
15% Off - Save up to $46.96
---
1 Review
1

reviews

0

reviews

0

reviews

0

reviews

0

reviews
All Reviews
Over 10 months ago
California
Durability

5/5

Ease of Installation

5/5

Performance

5/5

Power

5/5

Style

5/5
Great quality
Bikes got 40 hours no issues yet
1 Question
Question asked by

Phil
Question:

Does this come with valve seals?

Question asked

Over 10 months ago

Question answered by

Michael

User's contributor status:

Top 10

Question answered

Over 10 months ago

Answer:

Note: Kit contents vary by application.

That being said, for which vehicle are you shopping for? Give us a call or use our live chat, so that we can further determine what items come with your kit exactly.
Fitment
See all bikes that this part fits...
# Part Numbers
| Product Variant | Manufacturer Part # |
| --- | --- |
| Athena Top End Gasket Kit | P400155600001 |
| Athena Top End Gasket Kit | P400155600002 |
| Athena Top End Gasket Kit | P400210160021 |
| Athena Top End Gasket Kit | P400210160316 |
| Athena Top End Gasket Kit | P400210600058 |
| Athena Top End Gasket Kit | P400210600064 |
| With Valve Cover Gasket | P400210600065 |
| Athena Top End Gasket Kit | P400210600069 |
| Athena Top End Gasket Kit | P400210600085 |
| Without Valve Cover Gasket | P400210600095 |
| Athena Top End Gasket Kit | P400210600096 |
| Athena Top End Gasket Kit | P400210600097 |
| Athena Top End Gasket Kit | P400210600178 |
| Athena Top End Gasket Kit | P400210600182 |
| Athena Top End Gasket Kit | P400210600183 |
| Athena Top End Gasket Kit | P400210600184 |
| Athena Top End Gasket Kit | P400210600187 |
| Athena Top End Gasket Kit | P400210600202 |
| Athena Top End Gasket Kit | P400210600207 |
| Athena Top End Gasket Kit | P400210600213 |
| Athena Top End Gasket Kit | P400210600214 |
| Athena Top End Gasket Kit | P400210600215 |
| Athena Top End Gasket Kit | P400210600245 |
| Athena Top End Gasket Kit | P400210600252 |
| Athena Top End Gasket Kit | P400250160011 |
| Athena Top End Gasket Kit | P400250600008 |
| Athena Top End Gasket Kit | P400250600009 |
| Athena Top End Gasket Kit | P400250600011 |
| Athena Top End Gasket Kit | P400250600015 |
| Athena Top End Gasket Kit | P400250600016 |
| Athena Top End Gasket Kit | P400250600021 |
| Athena Top End Gasket Kit | P400250600022 |
| Athena Top End Gasket Kit | P400250600024 |
| Athena Top End Gasket Kit | P400250600030 |
| Athena Top End Gasket Kit | P400250600047 |
| Athena Top End Gasket Kit | P400250600048 |
| Athena Top End Gasket Kit | P400250600049 |
| Athena Top End Gasket Kit | P400250600055 |
| Athena Top End Gasket Kit | P400250600061/1 |
| Athena Top End Gasket Kit | P400250600062 |
| Athena Top End Gasket Kit | P400250600065 |
| Athena Top End Gasket Kit | P400250600066 |
| Athena Top End Gasket Kit | P400250600067 |
| Athena Top End Gasket Kit | P400250600104 |
| Athena Top End Gasket Kit | P400270160002 |
| Athena Top End Gasket Kit | P400270160066 |
| Athena Top End Gasket Kit | P400270160075 |
| Athena Top End Gasket Kit | P400270600008 |
| Athena Top End Gasket Kit | P400270600009 |
| Athena Top End Gasket Kit | P400270600013 |
| Athena Top End Gasket Kit | P400270600016 |
| Athena Top End Gasket Kit | P400270600019 |
| Athena Top End Gasket Kit | P400270600021 |
| Athena Top End Gasket Kit | P400270600023 |
| Athena Top End Gasket Kit | P400270600024 |
| Athena Top End Gasket Kit | P400270600028 |
| Athena Top End Gasket Kit | P400270600036 |
| Athena Top End Gasket Kit | P400270600041 |
| Athena Top End Gasket Kit | P400270600042 |
| Athena Top End Gasket Kit | P400270600043 |
| Athena Top End Gasket Kit | P400270600044 |
| Athena Top End Gasket Kit | P400270600045 |
| Athena Top End Gasket Kit | P400270600047 |
| Athena Top End Gasket Kit | P400270600049 |
| Athena Top End Gasket Kit | P400270600056 |
| Athena Top End Gasket Kit | P400270600071 |
| Athena Top End Gasket Kit | P400270600072 |
| Athena Top End Gasket Kit | P400270600077 |
| Athena Top End Gasket Kit | P400270600078 |
| Athena Top End Gasket Kit | P400270600079 |
| Athena Top End Gasket Kit | P400270600081 |
| Athena Top End Gasket Kit | P400270600083 |
| Athena Top End Gasket Kit | P400270600084 |
| Athena Top End Gasket Kit | P400270620037 |
| Athena Top End Gasket Kit | P400270600061 |
| Athena Top End Gasket Kit | P400270600062 |
| Athena Top End Gasket Kit | P400270600063 |
| Athena Top End Gasket Kit | P400270600074 |
| Athena Top End Gasket Kit | P400270620054 |
| Athena Top End Gasket Kit | P400210160015 |