Athena
Athena Factory Cylinder Kit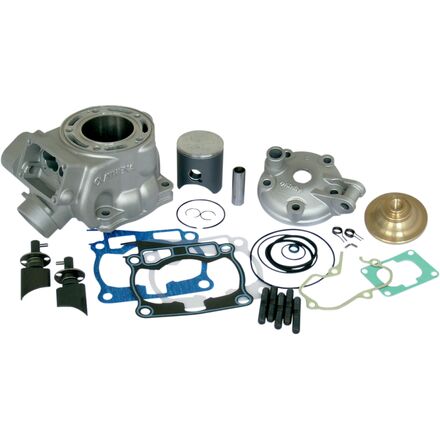 Athena Factory Cylinder Kit
---
15% Off - Save up to $121.96
---
5 Star
7
4 Star
0
3 Star
0
2 Star
0
1 Star
1
3 months 15 days ago
Long Island New York
Great product
Bolted right on without any modifications and the bike is finally running to its full potential
3 months 19 days ago
Arvada, CO
Easy to Build and Install
I bought this kit so I could be running a 125 piston instead of the 144 and the bike runs great it is super crisp and the motor feels awesome. Also it gives good instructions on how to build the head and everything.
Over 5 months ago
Walton New York
Excellent Product
I bought this for a 2003 kx125 and man did it bring it back to life plus some. My 2003 can keep up with modern 125's with this kit.
Excellent Head
Easy to install and give tons of power.
Stock Cylinder bore
Purchased a stock bore Athena replacement cylinder. Would've been nice to know they intentionally spin the stud bold holes 180 degrees so you have to buy their cylinder head. Next time I'll just spend the extra money and buy an OEM jug. Not worth the hassle of going aftermarket.
Over 3 years ago
Arlington, WA, USA
Very complete kit
With v force reeds this thing runs super clean and crisp. Good power.
Over 8 years ago
Winter Garden, FL
Good Buy
My stock cylinder was trashed. Picked up the Athena kit and after the simple install there was noticeable performance gains.
Over 8 years ago
Mill Creek WV
Top End Kit
Bought this kit for my YZ125 that I had blown up. It was super easy to install and got me back into the season without missing a race and the bike seemed to have a little more power also.
Zmd123
Q: On a 99 yz125 what does it bring the compression ip to
MattGearhead
4 months 25 days ago
A: For this kit, the technical data for this item shows the compression ratio to be 14,8:1.
more details can be found here: http://www.athenaparts.com/files/pdfs/P400485100003.pdf
Jake
Q: Can you still use pump gas with this kit?
JerryGearhead
Over 5 months ago
A: Yes you can, I would advise using Premium Ethanol free gas.
Gavin
Q: Does it come with the power valve?
DaveGearhead
Over 10 months ago
A: Uses specially designed high-performance, high anodized power valves.
2 tokes
Q: Will Wiseco pistons work in these Athena cylinders or only the Athena piston?
Trevor Gearhead
Over 10 months ago
A: A Wiseco piston would work. The cylinder isn't piston specific.
TonyYZ125
Q: My 05 yz125 have the athena standard bore kit with the copper head I run it with a br9eg spark plug. I tried loctite on treads but it keeps comming out anyway, is there a specific spark plug for this head?
DaveGearhead
1 year 1 month ago
A: You are running the correct plug for that application. I would suggest contacting Athena to discuss a possible manufacturer's warranty issue.
Mike
Q: My exhaust off my 98 yz 125 won't fit I bought this kit what pipe would I have to buy for it ?
DaveGearhead
1 year 1 month ago
A: We would need to know more about which exhaust you are running. Please give us a call so that we can help you solve your issue.
Justin706
Q: My 02 yz125 has this cylinder kit on it. The head gasket has blown. Where can i find the right size o-rings for this cylinder?
Trevor Gearhead
1 year 2 months ago
A: Athena Cylinder Head O-ring Kit - Manufacturer Part # P400485999003 I would recommend ordering from Athena directly http://www.athenaparts.com/eng/products/view/7967/athena-cilinder-head-o-ring-kit
Al GUILBEAULT
Q: I installed kit the piston seams to be hitting head . Does the kit need to use the Athena gasket set ? It kits over but stops at dead top and wont move.
JamesGearhead
1 year 3 months ago
A: No, the Athena head gasket is not necessary when installing the Athena piston however it is recommended.
Zach43
Q: Do you have to use the Athena power valves? Or can I use stock ones for the factory cylinder?
Will help me a lot thanks!!!
BillyEXT3407
2 years 7 months ago
A: The Athena Factory Cylinder kit will be sold with Power Valves.
Mike
Q: 144 kit?
Is this considered a 144 kit or completely different?
See all bikes that this part fits...
| Product Variant | Manufacturer Part # |
| --- | --- |
| Athena Factory Cylinder Kit | P400250100001 |
| Athena Factory Cylinder Kit | P400485100003 |
| Athena Factory Cylinder Kit | P400485100017 |