ASV
ASV F3 Series Forged Brake And Clutch Lever Kit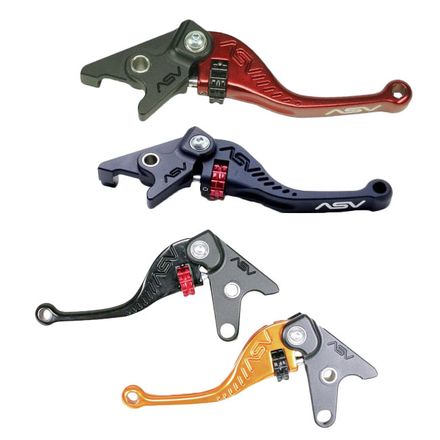 ASV F3 Series Forged Brake And Clutch Lever Kit
---
25% Off - Save up to $44.46
---
Enter to Win $500
Write your review and you'll automatically be entered in our monthly drawing. Include an image or video to DOUBLE your chances to win!
Write Your Review
Martin
Q: Is this price $180.00? Is for clutch and break levers? Or just 1?
robert
2 months 17 days ago
A: The kit will come with clutch and brake levers.
See all bikes that this part fits...
Brake Lever
| Product Variant | Manufacturer Part # |
| --- | --- |
| Red / Short | BRF341S-R |
| Red / Standard | BRF350-R |
| Blue / Short | BRF330S-B |
| Red / Standard | BRF341-R |
| Red / Short | BRF355S-R |
| Blue / Standard | BRF330-B |
| Blue / Short | BRF311S-B |
| Red / Short | BRF352S-R |
| Blue / Standard | BRF311-B |
| Red / Standard | BRF311-R |
| Red / Short | BRF310S-R |
| Blue / Short | BRF310S-B |
| Red / Standard | BRF310-R |
| Red / Short | BRF350S-R |
| Red / Short | BRF311S-R |
| Red / Standard | BRF352-R |
| Blue / Standard | BRF312-B |
| Red / Standard | BRF355-R |
| Red / Standard | BRF312-R |
| Red / Short | BRF320S-R |
| Blue / Short | BRF312S-B |
| Red / Standard | BRF330-R |
| Red / Short | BRF312S-R |
| Blue / Standard | BRF341-B |
| Blue / Standard | BRF314-B |
| Blue / Short | BRF341S-B |
| Red / Standard | BRF314-R |
| Blue / Standard | BRF350-B |
| Blue / Short | BRF314S-B |
| Blue / Short | BRF350S-B |
| Red / Short | BRF314S-R |
| Blue / Standard | BRF352-B |
| Blue / Standard | BRF320-B |
| Blue / Short | BRF352S-B |
| Red / Standard | BRF320-R |
| Blue / Standard | BRF355-B |
| Blue / Short | BRF320S-B |
| Blue / Short | BRF355S-B |
| Gold / Short | BRF370S-G |
| Red / Short | N/A |
| Gold / Short | BRF350S-G |
| Gold / Short | BRF320S-G |
| Gold / Standard | BRF320-G |
| Gold / Short | BRF330S-G |
| Gold / Standard | BRF350-G |
| Gold / Short | BRF312S-G |
| Gold / Standard | BRF330-G |
| Gold / Short | BRF341S-G |
| Gold / Standard | BRF312-G |
| Gold / Short | BRF311S-G |
| Gold / Standard | BRF341-G |
| Gold / Short | BRF352S-G |
| Gold / Standard | BRF311-G |
| Gold / Short | BRF314S-G |
| Gold / Standard | BRF352-G |
| Gold / Short | BRF310S-G |
| Gold / Standard | BRF314-G |
| Gold / Short | BRF355S-G |
| Gold / Standard | BRF310-G |
| Black / Short | BRF370S-K |
| Gold / Standard | BRF355-G |
| Black / Short | BRF320S-K |
| Black / Standard | BRF370-K |
| Black / Short | BRF350S-K |
| Black / Standard | BRF320-K |
| Black / Short | BRF330S-K |
| Black / Standard | BRF350-K |
| Black / Short | BRF312S-K |
| Black / Standard | BRF330-K |
| Black / Short | BRF341S-K |
| Black / Standard | BRF312-K |
| Black / Short | BRF311S-K |
| Black / Standard | BRF341-K |
| Black / Short | BRF352S-K |
| Black / Standard | BRF311-K |
| Black / Short | BRF314S-K |
| Black / Standard | BRF352-K |
| Black / Short | BRF310S-K |
| Black / Standard | BRF314-K |
| Black / Short | BRF355S-K |
| Black / Standard | BRF310-K |
| Gold / Standard | BRF370-G |
| Black / Standard | BRF355-K |
| Blue / Standard | BRF310-B |
Clutch Lever
| Product Variant | Manufacturer Part # |
| --- | --- |
| Red / Standard | CRF355-R |
| Gold / Standard | CRF370-G |
| Gold / Standard | CRF340-G |
| Gold / Standard | CRF345-G |
| Red / Standard | CRF310-R |
| Black / Standard | CRF370-K |
| Gold / Standard | CRF311-G |
| Gold / Standard | CRF310-G |
| Gold / Standard | CRF314-G |
| Gold / Standard | CRF355-G |
| Gold / Standard | CRF352-G |
| Gold / Standard | CRF323-G |
| Blue / Short | CRF355S-B |
| Black / Standard | CRF345-K |
| Red / Short | CRF355S-R |
| Black / Standard | CRF340-K |
| Black / Standard | CRF330-K |
| Black / Standard | CRF341-K |
| Black / Standard | CRF311-K |
| Black / Standard | CRF350-K |
| Black / Standard | CRF310-K |
| Black / Standard | CRF314-K |
| Black / Standard | CRF352-K |
| Black / Standard | CRF355-K |
| Red / Standard | CRF342-R |
| Black / Standard | CRF323-K |
| Gold / Standard | CRF342-G |
| Black / Standard | CRF342-K |
| Red / Short | CRF341S-R |
| Blue / Standard | CRF342-B |
| Red / Standard | CRF341-R |
| Blue / Short | CRF341S-B |
| Red / Short | CRF340S-R |
| Blue / Standard | CRF341-B |
| Red / Standard | CRF340-R |
| Blue / Short | CRF340S-B |
| Red / Short | CRF330S-R |
| Blue / Standard | CRF340-B |
| Red / Standard | CRF330-R |
| Blue / Short | CRF330S-B |
| Red / Short | CRF323S-R |
| Blue / Standard | CRF330-B |
| Red / Standard | CRF323-R |
| Blue / Short | CRF323S-B |
| Red / Short | CRF314S-R |
| Blue / Standard | CRF323-B |
| Red / Standard | CRF314-R |
| Blue / Short | CRF314S-B |
| Red / Short | CRF311S-R |
| Blue / Standard | CRF314-B |
| Red / Standard | CRF311-R |
| Blue / Short | CRF311S-B |
| Red / Short | CRF310S-R |
| Blue / Standard | CRF311-B |
| Gold / Standard | CRF350-G |
| Blue / Short | CRF310S-B |
| Gold / Standard | CRF330-G |
| Gold / Standard | CRF341-G |
| Blue / Short | CRF342S-B |
| Blue / Standard | CRF310-B |
| Black / Short | CRF323S-K |
| Gold / Short | CRF342S-G |
| Black / Short | CRF352S-K |
| Black / Short | CRF342S-K |
| Black / Short | CRF355S-K |
| Red / Short | CRF342S-R |
| Black / Short | CRF310S-K |
| Blue / Standard | CRF344-B |
| Black / Short | CRF314S-K |
| Gold / Standard | CRF344-G |
| Black / Short | CRF311S-K |
| Black / Standard | CRF344-K |
| Black / Short | CRF350S-K |
| Red / Standard | CRF344-R |
| Black / Short | CRF330S-K |
| Blue / Short | CRF344S-B |
| Black / Short | CRF341S-K |
| Gold / Short | CRF344S-G |
| Black / Short | CRF345S-K |
| Black / Short | CRF344S-K |
| Black / Short | CRF340S-K |
| Red / Short | CRF344S-R |
| Black / Short | CRF370S-K |
| Blue / Standard | CRF345-B |
| Gold / Short | CRF323S-G |
| Red / Standard | CRF345-R |
| Gold / Short | CRF352S-G |
| Blue / Short | CRF345S-B |
| Gold / Short | CRF355S-G |
| Red / Short | CRF345S-R |
| Gold / Short | CRF310S-G |
| Blue / Standard | CRF350-B |
| Gold / Short | CRF314S-G |
| Red / Standard | CRF350-R |
| Gold / Short | CRF311S-G |
| Blue / Short | CRF350S-B |
| Gold / Short | CRF350S-G |
| Red / Short | CRF350S-R |
| Gold / Short | CRF330S-G |
| Blue / Standard | CRF352-B |
| Gold / Short | CRF341S-G |
| Red / Standard | CRF352-R |
| Gold / Short | CRF345S-G |
| Blue / Short | CRF352S-B |
| Gold / Short | CRF340S-G |
| Red / Short | CRF352S-R |
| Gold / Short | CRF370S-G |
| Blue / Standard | CRF355-B |