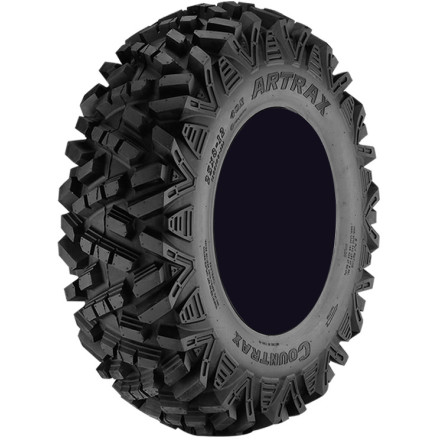 ---
46% Off - Save up to $64.95
---
5 Star
149
4 Star
23
3 Star
1
2 Star
0
1 Star
2
Write a Review
Write your review and you'll automatically be entered in our monthly drawing. Include an image or video to DOUBLE your chances to win!
Write Your Review
Solid tire
Great all purpose tire, 100% satisfied with my purchase.
Quality
I cant wait to get in the mountains and try them out! I told all my friends to check out this site.
2 months 23 days ago
N.E. Mississippi
Great tires!!!
This past weekend I took these tires through everything I could find and they did great on my Arctic Cat!!!
Mud, water, sand, red clay, gravel, up several steep hills not recommended I'm sure for a 4 wheeler, mud pits and it didn't stop these tires. I tried about every kind of terrain I could find in my area and they worked great!!
Most 4 wheelers where I was at had 28''+ tires and I have the stock 25'' tires and I went through everything they did with no problem.
I'm not the average off road driver, I push my rig harder than most people. I put in 20.5 miles last Saturday's ride. I usually in a day put 15-30 miles on average riding hard when I take it to a OHV park.
2 months 24 days ago
Boise, Idaho
Not really the wheels problem - poor tire design!
I couldn't go lower than one star on these poorly designed front tires.
3 months 28 days ago
Nashoba, ok
Utility ATV Tires
I bought a set of front and rear atv tires from Motosport. I received 4 front tires and no rears. I called CS and they immediately put in a shipment of rears and created a shipping label to send the extra front tires free of charge. I received the replacement rears in 3-4 days. Awesome CS! A+ Motosport!
The tires are awesome, great grip and clearing mud. Only thing negative is that I didn't have them balanced, now I have a moderate shake after 45mph. Would buy again. Massive tread. Lots of comments and inquiries from friends and passerby's.
4 months 22 days ago
Winnemucca Nevada
So Far So Good
These Tires are so much better than stock. They grip really well on our upper desert rides. From snow to sand to mud to hard rocks they perform great. They also don't have the wobble in the steering when going down the pavement. They also have tread that is not rounded at the edge of the tire that helps make the quad more stable on side hills. So far really happy with my purchase. Not really sure about Durability as I only had them on a few months. I am pretty sure they will be fine..
4 months 22 days ago
Denver, CO, USA
Best tire for the price
I put these tires on the front of my 1997 Kawasaki Prairie and they are awesome. They grip everything great snow, mud, rocks, and gravel roads. I feel like the square edges make the ATV feel much more stable while turning sharp at higher speeds and they are great for deep ruts that form on trails. They were a little deformed when I got them out of the box but I just put a tiedown around the tire while I aired it up and it seated just fine even with the valve stem core still in.
Over 7 months ago
Mountain Home, ID
Great tire!
almost bought the bighorn radials...found these on sale for half the price and dont regret it! i have only been on hardpack dirt trails and snow so far, performed great in both. just plowed some driveways and never needed 4 wheel drive (except a couple times when the plow was raised taking the weight off the back tires). heavier than stock tires, but did not feel a performance degrade. highly recommend. 2009 grizzly 550.
Over 8 months ago
Waukesha, WI, USA
Great tires, great price.
*Backstory*
Last year I bought a used '03 Honda Foreman Rubicon to handle a snow removal contract if just gotten. The original Bridgestone tires were worn almost smooth. They pushed great in a straight line, but didn't grip well while trying to scoop snow away from areas that couldn't have piles. They just didn't bite enough...

*Review*
While my year/make/model wasn't listed on motosports website I didn't have any trouble putting them in my cart and proceeding to check out. There I encountered the only snag I would. A prepaid CC want being accepted, so I had to call them directly. Everything was straightened out immediately and the waiting began. A couple days later the tires arrived at my door, so I immediately opened the boxes to discover my tires were not deformed in any way. (I'm not sure if my tires were just at the top of the stacks, popularity has grown so much that they no longer spend much time prepped for shipping, or if motosport has heard the grumbling and changed how they package them) Installation was a breaze, and i was ready to roll. Down the driveway, and around the utility trail. They rolled really smoothly on pavement but the added contact area did make steering while standing still a little more difficult (all time 4wd doesn't help). On the trail everything was great, but not much of a test (so read other reviews for those opinions).

I'm looking forward to the first snowfall, and replacing this line if I can to reflect that.
Over 8 months ago
Mellen, WI
Great ATV Tires
I have had a chance already to try these tires in some good mud and they work great. We just got some snow here in northern Wisconsin and the tires handled 10-11 inches of wet heavy snow very well. overall I'm impressed with the tires.
Q: Are these tires radial or bias ply? and how would they do on a brute focre 750 kinda new to the atv side of motoring?
Q: What psi should be used?
Q: Will these fit my 2009 Mule 4010 trans 4x4?
HI, I still have the original tires and wheels on my Mule - Dunlop 23x11-10. When I measure them as they sit on my Mule they are right at 21" tall. If these tires measure 25" from the ground when mounted then it seems there would be very little clearance under the fender well. What is the height of these tires mounted? Thank you
Q: Polaris sportsman 400
Will these tires fit on my 2012 Polaris sportsman with out the use of wheel spacers. I ask this because I hear of others having to use wheel spacers on their quads
AdirondackDar
1 year 8 months ago
A: They fit on my 2005 sportsman 500 without spacers... I'm sure you'll be fine
Q: Are the tires directional?
jeffro
1 year 10 months ago
A: No... and they go anywhere..!!
Milehigh
1 year 10 months ago
A: Yes they are directional.
Retired
1 year 10 months ago
A: yes
Q: Kawasaki mule 610 4x4
This says it will fit my mule with 24x9 oem tires. The only available size is 25x8-12. Is this correct? Will it still fit my machine?
Ttamer
2 years 1 month ago
A: They should be fine, had 25s on my machine and measured 24 1/4
MotoSportExpert
2 years 1 month ago
A: If you still have the stock 12" diameter wheels these 25x8-12 tires would fit. They would be 1" (25) taller and 1" (9) narrower than the 24x9. Also, feel free to give us a call at 888-676-8853 and we would be happy to help you out with your order.
Q: Hard road
How long do u think these tires will last on hard asphalt roads and dirt roads
Morty
2 years 3 months ago
A: Not long, had them on a king quad and they wobbled badly on hard road but a good tire off road
MotoSportExpert
2 years 3 months ago
A: Unfortunately life span is hard to determine on motorcycle and ATV tires. These tires are not designed or tested for paved road use. The type of ATV/UTV they are going on is large factor. A heavier ATV/UTV will wear them out quicker than a lighter ATV/UTV. What condition the roads are in and what material the roadway is made of where you live, in addition to the temperatures of the road will all have an effect on the longevity of the tires. These tires are not designed or tested for paved road use.
Q: Will a 27" tire be okay on a stock 2014 polaris rzr 570? What would be the best fitment for the unit?
MotoSportExpert
2 years 6 months ago
A: Unfortunately there's not a common list of tires that will fit on a given machine. There are a lot of things need to be taken into account when changing a tire size. Clearance, does you machine have a lift or enough room to clear the larger tires? Does your machine have clutch and/or power modifications to handle the larger tires? Reliability, the larger tires will add stress to that machine and components. For these reasons and others we generally recommend the stock size tires that the machine was designed for.

OEM Stock Sizes for a 2014 Polaris RANGER RZR 570 4x4
Front Tire: 25x8-12 Rear Tire: 25x10-12

Also, feel free to give us a call at 888-676-8853 and we would be happy to help you out with your order.
Q: Tread depth clarification and weights
I want to get some clarification on the tread depth for the CTX tire. I have seen everything from 3/4 inch, 1 inch to 1 1/8 inch tread depth. Talking with a guy on a forum, he said tread depth on 26" radials is 1 1/8. I would just like the tread depth question verified for both the CTX 25" bias and 26" radial. Also, I seen where you listed the CTX radial tire as 27lbs front and 30lbs rear. What is the weight of the 25" tires? I apologize if I missed a previous answer on that. Very interested in ordering a set. I'm just trying to decide between 25" and 26" for my 2015 Polaris 570. I'm leaning towards the 26". Thanks. Cal
Honkydawg
2 years 6 months ago
A: I have both artrax tires. The 26 in radial tire are stiff and to me better for a utv. However, if height is ur concern the artrax 25 inch tires and the 26 in radials are about the same actually. Seems weird but it's true. I prefer the artrax ctx.The 25 inch tire myself. They ride better
MotoSportExpert
2 years 6 months ago
A: CTX Tire 25x8-12:
Weight: 23.8 lbs
Tread Depth: ¾"

CTX Tire 25x10-12:
Weight: 28.35 lbs
Tread Depth: ¾"

CTX Radial Tire 26x9-12:
Weight: 24.1 lbs
Tread Depth: ¾"

CTX Radial Tire 26x11-14:
Weight: 31.8 lbs
Tread Depth: 13/16"

Also, feel free to give us a call at 888-676-8853 and we would be happy to help you out with your order.
Q: My Polaris 500 HO rear tires are 25x11x12 will 25x10x12 fit on my stock wheels. I have never replaced them before
MotoSportExpert
2 years 12 months ago
A: You should have no problem running the 1" narrower tire.
Adrian
2 years 12 months ago
A: They fit great on mine and I can't tell the difference in width.
See all bikes that this part fits...