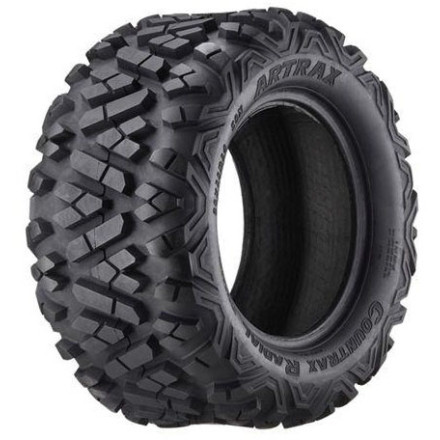 ---
44% Off - Save up to $75.00
---
5 Star
60
4 Star
5
3 Star
0
2 Star
1
1 Star
1
Write a Review
Write your review and you'll automatically be entered in our monthly drawing. Include an image or video to DOUBLE your chances to win!
Write Your Review
1 month 10 days ago
Pueblo Colorado
Smooth ridding
Hands down the best tires I've bought
1 month 22 days ago
Boise, id
Horrible ride
I've not purchased a lot of ATV tires but I bought these to replace the original stock on my Arctic Cat Prowler. I didn't realize how different these could be but they're so out of balance I can't let go of the wheel with one hand once I get about 25 MPH. The entire vehicle shakes and the steering wheel jumps back and forth like there's a bent wheel or loose lugnuts. I started a t 13 pounds dropped in increments till I got to 6 pounds with no change. Have double and tripple checked lug nuts over and over. These seem to have the same bounce whether I'm loaded or completely empty. they won't warranty because I bought them just before a trip so they now have miles on them. I'll have to go somewhere else and pick up tires now but I'd never buy these again.
3 months 10 days ago
Indiana
Great Tread Pattern and depth.
Have only put about 100 miles on these tires, but man do they hook up. Tread is deep and essentially the same pattern as the Bighorn 2.0's. I'm excited to see if the rubber compound is comparable as I do a lot of road riding. The cost of these tires is what was appealing to me, as for the pattern and longevity (hopefully) is the exact same as the almighty Bighorns
3 months 23 days ago
Wisconsin
Look great
I would like to tell you more about the tires, but I only had put about 7 miles on them when my ATV quit running. I need to get a ecu for it.
Over 5 months ago
Athens, Wisconsin
Great Tires
Just had these mounted, I love them.
Smooth ride and great traction in the woods!
Over 5 months ago
Example: New York, NY
Very happy
fast shipping and mounted up and clears all steering on my 2010 ranger.
Over 5 months ago
Nekoosa WI
Over 5 months ago
Spokane WA
2017 RZR 570 Trail
26x9x12 & 26x11x12 perfect fitment on my RZR. Put my RZR up to 11" of clearance, without a lift kit. They are a true 26" Diameter tire. 7/8" deep lugs, 6 ply, super hard off road truck tire quality rubber. My 3rd set on 3 different rigs, compare to Sedona rip Saws. I can run steep sand shoots and there is no tire spin, pure grip! Idaho ATV Touring
Over 5 months ago
Texas Panhandle
Great service and tires
Fast service and the tires were reasonably priced and great quality. We will purchase for our Polaris Crew again. Will tell our friends.
Awesome Tire So Far
I have only been out on one big ride with these, but it was 60 miles of either climbing rocks or running creek beds with rocks you couldn't see. They performed perfect. Great traction in mud as well! They are true to size and a portion of the price of bighorns! Love them!
WALLEYESTALKER
Q: WHAT TIRE WOULD U RECOMEND FOR SOME TAR AND ROUGH TERRAIN
TylerGearhead
2 months 5 days ago
A: Giving us a call at 1-888-676-8853 would allow us to ask a couple more questions to better point you in the right direction.
JOE p
Q: What is load rating for 26-11-12
Thumbs
4 months 13 days ago
A: This tire will handle right around 400 pounds.
Frank
Q: Are the two prices of $96.47 and $128.62 for the front and back tires? Or why does it show 2 prices? Also, are these tires available at a store in ca
ExpertJohnB
Over 7 months ago
A: Prices are just for 1 tire and prices are different for different sizes of tires
Jeffrey
Q: Will the 26x11x12 fit on. 8 inch wide rim ?
robert
Over 8 months ago
A: yeas this will work on an 8 inch wide rim
kris
Q: Will a set of 26x9x14 fit all 4 on my 09 polaris 800s? and is the Antrax CTX Radial a good tire for the Arizona Peace Trail
Thumbs
Over 8 months ago
A: This tire would work great for that trail. It does look to be pretty rocky and this is a 6-ply so it will be fine, me personally would look for an 8-ply tire to play it safe when you are in the middle of the 750 mile trail. And I wouldn't suggest running a 9" wide tire in the rear, it would fit but OEM calls for a 10" wide tire so I wouldn't go smaller than that. The front isn't a huge deal but with all of the weight being in the back of the machine I would stick with the wider tire in the rear.
coop
Q: What air psi do we run in artrax ctx radial tire
Cooter
1 year 10 months ago
A: I prefer 15lbs in my sxs. My Joyner Trooper is a few hundred pounds heavier than other brands and have found this to give me the best ride and wear for my terrain.
Paul
1 year 10 months ago
A: I run 4-6 psi.
Samy
1 year 10 months ago
A: About 10psi
Gene
Q: How do these tires hold up to pavement driving most our trails are road routes?
MotoSportExpert
2 years ago
A: The Artrax CTX Radial Tire is not designed or recommended for paved road use.
Paul
2 years ago
A: They will work just fine. The rubber compound is very hard.
I've put over 1500 miles on a set without any significant wear.
Breezyboi
Q: Do these tires come in a 27. My commander has stock 27" tires and i wouldnt mind using the 26" but if they come in a 27" i would rather go back stock.
MotoSportExpert
2 years 9 months ago
A: No sorry the Artrax CTX Radial ATV Tire is not available in a 27".
Paul
2 years 9 months ago
A: These are available in 25" & 26" sizes only. They do run a little larger than the stated size.
James
Q: Why no 25" sizes?
I have a machine that really can't deal with the larger than stock sizes. Why no 25" sizes? Do the 26" run pretty true to size?
Paul
2 years 11 months ago
A: 26" tires run a little larger than the stated size.
I have several sets of these, and the non radial 25" tires. Great tires!
MotoSportExpert
2 years 11 months ago
A: Sorry the Artrax CTX Radial ATV Tire is not available in a 25". Please contact one of our sales professionals to inquire about special orders and availability.
Dirt Bike / ATV: 1-888-676-8853
Gary
2 years 11 months ago
A: look at the CTX for 25" http://www.motosport.com/artrax-ctx-tire
wileE
Q: 15" wheels?
do you have these that will fit a 15" wheel, I would like to put some on my Dune Buggy
MotoSportExpert
Over 3 years ago
A: No unfortunately the Artrax CTX Radial ATV Tire is not available for a 15" wheel.
Paul
Over 3 years ago
A: No. 14" is the largest.
See all bikes that this part fits...
California Proposition 65
WARNING: This product contains chemicals, including (Di(2-ethylhexyl)phthalate (DEHP)), known to the State of California to cause cancer, and birth defects or other reproductive harm. Wash hands after handling. For more information, go to www.P65Warnings.ca.gov.