Applied
Applied R/S Triple Clamp Kit With Pro Taper Contour Handlebar Combo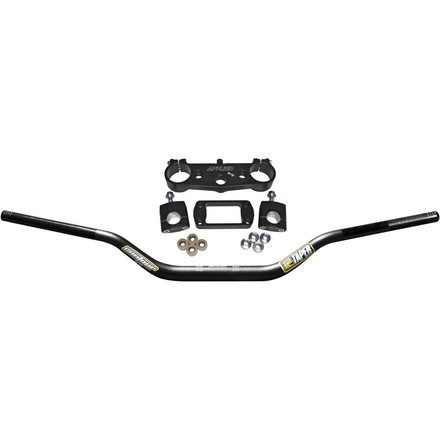 Applied R/S Triple Clamp Kit With Pro Taper Contour Handlebar Combo
---
15% Off - Save up to $40.21
---
Enter to Win $500
Write your review and you'll automatically be entered in our monthly drawing. Include an image or video to DOUBLE your chances to win!
Write Your Review
Damen
Q: Would you change anount to avoid duty tax im $50 nzd over
TylerGearhead
Over 5 months ago
A: No unfortunately not, we cannot change the price to help avoid duties.
See all bikes that this part fits...
Clamp Kit
| Product Variant | Manufacturer Part # |
| --- | --- |
| Silver / 25mm | N/A |
| Red / 22mm | N/A |
| Red / No Offset | N/A |
| Red / 23.5mm | N/A |
| Red / 21.5mm | N/A |
| Silver / 22.5mm | N/A |
| Silver / 24mm | N/A |
| Black / 23.5mm | N/A |
| Black / 22.5mm | N/A |
| Black / 20mm | N/A |
| Black / No Offset | N/A |
| Black / 25mm | N/A |
| Black / 25mm | N/A |
| Black / 25mm | N/A |
| Silver / 25mm | N/A |
| Black / 21.5mm | N/A |
| Silver / No Offset | N/A |
| Black / 22mm | N/A |
| Silver / 22mm | N/A |
| Black / 22mm | N/A |
| Red / No Offset | N/A |
| Black / 24mm | N/A |
| Red / 22.5mm | N/A |
| Black / No Offset | N/A |
| Red / 22mm | N/A |
| Black / No Offset | N/A |
| Red / 24mm | N/A |
| Red / 22mm | N/A |
| Red / No Offset | N/A |
| Red / 22mm | N/A |
| Silver / 25mm | N/A |
| Red / 25mm | N/A |
| Silver / 20mm | N/A |
| Red / 25mm | N/A |
| Silver / 23.5mm | N/A |
| Red / 25mm | N/A |
| Silver / 21.5mm | N/A |
| Red / 20mm | N/A |
| Silver / 22mm | N/A |
| Silver / No Offset | N/A |
| Black / 22mm | N/A |
| Black / 22mm | N/A |
Handlebar
| Product Variant | Manufacturer Part # |
| --- | --- |
| Jet Black / Mini Low | 2813D JET BLACK |
| Jet Black / KX High | 2811D JET |
| Jet Black / CR Mid | 2804D JET |
| Jet Black / Carmichael | 2810D JET BLACK |
| Jet Black / ATV Low | 2816D JET BLACK |
| Platinum Grey / ATV High | 2818D PLAT GREY |
| Jet Black / YZ High | 2812D JET |
| Plat. Grey / Woods High | 2809D PLAT |
| Plat. Grey / Pastrana FMX | 2808D PLAT |
| Plat. Grey / CR Mid | 2804D PLAT |
| Platinum Grey / PAST. MX - RM Low | 2806D PLAT GREY |
| Platinum Grey / Raptor | 2819D PLAT GREY |
| Platinum Grey / Mini High | 2814D PLAT GREY |
| Jet Black / Raptor | 2819D JET BLACK |
| Jet Black / Woods High | 2809D JET |
| Plat. Grey / YZ High | 2812D PLAT |
| Jet Black / FAC. SUZ - KTM STK | 2805D JET BLACK |
| Silver / ATV Low | 2816D SILVER |
| Platinum Grey / CR High | 2803D PLAT GREY |
| Silver / Carmichael | 2810D SILVER |
| Jet Black / ATV Mid | 2817D JET BLACK |
| Silver / CR Mid | 2804D SILV |
| Jet Black / CR High | 2803D JET BLACK |
| Silver / KX High | 2811D SILV |
| Jet Black / Henry - Reed | 2802D JET BLACK |
| Silver / Mini Low | 2813D SILVER |
| Jet Black / Mini High | 2814D JET BLACK |
| Silver / Pastrana MX - RM Low | 2806D SILVER |
| Jet Black / Pastrana FMX | 2808D JET |
| Silver / Universal Low | 2801D SILV |
| Jet Black / Universal Low | 2801D JET |
| Silver / Woods High | 2809D SILV |
| Jet Black / Woods Low | 2815D JET |
| Silver / YZ High | 2812D SILV |
| Jet Black / PAST. MX / RM Low | 2806D JET BLACK |
| Gold / YZ High | 2812D GOLD |
| Jet Black / Windham | 2807D JET BLACK |
| Jet Black / ATV High | 2818D JET BLACK |
| Platinum Grey / ATV Low | 2816D PLAT GREY |
| Platinum Grey / ATV Mid | 2817D PLAT GREY |
| Platinum Grey / Carmichael | 2810D PLAT GREY |
| Gold / ATV High | 2818D GOLD |
| Platinum Grey / Henry - Reed | 2802D PLAT GREY |
| Gold / ATV Low | 2816D GOLD |
| Platinum Grey / Mini Low | 2813D PLAT GREY |
| Gold / ATV Mid | 2817D GOLD |
| Platinum Grey / Windham | 2807D PLAT GREY |
| Gold / Carmichael | 2810D GOLD |
| Platinum Grey / FAC. Suzuki - KTM | 2805D PLAT GREY |
| Gold / CR High | 2803D GOLD |
| Plat. Grey / KX High | 2811D PLAT |
| Gold / CR Mid | 2804D GOLD |
| Plat. Grey / Universal Low | 2801D PLAT |
| Gold / Henry - Reed | 2802D GOLD |
| Plat. Grey / Woods Low | 2815D PLAT |
| Gold / KX High | 2811D GOLD |
| Silver / ATV High | 2818D SILVER |
| Gold / Mini High | 2814D GOLD |
| Silver / ATV Mid | 2817D SILVER |
| Gold / Mini Low | 2813D GOLD |
| Silver / CR High | 2803D SILVER |
| Gold / Pastrana FMX | 2808D GOLD |
| Silver / Henry - Reed | 2802D SILVER |
| Gold / Pastrana MX - RM Low | 2806D GOLD |
| Silver / Mini High | 2814D SILVER |
| Gold / Raptor | 2819D GOLD |
| Silver / Pastrana FMX | 2808D SILV |
| Gold / FAC. Suzuki - KTM Stock | 2805D GOLD |
| Silver / Raptor | 2819D SILVER |
| Gold / Universal Low | 2801D GOLD |
| Silver / Windham - RM Mid | 2807D SILVER |
| Gold / Windham - RM Mid | 2807D GOLD |
| Silver / Woods Low | 2815D SILV |
| Gold / Woods High | 2809D GOLD |
| Silver / FAC. Suzuki - KTM STK | 2805D SILVER |
| Gold / Woods Low | 2815D GOLD |