Applied
Applied R/S Triple Clamp Kit With Pro Taper Contour Handlebar Combo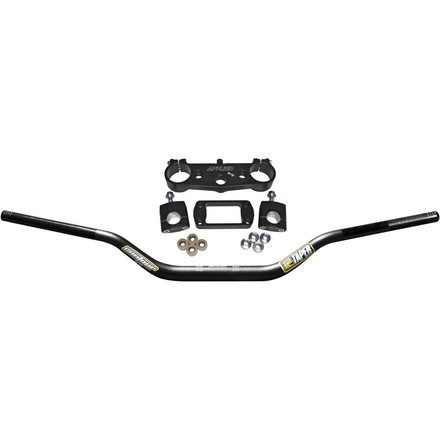 Applied R/S Triple Clamp Kit With Pro Taper Contour Handlebar Combo
---
15% Off - Save up to $40.21
---
Enter to Win $500
Write your review and you'll automatically be entered in our monthly drawing. Include an image or video to DOUBLE your chances to win!
Write Your Review
There have been no questions asked about the Applied R/S Triple Clamp Kit With Pro Taper Contour Handlebar Combo.
See all bikes that this part fits...
Clamp Kit
| Product Variant | Manufacturer Part # |
| --- | --- |
| Silver / 25mm | N/A |
| Red / 22mm | N/A |
| Red / No Offset | N/A |
| Red / 23.5mm | N/A |
| Red / 21.5mm | N/A |
| Silver / 22.5mm | N/A |
| Silver / 24mm | N/A |
| Black / 23.5mm | N/A |
| Black / 22.5mm | N/A |
| Black / 20mm | N/A |
| Black / No Offset | N/A |
| Black / 25mm | N/A |
| Black / 25mm | N/A |
| Black / 25mm | N/A |
| Silver / 25mm | N/A |
| Black / 21.5mm | N/A |
| Silver / No Offset | N/A |
| Black / 22mm | N/A |
| Silver / 22mm | N/A |
| Black / 22mm | N/A |
| Red / No Offset | N/A |
| Black / 24mm | N/A |
| Red / 22.5mm | N/A |
| Black / No Offset | N/A |
| Red / 22mm | N/A |
| Black / No Offset | N/A |
| Red / 24mm | N/A |
| Red / 22mm | N/A |
| Red / No Offset | N/A |
| Red / 22mm | N/A |
| Silver / 25mm | N/A |
| Red / 25mm | N/A |
| Silver / 20mm | N/A |
| Red / 25mm | N/A |
| Silver / 23.5mm | N/A |
| Red / 25mm | N/A |
| Silver / 21.5mm | N/A |
| Red / 20mm | N/A |
| Silver / 22mm | N/A |
| Silver / No Offset | N/A |
| Black / 22mm | N/A |
| Black / 22mm | N/A |
Handlebar
| Product Variant | Manufacturer Part # |
| --- | --- |
| Jet Black / Mini Low | 2813D JET BLACK |
| Jet Black / KX High | 2811D JET |
| Jet Black / CR Mid | 2804D JET |
| Jet Black / Carmichael | 2810D JET BLACK |
| Jet Black / ATV Low | 2816D JET BLACK |
| Platinum Grey / ATV High | 2818D PLAT GREY |
| Jet Black / YZ High | 2812D JET |
| Plat. Grey / Woods High | 2809D PLAT |
| Plat. Grey / Pastrana FMX | 2808D PLAT |
| Plat. Grey / CR Mid | 2804D PLAT |
| Platinum Grey / PAST. MX - RM Low | 2806D PLAT GREY |
| Platinum Grey / Raptor | 2819D PLAT GREY |
| Platinum Grey / Mini High | 2814D PLAT GREY |
| Jet Black / Raptor | 2819D JET BLACK |
| Jet Black / Woods High | 2809D JET |
| Plat. Grey / YZ High | 2812D PLAT |
| Jet Black / FAC. SUZ - KTM STK | 2805D JET BLACK |
| Silver / ATV Low | 2816D SILVER |
| Platinum Grey / CR High | 2803D PLAT GREY |
| Silver / Carmichael | 2810D SILVER |
| Jet Black / ATV Mid | 2817D JET BLACK |
| Silver / CR Mid | 2804D SILV |
| Jet Black / CR High | 2803D JET BLACK |
| Silver / KX High | 2811D SILV |
| Jet Black / Henry - Reed | 2802D JET BLACK |
| Silver / Mini Low | 2813D SILVER |
| Jet Black / Mini High | 2814D JET BLACK |
| Silver / Pastrana MX - RM Low | 2806D SILVER |
| Jet Black / Pastrana FMX | 2808D JET |
| Silver / Universal Low | 2801D SILV |
| Jet Black / Universal Low | 2801D JET |
| Silver / Woods High | 2809D SILV |
| Jet Black / Woods Low | 2815D JET |
| Silver / YZ High | 2812D SILV |
| Jet Black / PAST. MX / RM Low | 2806D JET BLACK |
| Gold / YZ High | 2812D GOLD |
| Jet Black / Windham | 2807D JET BLACK |
| Jet Black / ATV High | 2818D JET BLACK |
| Platinum Grey / ATV Low | 2816D PLAT GREY |
| Platinum Grey / ATV Mid | 2817D PLAT GREY |
| Platinum Grey / Carmichael | 2810D PLAT GREY |
| Gold / ATV High | 2818D GOLD |
| Platinum Grey / Henry - Reed | 2802D PLAT GREY |
| Gold / ATV Low | 2816D GOLD |
| Platinum Grey / Mini Low | 2813D PLAT GREY |
| Gold / ATV Mid | 2817D GOLD |
| Platinum Grey / Windham | 2807D PLAT GREY |
| Gold / Carmichael | 2810D GOLD |
| Platinum Grey / FAC. Suzuki - KTM | 2805D PLAT GREY |
| Gold / CR High | 2803D GOLD |
| Plat. Grey / KX High | 2811D PLAT |
| Gold / CR Mid | 2804D GOLD |
| Plat. Grey / Universal Low | 2801D PLAT |
| Gold / Henry - Reed | 2802D GOLD |
| Plat. Grey / Woods Low | 2815D PLAT |
| Gold / KX High | 2811D GOLD |
| Silver / ATV High | 2818D SILVER |
| Gold / Mini High | 2814D GOLD |
| Silver / ATV Mid | 2817D SILVER |
| Gold / Mini Low | 2813D GOLD |
| Silver / CR High | 2803D SILVER |
| Gold / Pastrana FMX | 2808D GOLD |
| Silver / Henry - Reed | 2802D SILVER |
| Gold / Pastrana MX - RM Low | 2806D GOLD |
| Silver / Mini High | 2814D SILVER |
| Gold / Raptor | 2819D GOLD |
| Silver / Pastrana FMX | 2808D SILV |
| Gold / FAC. Suzuki - KTM Stock | 2805D GOLD |
| Silver / Raptor | 2819D SILVER |
| Gold / Universal Low | 2801D GOLD |
| Silver / Windham - RM Mid | 2807D SILVER |
| Gold / Windham - RM Mid | 2807D GOLD |
| Silver / Woods Low | 2815D SILV |
| Gold / Woods High | 2809D GOLD |
| Silver / FAC. Suzuki - KTM STK | 2805D SILVER |
| Gold / Woods Low | 2815D GOLD |