Applied
Applied R/S Triple Clamp Kit With Oversized Bar Mounts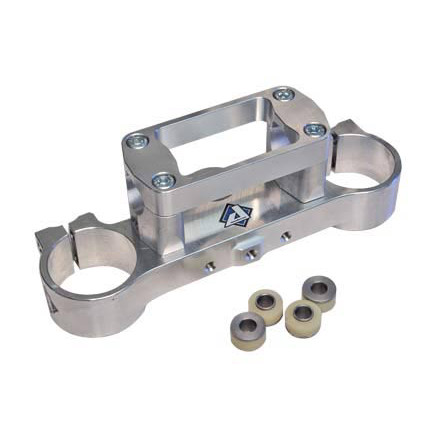 Applied R/S Triple Clamp Kit With Oversized Bar Mounts
5 Star
4
4 Star
0
3 Star
0
2 Star
1
1 Star
0
1 year 4 months ago
Spring valley IL
Ok
They worked great for 2 weeks than cracked them.
Handlebar Vibration
I was having issues with vibration and my hands falling asleep after 10 minutes of riding. I did some research on dampening the vibration and decided to give this Applied top triple clamp a try. I haven't rode my bike much since I've installed the triple clamp, but the vibration is drastically reduced and I could actually ride my bike hard for once without my hands falling asleep shortly; actually didn't fall asleep at all!
The Applied Triple Clamp is working outstanding and better than I expected for handlebar vibration reduction!
Over 3 years ago
valencia, ca
Twisted first crash
The mount is off after one minor crash. Visibly, the elastomer bushings are not oblong but mounts are definitely off. I contacted the manufacturer for "lifetime warranty" replacement bushings but they stopped answering my emails after explaining to me that minor deterioration after use is normal.
Over 3 years ago
Industry, PA, USA
It is a very good product and is very easy to install.
Steve
Q: Hello. Looking into purchasing these for my 96 cr250 to minimize bar vibration. Compatible? Thank You
Trevor Gearhead
Over 7 months ago
A: They are compatible. Please enter the year, make and model into our website to ensure proper fitment.
Dave
Q: Will these fit on 2016 YZ250?
robert
1 year 11 months ago
A: They are designed to fit 2007-2014 for yz 250 models.
Mitch
Q: R/S triple clamps
I have a 2012 crf250r and I'm looking to buy this kit but I don't know my stock triple clamp offset? I'm looking for an offset that will give the rear tire a little more grip? My question is what is the stock offset, what offset will give me better rear wheel traction, and what are the side effects of the different offset like better or worse stability and better or worse handling
MotoSportExpert
Over 3 years ago
A: Less fork offset (20mm as opposed to 24mm) generally makes the bike steer slower and improves stability. Less offset often results in a bike that turns sharper and is more accurate.
20mm would be the stock offset for your 2012 Honda CRF250R. Feel free to give us a call at 888-676-8853 and we would be happy to help you out with your order.
Blake
Q: When I install my oversized renthal fat bars, will the renthal bar pad still work with the mount setup?
MotoSportExpert
Over 4 years ago
A: Yes the standard bar pad cover for the Renthal fat bars will fit on the Applied Triple Clamps.
hooligan
Q: Will this mount fit my 2009 kx250f
MotoSportExpert
Over 4 years ago
A: Yes Just be sure to correctly select the Year/Make/Model of your bike before ordering so we can be sure to send you the correct kit for your bike. Also, feel free to give us a call at 888-676-8853 and we would be happy to help you out with your order.
Warren
Q: Can these be ordered with the +5mm bar mounts?
MotoSportExpert
Over 6 years ago
A: We only offer these clamps with the standard height bar mounts.
See all bikes that this part fits...
| Product Variant | Manufacturer Part # |
| --- | --- |
| Black / 22mm | 6203KBK |
| Black / 22mm | 6205KBK |
| Black / 25mm | 6211KBK |
| Black / 25mm | 6213KBK |
| Black / 25mm | 6215KBK |
| Black / 20mm | 6217KBK |
| Black / No Offset | 6277KBK |
| Black / 23.5mm | 6269KBK |
| Black / 22.5mm | 6271KBK |
| Black / 21.5mm | 6231KBK |
| Black / 22mm | 6237KBK |
| Black / 22mm | 6241KBK |
| Black / 24mm | 6243KBK |
| Black / No Offset | 6247KBK |
| Black / No Offset | 6251KBK |
| Red / 22mm | 6203KRD |
| Red / 22mm | 6205KRD |
| Red / 25mm | 6211KRD |
| Red / 25mm | 6213KRD |
| Red / 25mm | 6215KRD |
| Red / 20mm | 6217KRD |
| Red / No Offset | 6277KRD |
| Red / 23.5mm | 6269KRD |
| Red / 22.5mm | 6271KRD |
| Red / 21.5mm | 6231KRD |
| Red / 22mm | 6237KRD |
| Red / 22mm | 6241KRD |
| Red / 24mm | 6243KRD |
| Red / No Offset | 6247KRD |
| Red / No Offset | 6251KRD |
| Silver / 25mm | 6211KSR |
| Silver / 25mm | 6213KSR |
| Silver / 25mm | 6215KSR |
| Silver / 20mm | 6217KSR |
| Silver / No Offset | 6277KSR |
| Silver / 23.5mm | 6269KSR |
| Silver / 22.5mm | 6271KSR |
| Silver / 21.5mm | 6231KSR |
| Silver / 22mm | 6237KSR |
| Silver / 22mm | 6241KSR |
| Silver / 24mm | 6243KSR |
| Silver / No Offset | 6251KSR |