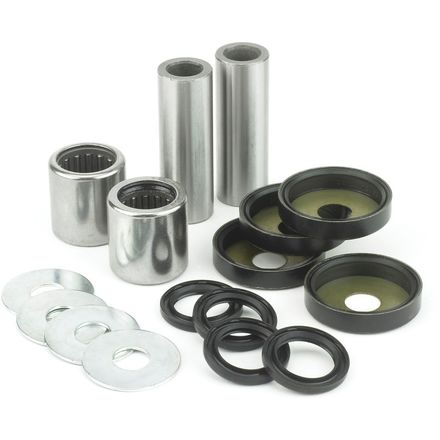 All Balls Upper A-Arm Kit
5 Star
10
4 Star
2
3 Star
1
2 Star
1
1 Star
0
Write a Review
Write your review and you'll automatically be entered in our monthly drawing. Include an image or video to DOUBLE your chances to win!
Write Your Review
Works Great
These bushings fit great and were very easy to install with a deadblow hammer or a bench vice.
1 year 11 months ago
Hopkinsville ky
The parts was exactly as described and worked perfectly.
2 years 3 months ago
blackriver n.y "TRAILER PARK MONKEY WRENCH"
GREAT KIT
Put it on my 2008 Honda Rincon ,my 400ex and my sons blaster .was very simple to do ,KIT came with everything I needed . very happy with "all balls" brand and motosport.com very pleased with how fast delivery was . defiantly recommend.
Misleading picture
Picture is misleading. I thought I was getting a bearing set and was just getting a bushing set.
Quality parts, great price.
Got the Seals, Bushings and Spacers from MotoSport cheaper than what the dealer wanted for just the 4 Bushings alone. The bushings were very good and fit very tight in the A arm. The Seals were very well constructed and fit very snug. Same with the Metal bushings (spacers). Everything went together better than expected. Nice to have all brand new parts in one neatly packaged kit. You may not need everything, but it is nice to have them and be able to replace everything at the same time while the A arm is apart.

MotoSport may not have the lowest price 100% of the time. But their quick shipping is one thing that keeps me coming back.
Works great
This kit fit and works very well. Easy to install
Over 4 years ago
Kentucky
Great part, great price
Everything went smooth. I will be a customer for life
Over 4 years ago
Lake George, NY
Heavy Duty
You could see the difference.
Q: I have a 05 Suzuki Kingquad 700 will this kit repair my right rear upper control arm?
LesWV
Over 3 years ago
A: No this kit will not fit your quad. You need (and I highly recommend) the QuadBoss Rear Independent Suspension Repair Kit that MotoSport offers to fit the rear IRS on an 05 700 King Quad.
MotoSportExpert
Over 3 years ago
A: No unfortunately this kit will not work on your 2005 Suzuki King Quad 700. If the part is available through one of our suppliers, we would be happy to order it for you. Please contact one of our sales professionals to inquire about special orders and availability.
Dirt Bike / ATV: 1-888-676-8853
Q: Are these true Needle bearings?
Are these true needle bearings as shown in the pic or rubber/plastic Bushings?
MotoSportExpert
Over 3 years ago
A: The image is a generic image supplied by the manufacturer for reference only. It may not be displaying the exact part for your bike. Just be sure to correctly select the Year/Make/Model of your bike before ordering so we can be sure to send you the correct Bearing Kit for your bike. Also, feel free to give us a call at 888-676-8853 and we would be happy to help you out with your order.
Q: Looking for front upper a-arm bushing kit for 2007 Rincon, what kit would work .Does the kit also have the bearing for the shock.
MotoSportExpert
Over 4 years ago
A: This kit is available for your 2007 Rincon. Each will do one arm so you would need to order 2 kits to do both upper arms. If you give us a call we can also get the shock bushing kit for you but it is not included with the purchase of the A-arm kit. The All Ballspart number for the bushing kit is 29-5053.
Q: Does this upper arm kit need to be pressed in?
All Balls Upper A- Arm kit
MotoSportExpert
Over 4 years ago
A: Yes, the bearings will need to be pressed into the A-arm.
See all bikes that this part fits...
| Product Variant | Manufacturer Part # |
| --- | --- |
| All Balls Upper A-Arm Kit | 50-1002 |
| All Balls Upper A-Arm Kit | 50-1003 |
| All Balls Upper A-Arm Kit | 50-1005 |
| All Balls Upper A-Arm Kit | 50-1009 |
| All Balls Upper A-Arm Kit | 50-1014 |
| All Balls Upper A-Arm Kit | 50-1019 |
| All Balls Upper A-Arm Kit | 50-1020 |
| All Balls Upper A-Arm Kit | 50-1029 |
| All Balls Upper A-Arm Kit | 50-1032 |
| All Balls Upper A-Arm Kit | 50-1033 |
| All Balls Upper A-Arm Kit | 50-1036 |
| All Balls Upper A-Arm Kit | 50-1038 |
| All Balls Upper A-Arm Kit | 50-1042 |
| All Balls Upper A-Arm Kit | 50-1088 |
| All Balls Upper A-Arm Kit | 50-1039 |
| All Balls Upper A-Arm Kit | 50-1078 |
| All Balls Upper A-Arm Kit | 50-1001 |
| All Balls Upper A-Arm Kit | 50-1004 |
| All Balls Upper A-Arm Kit | 50-1006 |
| All Balls Upper A-Arm Kit | 50-1008 |
| All Balls Upper A-Arm Kit | 50-1010 |
| All Balls Upper A-Arm Kit | 50-1012 |
| All Balls Upper A-Arm Kit | 50-1013 |
| All Balls Upper A-Arm Kit | 50-1016 |
| All Balls Upper A-Arm Kit | 50-1018 |
| All Balls Upper A-Arm Kit | 50-1022 |
| All Balls Upper A-Arm Kit | 50-1030 |
| All Balls Upper A-Arm Kit | 50-1037 |
| All Balls Upper A-Arm Kit | 50-1040 |
| All Balls Upper A-Arm Kit | 50-1058 |
| All Balls Upper A-Arm Kit | 50-1073 |
| All Balls Upper A-Arm Kit | 50-1090 |
| All Balls Upper A-Arm Kit | 50-1091 |
| All Balls Upper A-Arm Kit | 50-1094 |
| All Balls Upper A-Arm Kit | 50-1095 |
| All Balls Upper A-Arm Kit | 50-1097 |
| All Balls Upper A-Arm Kit | 50-1118 |
| All Balls Upper A-Arm Kit | 50-1126 |
| All Balls Upper A-Arm Kit | 50-1127 |
| All Balls Upper A-Arm Kit | 50-1128 |
| All Balls Upper A-Arm Kit | 50-1130 |
| All Balls Upper A-Arm Kit | 50-1131 |
| All Balls Upper A-Arm Kit | 50-1133 |
| All Balls Upper A-Arm Kit | 50-1139 |
| All Balls Upper A-Arm Kit | 50-1140 |
| All Balls Upper A-Arm Kit | 50-1143 |
| All Balls Upper A-Arm Kit | 50-1152 |
| All Balls Upper A-Arm Kit | 50-1160 |
| All Balls Upper A-Arm Kit | 50-1161 |
| All Balls Upper A-Arm Kit | 50-1168 |