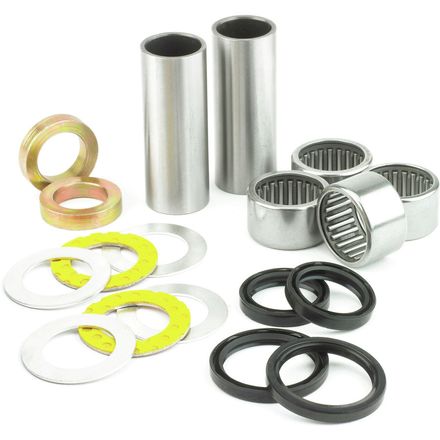 All Balls Swingarm Bearing Kit
---
10% Off - Save up to $7.63
---
5 Star
26
4 Star
8
3 Star
6
2 Star
1
1 Star
0
Write a Review
Write your review and you'll automatically be entered in our monthly drawing. Include an image or video to DOUBLE your chances to win!
Write Your Review
Was a great kit
The only item needs in kit would be right side swing arm seal cup
2 months 4 days ago
Tennessee
Swingarm Bearing Kit
Like riding a new 450es. The back axle follows the front of 4 wheeler after replaceing.
3 months 15 days ago
Jonesville, MI 49250, USA
Great product
The only ones we use! Definitely worth it!
4 months 13 days ago
Charleston
Best of the best
im pleased with the purchase and superior customer service from motosport.com makes it easy to get what you need.
4 months 19 days ago
Bloomington,in
Great products
Much needed repair on swingarm and these fit and fixed my swingarm,great products
Over 5 months ago
California
Only covered my linkage
I'm happy with it but not happy that it says it coverss swing arm and linkage. But I pulled everything out and it only hade enough to do the linkage.
Over 5 months ago
Augusta,GA
2015 honda crf 250r
Parts fit 2015 honda crf 250r.
Good product, motorsport with the smooth and fast shipping as usual. Installed this kit on a 03' Rm250. Just noticed when putting bike on the stand the swing arm bearing has play in it like its bad already. Around 20 hrs of ride time since replacing and may need to throw another set of new bearings in the swing arm already. Makes it hard to dial in suspension with a bad bearing somewhere smh. Good product but didn't last such as oem.
Over 6 months ago
Fort Worth Texas
All balls swingarm bearings
All the parts you need to get the job done
Over 7 months ago
Houston, TX
2006 KX65
Great product. Fit perfect. A small trick is to put the bearings in the freezer for 15 minutes before installing them.
See all bikes that this part fits...
| Product Variant | Manufacturer Part # |
| --- | --- |
| All Balls Swingarm Bearing Kit | 28-1001 |
| All Balls Swingarm Bearing Kit | 28-1002 |
| All Balls Swingarm Bearing Kit | 28-1008 |
| All Balls Swingarm Bearing Kit | 28-1009 |
| All Balls Swingarm Bearing Kit | 28-1011 |
| All Balls Swingarm Bearing Kit | 28-1012 |
| All Balls Swingarm Bearing Kit | 28-1013 |
| All Balls Swingarm Bearing Kit | 28-1014 |
| All Balls Swingarm Bearing Kit | 28-1016 |
| All Balls Swingarm Bearing Kit | 28-1017 |
| All Balls Swingarm Bearing Kit | 28-1018 |
| All Balls Swingarm Bearing Kit | 28-1019 |
| All Balls Swingarm Bearing Kit | 28-1020 |
| All Balls Swingarm Bearing Kit | 28-1021 |
| All Balls Swingarm Bearing Kit | 28-1023 |
| All Balls Swingarm Bearing Kit | 28-1027 |
| All Balls Swingarm Bearing Kit | 28-1028 |
| All Balls Swingarm Bearing Kit | 28-1029 |
| All Balls Swingarm Bearing Kit | 28-1030 |
| All Balls Swingarm Bearing Kit | 28-1037 |
| All Balls Swingarm Bearing Kit | 28-1039 |
| All Balls Swingarm Bearing Kit | 28-1040 |
| All Balls Swingarm Bearing Kit | 28-1041 |
| All Balls Swingarm Bearing Kit | 28-1042 |
| All Balls Swingarm Bearing Kit | 28-1043 |
| All Balls Swingarm Bearing Kit | 28-1044 |
| All Balls Swingarm Bearing Kit | 28-1045 |
| All Balls Swingarm Bearing Kit | 28-1047 |
| All Balls Swingarm Bearing Kit | 28-1051 |
| All Balls Swingarm Bearing Kit | 28-1053 |
| All Balls Swingarm Bearing Kit | 28-1056 |
| All Balls Swingarm Bearing Kit | 28-1059 |
| All Balls Swingarm Bearing Kit | 28-1061 |
| All Balls Swingarm Bearing Kit | 28-1062 |
| All Balls Swingarm Bearing Kit | 28-1063 |
| All Balls Swingarm Bearing Kit | 28-1064 |
| All Balls Swingarm Bearing Kit | 28-1065 |
| All Balls Swingarm Bearing Kit | 28-1066 |
| All Balls Swingarm Bearing Kit | 28-1067 |
| All Balls Swingarm Bearing Kit | 28-1070 |
| All Balls Swingarm Bearing Kit | 28-1071 |
| All Balls Swingarm Bearing Kit | 28-1072 |
| All Balls Swingarm Bearing Kit | 28-1073 |
| All Balls Swingarm Bearing Kit | 28-1075 |
| All Balls Swingarm Bearing Kit | 28-1076 |
| All Balls Swingarm Bearing Kit | 28-1077 |
| All Balls Swingarm Bearing Kit | 28-1078 |
| All Balls Swingarm Bearing Kit | 28-1079 |
| All Balls Swingarm Bearing Kit | 28-1080 |
| All Balls Swingarm Bearing Kit | 28-1082 |
| All Balls Swingarm Bearing Kit | 28-1087 |
| All Balls Swingarm Bearing Kit | 28-1088 |
| All Balls Swingarm Bearing Kit | 28-1089 |
| All Balls Swingarm Bearing Kit | 28-1090 |
| All Balls Swingarm Bearing Kit | 28-1091 |
| All Balls Swingarm Bearing Kit | 28-1092 |
| All Balls Swingarm Bearing Kit | 28-1094 |
| All Balls Swingarm Bearing Kit | 28-1096 |
| All Balls Swingarm Bearing Kit | 28-1097 |
| All Balls Swingarm Bearing Kit | 28-1098 |
| All Balls Swingarm Bearing Kit | 28-1099 |
| All Balls Swingarm Bearing Kit | 28-1108 |
| All Balls Swingarm Bearing Kit | 28-1114 |
| All Balls Swingarm Bearing Kit | 28-1115 |
| All Balls Swingarm Bearing Kit | 28-1122 |
| All Balls Swingarm Bearing Kit | 28-1123 |
| All Balls Swingarm Bearing Kit | 28-1124 |
| All Balls Swingarm Bearing Kit | 28-1125 |
| All Balls Swingarm Bearing Kit | 28-1127 |
| All Balls Swingarm Bearing Kit | 28-1128 |
| All Balls Swingarm Bearing Kit | 28-1142 |
| All Balls Swingarm Bearing Kit | 28-1156 |
| All Balls Swingarm Bearing Kit | 28-1158 |
| All Balls Swingarm Bearing Kit | 28-1159 |
| All Balls Swingarm Bearing Kit | 28-1160 |
| All Balls Swingarm Bearing Kit | 28-1161 |
| All Balls Swingarm Bearing Kit | 28-1163 |
| All Balls Swingarm Bearing Kit | 28-1168 |
| All Balls Swingarm Bearing Kit | 28-1172 |
| All Balls Swingarm Bearing Kit | 28-1186 |
| All Balls Swingarm Bearing Kit | 28-1192 |
| All Balls Swingarm Bearing Kit | 28-1193 |
| All Balls Swingarm Bearing Kit | 28-1200 |
| All Balls Swingarm Bearing Kit | 28-1201 |
| All Balls Swingarm Bearing Kit | 28-1202 |
| All Balls Swingarm Bearing Kit | 28-1203 |
| All Balls Swingarm Bearing Kit | 22-1022 |
| All Balls Swingarm Bearing Kit | 25-1626 |
| All Balls Swingarm Bearing Kit | 28-0001 |
| All Balls Swingarm Bearing Kit | 28-0002 |
| All Balls Swingarm Bearing Kit | 28-0004 |
| All Balls Swingarm Bearing Kit | 28-1058 |
| All Balls Swingarm Bearing Kit | 28-1171 |
| All Balls Swingarm Bearing Kit | 28-1174 |
| All Balls Swingarm Bearing Kit | 28-1175 |
| All Balls Swingarm Bearing Kit | 28-1176 |
| All Balls Swingarm Bearing Kit | 28-1181 |
| All Balls Swingarm Bearing Kit | 28-1206 |
| All Balls Swingarm Bearing Kit | 28-1005 |
| All Balls Swingarm Bearing Kit | 28-1007 |
| All Balls Swingarm Bearing Kit | 28-1010 |
| All Balls Swingarm Bearing Kit | 28-1022 |
| All Balls Swingarm Bearing Kit | 28-1024 |
| All Balls Swingarm Bearing Kit | 28-1025 |
| All Balls Swingarm Bearing Kit | 28-1026 |
| All Balls Swingarm Bearing Kit | 28-1031 |
| All Balls Swingarm Bearing Kit | 28-1032 |
| All Balls Swingarm Bearing Kit | 28-1035 |
| All Balls Swingarm Bearing Kit | 28-1049 |
| All Balls Swingarm Bearing Kit | 28-1054 |
| All Balls Swingarm Bearing Kit | 28-1060 |
| All Balls Swingarm Bearing Kit | 28-1069 |
| All Balls Swingarm Bearing Kit | 28-1081 |
| All Balls Swingarm Bearing Kit | 28-1084 |
| All Balls Swingarm Bearing Kit | 28-1085 |
| All Balls Swingarm Bearing Kit | 28-1095 |
| All Balls Swingarm Bearing Kit | 28-1101 |
| All Balls Swingarm Bearing Kit | 28-1102 |
| All Balls Swingarm Bearing Kit | 28-1103 |
| All Balls Swingarm Bearing Kit | 28-1104 |
| All Balls Swingarm Bearing Kit | 28-1105 |
| All Balls Swingarm Bearing Kit | 28-1106 |
| All Balls Swingarm Bearing Kit | 28-1107 |
| All Balls Swingarm Bearing Kit | 28-1111 |
| All Balls Swingarm Bearing Kit | 28-1112 |
| All Balls Swingarm Bearing Kit | 28-1119 |
| All Balls Swingarm Bearing Kit | 28-1120 |
| All Balls Swingarm Bearing Kit | 28-1121 |
| All Balls Swingarm Bearing Kit | 28-1126 |
| All Balls Swingarm Bearing Kit | 28-1129 |
| All Balls Swingarm Bearing Kit | 28-1130 |
| All Balls Swingarm Bearing Kit | 28-1132 |
| All Balls Swingarm Bearing Kit | 28-1133 |
| All Balls Swingarm Bearing Kit | 28-1134 |
| All Balls Swingarm Bearing Kit | 28-1135 |
| All Balls Swingarm Bearing Kit | 28-1136 |
| All Balls Swingarm Bearing Kit | 28-1141 |
| All Balls Swingarm Bearing Kit | 28-1143 |
| All Balls Swingarm Bearing Kit | 28-1147 |
| All Balls Swingarm Bearing Kit | 28-1148 |
| All Balls Swingarm Bearing Kit | 28-1150 |
| All Balls Swingarm Bearing Kit | 28-1151 |
| All Balls Swingarm Bearing Kit | 28-1152 |
| All Balls Swingarm Bearing Kit | 28-1154 |
| All Balls Swingarm Bearing Kit | 28-1155 |
| All Balls Swingarm Bearing Kit | 28-1166 |
| All Balls Swingarm Bearing Kit | 28-1169 |
| All Balls Swingarm Bearing Kit | 28-1170 |
| All Balls Swingarm Bearing Kit | 28-1173 |
| All Balls Swingarm Bearing Kit | 28-1177 |
| All Balls Swingarm Bearing Kit | 28-1178 |
| All Balls Swingarm Bearing Kit | 28-1180 |
| All Balls Swingarm Bearing Kit | 28-1184 |
| All Balls Swingarm Bearing Kit | 28-1185 |
| All Balls Swingarm Bearing Kit | 28-1187 |
| All Balls Swingarm Bearing Kit | 28-1188 |
| All Balls Swingarm Bearing Kit | 28-1194 |
| All Balls Swingarm Bearing Kit | 28-1197 |
| All Balls Swingarm Bearing Kit | 28-1198 |
| All Balls Swingarm Bearing Kit | 28-1199 |
| All Balls Swingarm Bearing Kit | 28-1207 |
| All Balls Swingarm Bearing Kit | 28-1208 |
| All Balls Swingarm Bearing Kit | 28-1209 |
| All Balls Swingarm Bearing Kit | 28-1210 |
| All Balls Swingarm Bearing Kit | 28-1211 |
| All Balls Swingarm Bearing Kit | 28-1214 |
| All Balls Swingarm Bearing Kit | 28-1215 |
| All Balls Swingarm Bearing Kit | 28-1216 |