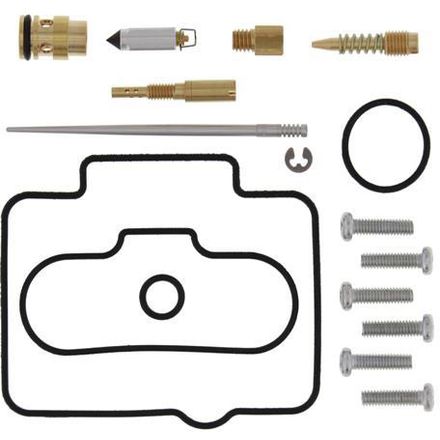 All Balls Carburetor Rebuild Kit
---
10% Off - Save up to $7.22
---
5 Star
17
4 Star
4
3 Star
0
2 Star
0
1 Star
1
Write a Review
Write your review and you'll automatically be entered in our monthly drawing. Include an image or video to DOUBLE your chances to win!
Write Your Review
Good kit
Good kit. Had everything I needed. Even with the back order I still got it pretty fast.
1 month 22 days ago
Albuquerque New Mexico
Great kit.
I liked the kit. I would have liked it to have the two rubber diaphragms. Then it would have all the parts for a compete rebuild. The main jet was too big. Albuquerque is 5500ft.
1 month 28 days ago
Gonvick, MN
Exactly what I needed
This carb kit was exactly what I needed, my bike ran like new again!
FCR rebuild kit
arrival never a problem with motosport, kit came with everything except accelerator pump diaphragm, must get OEM, all parts fit as they should. if your nozzle is clogged, DO NOT
SPLIT THE CARB!! just take your time and use piano wire and cleaner. my kx450f is back up and grunting again like it used to back in the day
2 months 27 days ago
Ligonier, PA 15658, USA
3 months 6 days ago
Middle of nowhere Az
O-ring
Everything fit except the o-ring for the air screw.
3 months 13 days ago
Hayden, Idaho
Had all the Parts--Good Quality
Carb rebuilt with original factory jetting and no longer leaks.
3 months 20 days ago
Austin,tx
Great kit
I bought this kit for my daughters r 80. Installed andworked perfectly.
3 months 21 days ago
Georgia
Good Rebuild Kit
Rebuilt the carb on my old 1996 Honda Forman 4x4, that I bought new. The All Balls Kit contained all the parts I needed and it performs just like new.
Thanks All Balls
Thanks Motosport
Missing pilot skrew piece
So after multiple rebuilds trying to figure out why this kit ALMOST fixed my bike I have discovered it is missing the pilot skrew washer. My bike went from not running at all after sitting 2 year's to now almost like new, great power great torqu...exept it won't idle. The previous owner had an aftermarket idle air skrew with no spring, washer, or o ring so when installing the kit I put the only pieces available on the new pilot skrew(spring and o ring) hoping to fix the problem.. well after having idling issues I dug out the old service manual and there is supposed to be a washer also that was not in my kit. But I look at the picture here and it shows a small metal washer included. It would be great if you guys could send me just the washer since I only ever order parts from motosport but if not I guess I'll have to order a whole kit somewhere else just to get the washer. Thanks
Jake80
Q: Does this kid come with the carb bolts? Mine are stripped
rknight
2 months 11 days ago
A: The rebuild kits will change per model. What exact bike is it for so we can get you the contents. All balls website should also list what they come with,.
dustin
Q: Does it come with a new spring for the float
Thumbs
2 months 13 days ago
A: It will not, you will need to purchase that part separately.
Bripie23
Q: Will this fit a 1998 rm125?
Thumbs
2 months 20 days ago
A: Yes, just input your bike in the fitment area and you should get an exact fit.
Jason
Q: Does this include a choke lever?
robert
Over 6 months ago
A: This will not include a lever.
SDJ141
Q: Do these kits contain the diaphragm and and O-rings needed to rebuild the accelerator pump? If not, do you have an aftermarket option for these?
Also curious if the kit will contain the O-rings for the 90 deg hose barb into the carb for the fuel supply. OEM parts break out does not show these.
Motoexpert
Over 6 months ago
A: No this kit only appears to have a full rebuild for the internals of the carburetor it self only. Here is a link to the OEM diagram for any other parts that you are looking for. Hope this helps.

https://www.motosport.com/dirtbike/oem-parts/yamaha/1998/yz400f/carburetor
John
Q: I have a Honda rancher 2004 350 4 x 4 will it fit my ATV
David
Over 7 months ago
A: Yes it will.
Wrecker
Q: Does it include the o-rings for the fuel line swivel?
Does it include the o-rings for the fuel swivel fitting?
David
Over 7 months ago
A: Yes it will.
Clayton
Q: What size jets come with the kit? I want to know numbers
Jake
1 year 5 months ago
A: Stock size jetting for your bike. Look in your owner manual or google the size for reference. Hope this helps!
Rickybob
Q: Will this work on a 1996 yz 250
Jake
1 year 6 months ago
A: Yes sir it will
John
Q: Float needle and seat
Does this kit come with a new float needle and the float seat? My 2005 KX 250 is leaking fuel from carb overflow.
Jake
1 year 6 months ago
A: Yes it does. Also my suggestion if you don't mind , try setting your float level height.over time from being banged around it can move slightly hope this helps!
See all bikes that this part fits...
| Product Variant | Manufacturer Part # |
| --- | --- |
| All Balls Carburetor Rebuild Kit | 26-1001 |
| All Balls Carburetor Rebuild Kit | 26-1002 |
| All Balls Carburetor Rebuild Kit | 26-1005 |
| All Balls Carburetor Rebuild Kit | 26-1006 |
| All Balls Carburetor Rebuild Kit | 26-1007 |
| All Balls Carburetor Rebuild Kit | 26-1009 |
| All Balls Carburetor Rebuild Kit | 26-1011 |
| All Balls Carburetor Rebuild Kit | 26-1012 |
| All Balls Carburetor Rebuild Kit | 26-1016 |
| All Balls Carburetor Rebuild Kit | 26-1017 |
| All Balls Carburetor Rebuild Kit | 26-1019 |
| All Balls Carburetor Rebuild Kit | 26-1020 |
| All Balls Carburetor Rebuild Kit | 26-1022 |
| All Balls Carburetor Rebuild Kit | 26-1024 |
| All Balls Carburetor Rebuild Kit | 26-1026 |
| All Balls Carburetor Rebuild Kit | 26-1027 |
| All Balls Carburetor Rebuild Kit | 26-1028 |
| All Balls Carburetor Rebuild Kit | 26-1030 |
| All Balls Carburetor Rebuild Kit | 26-1032 |
| All Balls Carburetor Rebuild Kit | 26-1033 |
| All Balls Carburetor Rebuild Kit | 26-1038 |
| All Balls Carburetor Rebuild Kit | 26-1042 |
| All Balls Carburetor Rebuild Kit | 26-1043 |
| All Balls Carburetor Rebuild Kit | 26-1044 |
| All Balls Carburetor Rebuild Kit | 26-1045 |
| All Balls Carburetor Rebuild Kit | 26-1046 |
| All Balls Carburetor Rebuild Kit | 26-1048 |
| All Balls Carburetor Rebuild Kit | 26-1050 |
| All Balls Carburetor Rebuild Kit | 26-1051 |
| All Balls Carburetor Rebuild Kit | 26-1052 |
| All Balls Carburetor Rebuild Kit | 26-1053 |
| All Balls Carburetor Rebuild Kit | 26-1054 |
| All Balls Carburetor Rebuild Kit | 26-1055 |
| All Balls Carburetor Rebuild Kit | 26-1056 |
| All Balls Carburetor Rebuild Kit | 26-1057 |
| All Balls Carburetor Rebuild Kit | 26-1061 |
| All Balls Carburetor Rebuild Kit | 26-1064 |
| All Balls Carburetor Rebuild Kit | 26-1065 |
| All Balls Carburetor Rebuild Kit | 26-1066 |
| All Balls Carburetor Rebuild Kit | 26-1067 |
| All Balls Carburetor Rebuild Kit | 26-1069 |
| All Balls Carburetor Rebuild Kit | 26-1071 |
| All Balls Carburetor Rebuild Kit | 26-1072 |
| All Balls Carburetor Rebuild Kit | 26-1074 |
| All Balls Carburetor Rebuild Kit | 26-1076 |
| All Balls Carburetor Rebuild Kit | 26-1077 |
| All Balls Carburetor Rebuild Kit | 26-1078 |
| All Balls Carburetor Rebuild Kit | 26-1080 |
| All Balls Carburetor Rebuild Kit | 26-1081 |
| All Balls Carburetor Rebuild Kit | 26-1082 |
| All Balls Carburetor Rebuild Kit | 26-1083 |
| All Balls Carburetor Rebuild Kit | 26-1085 |
| All Balls Carburetor Rebuild Kit | 26-1086 |
| All Balls Carburetor Rebuild Kit | 26-1087 |
| All Balls Carburetor Rebuild Kit | 26-1088 |
| All Balls Carburetor Rebuild Kit | 26-1090 |
| All Balls Carburetor Rebuild Kit | 26-1091 |
| All Balls Carburetor Rebuild Kit | 26-1092 |
| All Balls Carburetor Rebuild Kit | 26-1093 |
| All Balls Carburetor Rebuild Kit | 26-1095 |
| All Balls Carburetor Rebuild Kit | 26-1098 |
| All Balls Carburetor Rebuild Kit | 26-1099 |
| All Balls Carburetor Rebuild Kit | 26-1100 |
| All Balls Carburetor Rebuild Kit | 26-1101 |
| All Balls Carburetor Rebuild Kit | 26-1102 |
| All Balls Carburetor Rebuild Kit | 26-1103 |
| All Balls Carburetor Rebuild Kit | 26-1104 |
| All Balls Carburetor Rebuild Kit | 26-1105 |
| All Balls Carburetor Rebuild Kit | 26-1106 |
| All Balls Carburetor Rebuild Kit | 26-1109 |
| All Balls Carburetor Rebuild Kit | 26-1112 |
| All Balls Carburetor Rebuild Kit | 26-1113 |
| All Balls Carburetor Rebuild Kit | 26-1115 |
| All Balls Carburetor Rebuild Kit | 26-1116 |
| All Balls Carburetor Rebuild Kit | 26-1117 |
| All Balls Carburetor Rebuild Kit | 26-1119 |
| All Balls Carburetor Rebuild Kit | 26-1120 |
| All Balls Carburetor Rebuild Kit | 26-1122 |
| All Balls Carburetor Rebuild Kit | 26-1123 |
| All Balls Carburetor Rebuild Kit | 26-1124 |
| All Balls Carburetor Rebuild Kit | 26-1125 |
| All Balls Carburetor Rebuild Kit | 26-1126 |
| All Balls Carburetor Rebuild Kit | 26-1127 |
| All Balls Carburetor Rebuild Kit | 26-1128 |
| All Balls Carburetor Rebuild Kit | 26-1129 |
| All Balls Carburetor Rebuild Kit | 26-1130 |
| All Balls Carburetor Rebuild Kit | 26-1131 |
| All Balls Carburetor Rebuild Kit | 26-1133 |
| All Balls Carburetor Rebuild Kit | 26-1134 |
| All Balls Carburetor Rebuild Kit | 26-1135 |
| All Balls Carburetor Rebuild Kit | 26-1136 |
| All Balls Carburetor Rebuild Kit | 26-1137 |
| All Balls Carburetor Rebuild Kit | 26-1140 |
| All Balls Carburetor Rebuild Kit | 26-1141 |
| All Balls Carburetor Rebuild Kit | 26-1144 |
| All Balls Carburetor Rebuild Kit | 26-1145 |
| All Balls Carburetor Rebuild Kit | 26-1146 |
| All Balls Carburetor Rebuild Kit | 26-1152 |
| All Balls Carburetor Rebuild Kit | 26-1153 |
| All Balls Carburetor Rebuild Kit | 26-1154 |
| All Balls Carburetor Rebuild Kit | 26-1155 |
| All Balls Carburetor Rebuild Kit | 26-1156 |
| All Balls Carburetor Rebuild Kit | 26-1157 |
| All Balls Carburetor Rebuild Kit | 26-1158 |
| All Balls Carburetor Rebuild Kit | 26-1159 |
| All Balls Carburetor Rebuild Kit | 26-1160 |
| All Balls Carburetor Rebuild Kit | 26-1161 |
| All Balls Carburetor Rebuild Kit | 26-1164 |
| All Balls Carburetor Rebuild Kit | 26-1165 |
| All Balls Carburetor Rebuild Kit | 26-1166 |
| All Balls Carburetor Rebuild Kit | 26-1167 |
| All Balls Carburetor Rebuild Kit | 26-1170 |
| All Balls Carburetor Rebuild Kit | 26-1173 |
| All Balls Carburetor Rebuild Kit | 26-1174 |
| All Balls Carburetor Rebuild Kit | 26-1175 |
| All Balls Carburetor Rebuild Kit | 26-1176 |
| All Balls Carburetor Rebuild Kit | 26-1177 |
| All Balls Carburetor Rebuild Kit | 26-1178 |
| All Balls Carburetor Rebuild Kit | 26-1179 |
| All Balls Carburetor Rebuild Kit | 26-1186 |
| All Balls Carburetor Rebuild Kit | 26-1187 |
| All Balls Carburetor Rebuild Kit | 26-1188 |
| All Balls Carburetor Rebuild Kit | 26-1189 |
| All Balls Carburetor Rebuild Kit | 26-1191 |
| All Balls Carburetor Rebuild Kit | 26-1192 |
| All Balls Carburetor Rebuild Kit | 26-1193 |
| All Balls Carburetor Rebuild Kit | 26-1194 |
| All Balls Carburetor Rebuild Kit | 26-1195 |
| All Balls Carburetor Rebuild Kit | 26-1197 |
| All Balls Carburetor Rebuild Kit | 26-1200 |
| All Balls Carburetor Rebuild Kit | 26-1202 |
| All Balls Carburetor Rebuild Kit | 26-1203 |
| All Balls Carburetor Rebuild Kit | 26-1204 |
| All Balls Carburetor Rebuild Kit | 26-1205 |
| All Balls Carburetor Rebuild Kit | 26-1206 |
| All Balls Carburetor Rebuild Kit | 26-1207 |
| All Balls Carburetor Rebuild Kit | 26-1208 |
| All Balls Carburetor Rebuild Kit | 26-1209 |
| All Balls Carburetor Rebuild Kit | 26-1210 |
| All Balls Carburetor Rebuild Kit | 26-1211 |
| All Balls Carburetor Rebuild Kit | 26-1214 |
| All Balls Carburetor Rebuild Kit | 26-1215 |
| All Balls Carburetor Rebuild Kit | 26-1217 |
| All Balls Carburetor Rebuild Kit | 26-1219 |
| All Balls Carburetor Rebuild Kit | 26-1220 |
| All Balls Carburetor Rebuild Kit | 26-1221 |
| All Balls Carburetor Rebuild Kit | 26-1223 |
| All Balls Carburetor Rebuild Kit | 26-1224 |
| All Balls Carburetor Rebuild Kit | 26-1225 |
| All Balls Carburetor Rebuild Kit | 26-1226 |
| All Balls Carburetor Rebuild Kit | 26-1227 |
| All Balls Carburetor Rebuild Kit | 26-1228 |
| All Balls Carburetor Rebuild Kit | 26-1229 |
| All Balls Carburetor Rebuild Kit | 26-1230 |
| All Balls Carburetor Rebuild Kit | 26-1231 |
| All Balls Carburetor Rebuild Kit | 26-1232 |
| All Balls Carburetor Rebuild Kit | 26-1235 |
| All Balls Carburetor Rebuild Kit | 26-1236 |
| All Balls Carburetor Rebuild Kit | 26-1237 |
| All Balls Carburetor Rebuild Kit | 26-1238 |
| All Balls Carburetor Rebuild Kit | 26-1242 |
| All Balls Carburetor Rebuild Kit | 26-1245 |
| All Balls Carburetor Rebuild Kit | 26-1246 |
| All Balls Carburetor Rebuild Kit | 26-1247 |
| All Balls Carburetor Rebuild Kit | 26-1248 |
| All Balls Carburetor Rebuild Kit | 26-1249 |
| All Balls Carburetor Rebuild Kit | 26-1250 |
| All Balls Carburetor Rebuild Kit | 26-1251 |
| All Balls Carburetor Rebuild Kit | 26-1253 |
| All Balls Carburetor Rebuild Kit | 26-1254 |
| All Balls Carburetor Rebuild Kit | 26-1255 |
| All Balls Carburetor Rebuild Kit | 26-1257 |
| All Balls Carburetor Rebuild Kit | 26-1258 |
| All Balls Carburetor Rebuild Kit | 26-1259 |
| All Balls Carburetor Rebuild Kit | 26-1261 |
| All Balls Carburetor Rebuild Kit | 26-1262 |
| All Balls Carburetor Rebuild Kit | 26-1263 |
| All Balls Carburetor Rebuild Kit | 26-1264 |
| All Balls Carburetor Rebuild Kit | 26-1267 |
| All Balls Carburetor Rebuild Kit | 26-1268 |
| All Balls Carburetor Rebuild Kit | 26-1270 |
| All Balls Carburetor Rebuild Kit | 26-1271 |
| All Balls Carburetor Rebuild Kit | 26-1272 |
| All Balls Carburetor Rebuild Kit | 26-1273 |
| All Balls Carburetor Rebuild Kit | 26-1274 |
| All Balls Carburetor Rebuild Kit | 26-1275 |
| All Balls Carburetor Rebuild Kit | 26-1278 |
| All Balls Carburetor Rebuild Kit | 26-1280 |
| All Balls Carburetor Rebuild Kit | 26-1282 |
| All Balls Carburetor Rebuild Kit | 26-1283 |
| All Balls Carburetor Rebuild Kit | 26-1284 |
| All Balls Carburetor Rebuild Kit | 26-1285 |
| All Balls Carburetor Rebuild Kit | 26-1286 |
| All Balls Carburetor Rebuild Kit | 26-1287 |
| All Balls Carburetor Rebuild Kit | 26-1288 |
| All Balls Carburetor Rebuild Kit | 26-1289 |
| All Balls Carburetor Rebuild Kit | 26-1291 |
| All Balls Carburetor Rebuild Kit | 26-1292 |
| All Balls Carburetor Rebuild Kit | 26-1293 |
| All Balls Carburetor Rebuild Kit | 26-1294 |
| All Balls Carburetor Rebuild Kit | 26-1295 |
| All Balls Carburetor Rebuild Kit | 26-1297 |
| All Balls Carburetor Rebuild Kit | 26-1299 |
| All Balls Carburetor Rebuild Kit | 26-1300 |
| All Balls Carburetor Rebuild Kit | 26-1301 |
| All Balls Carburetor Rebuild Kit | 26-1302 |
| All Balls Carburetor Rebuild Kit | 26-1303 |
| All Balls Carburetor Rebuild Kit | 26-1304 |
| All Balls Carburetor Rebuild Kit | 26-1306 |
| All Balls Carburetor Rebuild Kit | 26-1307 |
| All Balls Carburetor Rebuild Kit | 26-1309 |
| All Balls Carburetor Rebuild Kit | 26-1311 |
| All Balls Carburetor Rebuild Kit | 26-1312 |
| All Balls Carburetor Rebuild Kit | 26-1313 |
| All Balls Carburetor Rebuild Kit | 26-1316 |
| All Balls Carburetor Rebuild Kit | 26-1318 |
| All Balls Carburetor Rebuild Kit | 26-1321 |
| All Balls Carburetor Rebuild Kit | 26-1322 |
| All Balls Carburetor Rebuild Kit | 26-1323 |
| All Balls Carburetor Rebuild Kit | 26-1325 |
| All Balls Carburetor Rebuild Kit | 26-1326 |
| All Balls Carburetor Rebuild Kit | 26-1327 |
| All Balls Carburetor Rebuild Kit | 26-1329 |
| All Balls Carburetor Rebuild Kit | 26-1332 |
| All Balls Carburetor Rebuild Kit | 26-1333 |
| All Balls Carburetor Rebuild Kit | 26-1334 |
| All Balls Carburetor Rebuild Kit | 26-1335 |
| All Balls Carburetor Rebuild Kit | 26-1336 |
| All Balls Carburetor Rebuild Kit | 26-1337 |
| All Balls Carburetor Rebuild Kit | 26-1343 |
| All Balls Carburetor Rebuild Kit | 26-1344 |
| All Balls Carburetor Rebuild Kit | 26-1346 |
| All Balls Carburetor Rebuild Kit | 26-1349 |
| All Balls Carburetor Rebuild Kit | 26-1351 |
| All Balls Carburetor Rebuild Kit | 26-1353 |
| All Balls Carburetor Rebuild Kit | 26-1355 |
| All Balls Carburetor Rebuild Kit | 26-1357 |
| All Balls Carburetor Rebuild Kit | 26-1359 |
| All Balls Carburetor Rebuild Kit | 26-1363 |
| All Balls Carburetor Rebuild Kit | 26-1365 |
| All Balls Carburetor Rebuild Kit | 26-1367 |
| All Balls Carburetor Rebuild Kit | 26-1368 |
| All Balls Carburetor Rebuild Kit | 26-1369 |
| All Balls Carburetor Rebuild Kit | 26-1370 |
| All Balls Carburetor Rebuild Kit | 26-1371 |
| All Balls Carburetor Rebuild Kit | 26-1372 |
| All Balls Carburetor Rebuild Kit | 26-1373 |
| All Balls Carburetor Rebuild Kit | 26-1374 |
| All Balls Carburetor Rebuild Kit | 26-1375 |
| All Balls Carburetor Rebuild Kit | 26-1377 |
| All Balls Carburetor Rebuild Kit | 26-1380 |
| All Balls Carburetor Rebuild Kit | 26-1381 |
| All Balls Carburetor Rebuild Kit | 26-1382 |
| All Balls Carburetor Rebuild Kit | 26-1384 |
| All Balls Carburetor Rebuild Kit | 26-1385 |
| All Balls Carburetor Rebuild Kit | 26-1386 |
| All Balls Carburetor Rebuild Kit | 26-1387 |
| All Balls Carburetor Rebuild Kit | 26-1388 |
| All Balls Carburetor Rebuild Kit | 26-1389 |
| All Balls Carburetor Rebuild Kit | 26-1392 |
| All Balls Carburetor Rebuild Kit | 26-1393 |
| All Balls Carburetor Rebuild Kit | 26-1394 |
| All Balls Carburetor Rebuild Kit | 26-1395 |
| All Balls Carburetor Rebuild Kit | 26-1396 |
| All Balls Carburetor Rebuild Kit | 26-1397 |
| All Balls Carburetor Rebuild Kit | 26-1398 |
| All Balls Carburetor Rebuild Kit | 26-1399 |
| All Balls Carburetor Rebuild Kit | 26-1402 |
| All Balls Carburetor Rebuild Kit | 26-1404 |
| All Balls Carburetor Rebuild Kit | 26-1406 |
| All Balls Carburetor Rebuild Kit | 26-1407 |
| All Balls Carburetor Rebuild Kit | 26-1409 |
| All Balls Carburetor Rebuild Kit | 26-1410 |
| All Balls Carburetor Rebuild Kit | 26-1411 |
| All Balls Carburetor Rebuild Kit | 26-1412 |
| All Balls Carburetor Rebuild Kit | 26-1419 |
| All Balls Carburetor Rebuild Kit | 26-1420 |
| All Balls Carburetor Rebuild Kit | 26-1425 |
| All Balls Carburetor Rebuild Kit | 26-1426 |
| All Balls Carburetor Rebuild Kit | 26-1428 |
| All Balls Carburetor Rebuild Kit | 26-1429 |
| All Balls Carburetor Rebuild Kit | 26-1430 |
| All Balls Carburetor Rebuild Kit | 26-1435 |
| All Balls Carburetor Rebuild Kit | 26-1438 |
| All Balls Carburetor Rebuild Kit | 26-1439 |
| All Balls Carburetor Rebuild Kit | 26-1441 |
| All Balls Carburetor Rebuild Kit | 26-1442 |
| All Balls Carburetor Rebuild Kit | 26-1443 |
| All Balls Carburetor Rebuild Kit | 26-1445 |
| All Balls Carburetor Rebuild Kit | 26-1447 |
| All Balls Carburetor Rebuild Kit | 26-1448 |
| All Balls Carburetor Rebuild Kit | 26-1449 |
| All Balls Carburetor Rebuild Kit | 26-1450 |
| All Balls Carburetor Rebuild Kit | 26-1451 |
| All Balls Carburetor Rebuild Kit | 26-1452 |
| All Balls Carburetor Rebuild Kit | 26-1453 |
| All Balls Carburetor Rebuild Kit | 26-1454 |
| All Balls Carburetor Rebuild Kit | 26-1455 |
| All Balls Carburetor Rebuild Kit | 26-1456 |
| All Balls Carburetor Rebuild Kit | 26-1457 |
| All Balls Carburetor Rebuild Kit | 26-1458 |
| All Balls Carburetor Rebuild Kit | 26-1460 |
| All Balls Carburetor Rebuild Kit | 26-1461 |
| All Balls Carburetor Rebuild Kit | 26-1462 |
| All Balls Carburetor Rebuild Kit | 26-1464 |
| All Balls Carburetor Rebuild Kit | 26-1466 |
| All Balls Carburetor Rebuild Kit | 26-1470 |
| All Balls Carburetor Rebuild Kit | 26-1472 |
| All Balls Carburetor Rebuild Kit | 26-1473 |
| All Balls Carburetor Rebuild Kit | 26-1474 |
| All Balls Carburetor Rebuild Kit | 26-1475 |
| All Balls Carburetor Rebuild Kit | 26-1476 |
| All Balls Carburetor Rebuild Kit | 26-1478 |
| All Balls Carburetor Rebuild Kit | 26-1479 |
| All Balls Carburetor Rebuild Kit | 26-1480 |
| All Balls Carburetor Rebuild Kit | 26-1481 |
| All Balls Carburetor Rebuild Kit | 26-1489 |
| All Balls Carburetor Rebuild Kit | 26-1490 |
| All Balls Carburetor Rebuild Kit | 26-1491 |
| All Balls Carburetor Rebuild Kit | 26-1492 |
| All Balls Carburetor Rebuild Kit | 26-1494 |
| All Balls Carburetor Rebuild Kit | 26-1495 |
| All Balls Carburetor Rebuild Kit | 26-1496 |
| All Balls Carburetor Rebuild Kit | 26-1497 |
| All Balls Carburetor Rebuild Kit | 26-1499 |
| All Balls Carburetor Rebuild Kit | 26-1500 |
| All Balls Carburetor Rebuild Kit | 26-1502 |
| All Balls Carburetor Rebuild Kit | 26-1503 |
| All Balls Carburetor Rebuild Kit | 26-1504 |
| All Balls Carburetor Rebuild Kit | 26-1505 |
| All Balls Carburetor Rebuild Kit | 26-1506 |
| All Balls Carburetor Rebuild Kit | 26-1507 |
| All Balls Carburetor Rebuild Kit | 26-1508 |
| All Balls Carburetor Rebuild Kit | 26-1509 |