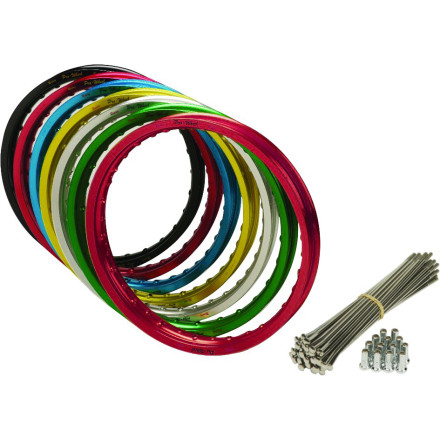 Pro Wheel Rim & Spoke Combo
---
33% Off - Save up to $98.72
---
5 Star
3
4 Star
1
3 Star
1
2 Star
0
1 Star
2
Write a Review
Write your review and you'll automatically be entered in our monthly drawing. Include an image or video to DOUBLE your chances to win!
Write Your Review
Over 3 years ago
Nixa, MO 65714, USA
Easy to put together and look sick work great
These for the price are the best wheel package u can get
Purchased wheel and spoke kit for a 2009 CRF450X. The pro wheels were heavier than stockers by approx. .2lbs each. The spokes are considerably heavier/thicker than stock. The rear wheel/spoke mounted to my hub very easily and trued up well. The front wheel/spoke kit required drilling of the hub, which I really don't like as I'm sure I'm not as accurate with a drill as the factory machining is. The front trued up fine. The spoke nipples are stainless but for some reason the rears spoke nipples have quite a coarse thread on them, which, again, I did not like. The front spoke nipples appeared to be the same pitch as the stock nipples thread. Have ridden desert and single track approx. 100 miles and no issues, spokes have stayed tight. Hope this helps!
Over 4 years ago
Temecula, ca
Best rims ever
Not sure what the other people are talking about with alleged problems with pro wheels. If the guy had a problem, then why keep buying them, unless he agrees that he has no idea how to maintain them. Seems obvious from the few negative posts. I have three race bikes with pro wheels. Never any issues. Also, team Babbitt's doesn't seem to have a problem with them (especially considering that they hold several championships......with pro wheels on the bikes). Finally, how many other wheel manufacturers have warranties on the wheels? None, except pro wheel, talk about standing behind their product if there was ever a manufacture defect.
Not good at all
I've had a complete set of pro wheels and I've had nothing but trouble with them couldn't keep the spokes tight then all of a sudden wheel bearings kept shattering sent the wheel to the factor the owner looked at the hub and said was good when i got it back shattered the bearing again so i look in the hub and it was all scared up and the owner would no help me at all the wheels was not even a year old only had 15 hours on them
Wobble...
I had these on my 250f for a few years. One of my rims broke at the weld with less than ten hours. They replaced it.
The spokes never set in. They came loose after every moto and my wheels went out of true extremely fast. I was unable to make them better.
I now have Excel wheels on a Yz250 and they do not come loose. Spend the extra and get quality.
Over 8 years ago
California City, CA
Great buy
These spokes are made of 304 stainless steel. which is much stronger than oem and even the heavy excel spokes. Because they are made of more durable and stronger stainless steel they can be thinner to save weight, were as excels are thinker because they use low quality stainless steel and have to make them thicker to compensate for the lower quality stainless steel. I have ran these in my race bikes for years with no problem, the only reason why I broke these spokes is because I let them get to loose which is not the spokes fault it was my fault. these are great for the price. buy with confident!!
DONT BUY THESE
The Pro Wheel combo comes with the smallest guage spokes on the market. They are extremely weak and bend and break like crazy. Especially if you race go with EXCELS there more expensive but it will save yourself time and money. It will also save you alot of frustration breaking spokes is a pain.
Q: Has anyone had any issues with the colors chipping off?
Q: Spoke Wrench
Which spoke wrench would be the exact match for these Pro Wheel spokes? 2004 Cr250
MotoSportExpert
2 years 6 months ago
A: For the Pro Wheel spokes for your 2004 Honda CR250 you would need a 6.9mm spoke wrench.
Q: Does this combo kit come with both the front and rear wheel and spokes for both?
I have a 2011 Honda CRF450R.
MotoSportExpert
Over 3 years ago
A: Yes, once you choose your year/make/model it will ask you to choose spokes and front/rear rim size and color. Feel free to give us a call at 888-676-8853 and we would be happy to help you out with your order.
Q: What width is a 19
if i buy a set for my 07 crf250r will the rear 19 inch rim be a 2.15 or 1.85 width?
MotoSportExpert
Over 3 years ago
A: For your 2007 Honda CRF250R the rear rim would be a 19x1.85.
Q: Can somone give me the dimensions i would want for an 06 honda crf250r?
dirt
Over 7 years ago
A: it will be same as OEM
Q: Can this wheel set be used on a 2001 Honda CR250
MotoMoo2
Over 8 years ago
A: If you bike is offered in the ride selector then we have it for your bike.
YZ250FMan
Over 8 years ago
A: Yes Im guessing that your cr250 has a 21inch in the front and a 19 in the rear.
Q: Will these lace up to my stock hubs on a 1999 yz400f?
james718
Over 8 years ago
A: The Pro Wheel rims and spokes are designed to fit the the OEM Hub.
Q: I can't find how to order rims and spokes
I need red rims and spoke sets for a drz 400, the bike is a 2000. The red rear rim won't come up on the drop down list, just the front. Thanks
james718
Over 8 years ago
A: Sorry we don't stock the specfic rear rim you are looking for. We can obtain it, but it would have to be a special order. Give our sales team a call @ 888-676-8853
Q: Will these spokes fit my stock hub on my 2002 YZ 125?
Drewski
Over 8 years ago
A: Yes, they will fit your stock hubs. Sometimes you do have to match a drill bit up to the size of your spoke holes in your hub and make a quick pass through them to clean them out. That is only required on some bikes and is pretty straight forward to do if needed.
Q: Do you do this with an 18" rim?
The spokes come in 18" but the rim is only offered in 19" from the drop down menu.
JesseC
Over 8 years ago
A: We do carry 18" rims for some of the models, best thing to do would be to call us for application
See all bikes that this part fits...
Front Rim
| Product Variant | Manufacturer Part # |
| --- | --- |
| Black / 17" | 17-0YSBK |
| Black / 17" | 17-0HKBK |
| Black / 19" | 19-YAMBK |
| Black / 19" | 19-0HKBK |
| Silver / 17" | 17-0HKSI |
| Green / 17" | 17-0HKGR |
| Silver / 19" | 19-0HKSI |
| Silver / 17" | 17-0YSSI |
| Silver / 19" | 19-YAMSI |
| Red / 19" | 19-0HKRD |
| Blue / 17" | 17-0YSBL |
| Black / 14" | 1441KSBK |
| Silver / 14" | 1441KSSI |
Front Spokes
| Product Variant | Manufacturer Part # |
| --- | --- |
| 19" | 19-SPKX85 |
| 17" | 17-SPKX85 |
| 17" | 17-RMYZ85 |
| 19" | 19-RMYZ85 |
| 14" | 144RMKX65 |
| 19" | 19-SPCRF |
| 17" | 17-SPCRF |
Rear Rim
| Product Variant | Manufacturer Part # |
| --- | --- |
| Green / 14" | 1460KAGR |
| Blue / 14" | 146CSYBL |
| Black / 14" | 146CSYBK |
| Black / 16" | 16-CSYBK |
| Black / 16" | 16-KAWBK |
| Silver / 12" | 1220KSSI |
| Black / 14" | 1460KABK |
| Silver / 14" | 16-146CSYSI |
| Silver / 16" | 16-CSYSI |
| Red / 14" | 146CSYRD |
| Red / 16" | 16-CSYRD |
| Green / 12" | 1220KSGR |
| Black / 12" | 1220KSBK |
| Blue / 16" | 16-CSYBL |
Rear Spokes
| Product Variant | Manufacturer Part # |
| --- | --- |
| 14" | 146RMYZ85 |
| 12" | 12-RMKX65 |
| 14" | 146SPCRF |
| 14" | 146SPKX85 |
| 16" | 166RMYZ85 |
| 16" | 166SPCRF |
| 16" | 166SPKX85 |