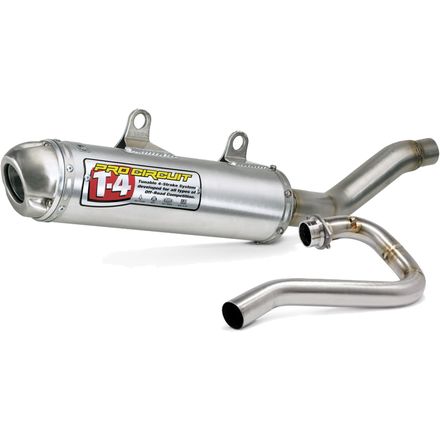 Pro Circuit T-4 Complete Exhaust System
---
10% Off - Save up to $77.96
---
5 Star
32
4 Star
4
3 Star
0
2 Star
0
1 Star
0
Write a Review
Write your review and you'll automatically be entered in our monthly drawing. Include an image or video to DOUBLE your chances to win!
Write Your Review
1 month 26 days ago
Fairview, NC 28730, USA
Exhaust
Overall good no complaints. Sounds great. Bought it for my boyfriend and he loves it!
Over 8 months ago
North Carolina
Sounds great
It has an awesome sound and great performance. Would recommend to anyone.
Over 10 months ago
Hawaii
2017 CRF150F
Bought this for the wife bike, really only to make it louder so she could hear where she was at on the throttle with others around, fit and finish was perfect! Sound was great, only reason its 4 stars vs 5 is because the exhaust does not come with a heat shield, nor two nuts welded on to carry the oem one over! Wife has taken many falls and the exhaust is holding up great, however she has melted her boot on it twice! Will be pulling it off to modify it to accept the OEM exhaust guard!
Over 11 months ago
San jose
Pro circuit T4 exhaust
It was a really easy installation but the pipe did not have the sound I was looking for was a little above stock and didn't have that deep sound of a stroke thumping.
The exhaust came in and performed as expected
1 year ago
Vincennes, IN 47591, USA
Best on the market
Amazing. Just Amazing sound and performance.
1 year 1 month ago
Houston, TX
2004 CRF 230 Pro Circuit Exhaust
I replaced the stock unit with the Pro Circuit T-4 Complete Exhaust System. Besides the better look overall, this pipe is about 3 to 4 pounds lighter, the fit and finish is perfect and the performance is very noticeable. It has a quiet idle but, sounds great when on the gas!!! This is a must buy if you have a few hours on your CRF.
1 year 2 months ago
Jacksonville, FL, USA
Awesome
Put this exhaust on my 01' ttr 125L. It not only made the bike sound better, but also runs a lot smoother. Would definitely recommend this for anyone.
1 year 2 months ago
South Carolina, USA
Well worth the money
got this for my sons KLX140L big difference in throttal responce and over all performance. Best performance add on for the money
2014 Suzuki Quad Sport Z-90
Super easy to install, looks great, sounds even better. This exhaust woke the little quad up. Hearing it come thru the woods you'd never expect to see a 90cc quad pop out of the trees. Lol
Will be ordering another for my sons XR-80

You will not be disappointed at all!!
Q: Pro Circuit T-4 Complete Exhaust System V.S FMF Factory 4.1
i have a ttr 125L 07 i am stil a new rider i am looking to change my exhasut on my bike i think bot exhaust are great from reviews and anyone give me personal recommention on what exhasut i should get base on my riding level between these two exhasuted
Michael
1 month 22 days ago
A: Riding level has nothing to do with a side by side comparison of exhaust. You are correct in stating both exhausts have great reviews. Both are going to be the right noise level of what you are trying to achieve and both have the potential of improving your power range as you continue to build your bike to keep up with your ride ability. As a newer rider you will never use up the amount of power potential either one of these exhausts will provide for you so that solidifies that at this point it is of personal preference and nothing more. To further instate an idea of personal preference, both companies are on the leading forefront of keeping their budget conscious clientele in mind and for the quality of exhaust you are getting from either company, worth every penny they are charging. Kudos to you for doing some homework on the subject matter, but even as you improve as a rider, the technology is typically well beyond our skill levels at this point. So I ask you, if you were to choose a company to sponsor you, which one would you want it to be, because in reality, that is the only reason why I would choose one over the other at this point.
Q: Will it look as picture? because im looking at a T4 in ebay that looks a bit different.
klx 125
David
2 months 15 days ago
A: The picture is generic and will vary based off your bike model.
Q: Sound-reducing RC-4 Resonance Chamber
hello, i was wonder if the 2017 ttr 125 comes with the RC-4 Resonance chamber
Thumbs
2 months 26 days ago
A: Pro Circuit isn't listing it as having that chamber for your model bike.
Q: Will I have to Rejet?
I have a 2006 Honda CRF150F and I was wondering if I get this exhaust would I have to rejet the bike or could I just leave it how it is? And is the sound better than if I were to just take the baffle out of the stock exhaust?
Q: What size end cap does this have ?
Q: My Yamaha ttr 125 has the exhaust pipe on the right side, will this work on it?
Q: Packing?
About how often will it have to be repacked?
Q: Will this fit my klx 125 2016?
MotoSportExpert
1 year 7 months ago
A: All products sold on MotoSport.com are for US models only. We unfortunately do not have product fitment for non-us models. Fitment for non-US models cannot be guaranteed.
Q: Out of stock.
Do you know when more will be in stock? Or a suggestion for a tithed pipe from my sons 2016 ttr50?
MotoSportExpert
1 year 9 months ago
A: Please call one of our sales professionals to inquire about special orders and availability.
Dirt Bike: 1-888-676-8853
Q: Rejetting neccasary?
I have a all stock crf230f will I have to rejet the carb if I install this?
MotoSportExpert
1 year 10 months ago
A: Jetting would be recommended. However It would really depend on your location (altitude/temperature) and how your bike is running with the current jetting. Jetting can be very tricky, there isn't one setting that will work everywhere with every bike.
See all bikes that this part fits...
| Product Variant | Manufacturer Part # |
| --- | --- |
| Pro Circuit T-4 Complete Exhaust System | 4H06150 |
| Pro Circuit T-4 Complete Exhaust System | 4H03230 |
| Pro Circuit T-4 Complete Exhaust System | N/A |
| Pro Circuit T-4 Complete Exhaust System | 4S03125 |
| Pro Circuit T-4 Complete Exhaust System | 4QK08450 |
| Pro Circuit T-4 Complete Exhaust System | 4QK04700 |
| Pro Circuit T-4 Complete Exhaust System | 4K10110 |
| Pro Circuit T-4 Complete Exhaust System | 4QY02080 |
| Pro Circuit T-4 Complete Exhaust System | 4QH06450 |
| Pro Circuit T-4 Complete Exhaust System | 4QH04450 |
| Pro Circuit T-4 Complete Exhaust System | 4QH90090 |
| Pro Circuit T-4 Complete Exhaust System | 4Y08110 |
| Pro Circuit T-4 Complete Exhaust System | 4Y00125 |
| Pro Circuit T-4 Complete Exhaust System | 4Y00090 |
| Pro Circuit T-4 Complete Exhaust System | 4H00070 |
| Pro Circuit T-4 Complete Exhaust System | N/A |
| Pro Circuit T-4 Complete Exhaust System | 4H85080 |
| Pro Circuit T-4 Complete Exhaust System | 4H04650 |
| Pro Circuit T-4 Complete Exhaust System | 4H03150 |
| Pro Circuit T-4 Complete Exhaust System | N/A |
| Pro Circuit T-4 Complete Exhaust System | 4QH01250 |
| Pro Circuit T-4 Complete Exhaust System | 4QP96500 |
| Pro Circuit T-4 Complete Exhaust System | 4K08140 |
| Pro Circuit T-4 Complete Exhaust System | 4QP10170 |
| Pro Circuit T-4 Complete Exhaust System | 4QS07050 |
| Pro Circuit T-4 Complete Exhaust System | 4QS07090 |
| Pro Circuit T-4 Complete Exhaust System | 4Y06050 |
| Pro Circuit T-4 Complete Exhaust System | 4QY09450 |