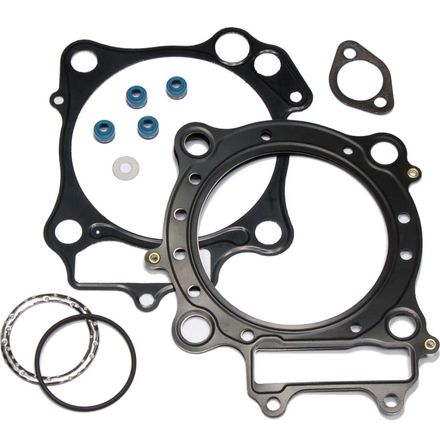 Cometic Top End Gasket Kit
---
5% Off - Save up to $4.00
---
5 Star
120
4 Star
21
3 Star
11
2 Star
9
1 Star
21
Write a Review
Write your review and you'll automatically be entered in our monthly drawing. Include an image or video to DOUBLE your chances to win!
Write Your Review
KTM riders beware!!
Base gasket for a 2016 250sx is way different. All the other gaskets and o-rings fit.
Great gasket kit
Motosport was great to deal with. Everything came together. Products fit great
OK
One of the cylinder head o-rings was wrong, they only give you 1 power valve o-ring and the exhaust o-rings leak.
Good gaskit kit
Everything fit, and works as it should. Seemed durable.
22 days ago
Waynesburg, PA
Great gasket set
Everything fit as it should
23 days ago
Pasco, WA 99301, USA
Cometic for a reason
Quality product, easy install. I have about 20 hours on build now and no priblems at all. Top end gaskets are holding great!
Cosmetic gasket
The only gasket I will ever use'. Spend a little more its worth it.
Never Had a Problem with Them
Whenever I've done the top end on my CR250 I've used Cometic gaskets, and never had a problem with them.
1 month 3 days ago
Pittsburgh
Wrong Head Gasket in Kit
Kit came with a lot of parts for my 08 250XC. The base gasket was completely wrong though. Didn't have any options to pick when ordering since my bike is saved in the Motosport website. Will be returning this one.
Q: Would it fit my XR250 year 2001?
David
2 months 18 days ago
A: Yes it will.
Q: So this gasket set is metal base right? for 1999 yz125
David
3 months 20 days ago
A: Yes. This will be to OEM specs.
Q: What is the Cometic part#?
Q: What thickness is the basket gasket in the kit for a 14 ktm300xc?
Q: What are the exact gaskets that come for a 1991 Suzuki DR350?
Q: Wich gaskets are included for a 2005 honda trx 400ex?
Q: I have a 92 kx80 redoing the top end what gaskets are in this kit
MotoSportExpert
1 year 6 months ago
A: The Cometic Top End Gasket Kit C7031 for your 1992 Kawasaki KX80 would include the head and base gasket, and two o-rings.
Q: Would it fit my bike
MotoSportExpert
1 year 7 months ago
A: Yes. Just be sure to correctly select the Year/Make/Model of your bike before ordering so we can be sure to send you the correct kit for your bike. Also, feel free to give us a call at 888-676-8853 and we would be happy to help you out with your order.
Q: I have a 98 yz125 will this gasket work with an athena cylinder?
MotoSportExpert
1 year 7 months ago
A: Yes if its a stock bore Athena Cylinder this Cometic Top End Gasket Kit will work great.
Q: 2013 TE300: What is the thickness of the base gasket?
The 2013 KTM 300xcw engine parts will fit this bike too, right?
Motodad
1 year 9 months ago
A: Different gaskets will give a different SQUISH. Using the Manufactures Tools you can set the squish based on base gasket thickness. Husqvarna or KTM tools will work. Check your Service manual for Tool part numbers.
See all bikes that this part fits...
| Product Variant | Manufacturer Part # |
| --- | --- |
| Cometic Top End Gasket Kit | C7760 |
| Cometic Top End Gasket Kit | C7859 |
| Cometic Top End Gasket Kit | C3267-EST |
| Cometic Top End Gasket Kit | C3136-EST |
| Cometic Top End Gasket Kit | C3268-EST |
| Cometic Top End Gasket Kit | C7070 |
| Cometic Top End Gasket Kit | C7071 |
| Cometic Top End Gasket Kit | C7072 |
| Cometic Top End Gasket Kit | C7073 |
| Cometic Top End Gasket Kit | C3150-EST |
| Cometic Top End Gasket Kit | C7978-EST |
| Cometic Top End Gasket Kit | C7971 |
| Cometic Top End Gasket Kit | C3142-EST |
| Cometic Top End Gasket Kit | C7798 |
| Cometic Top End Gasket Kit | C7778 |
| Cometic Top End Gasket Kit | C7508 |
| Cometic Top End Gasket Kit | C7120 |
| Cometic Top End Gasket Kit | C7059 |
| Cometic Top End Gasket Kit | C7112 |
| Cometic Top End Gasket Kit | C7136 |
| Cometic Top End Gasket Kit | C7779 |
| Cometic Top End Gasket Kit | C7467 |
| Cometic Top End Gasket Kit | C3099 |
| Cometic Top End Gasket Kit | C7064 |
| Cometic Top End Gasket Kit | C7065 |
| Cometic Top End Gasket Kit | C7123 |
| Cometic Top End Gasket Kit | C7156 |
| Cometic Top End Gasket Kit | C7280 |
| Cometic Top End Gasket Kit | C7505 |
| Cometic Top End Gasket Kit | C7054 |
| Cometic Top End Gasket Kit | C7857 |
| Cometic Top End Gasket Kit | C3054-EST |
| Cometic Top End Gasket Kit | C3175-EST |
| Cometic Top End Gasket Kit | C3406-EST |
| Cometic Top End Gasket Kit | C3102 |
| Cometic Top End Gasket Kit | C3233-EST |
| Cometic Top End Gasket Kit | C7349 |
| Cometic Top End Gasket Kit | C7143 |
| Cometic Top End Gasket Kit | C3051-EST |
| Cometic Top End Gasket Kit | C3139-EST |
| Cometic Top End Gasket Kit | C7096 |
| Cometic Top End Gasket Kit | C3066-EST |
| Cometic Top End Gasket Kit | C7853 |
| Cometic Top End Gasket Kit | C7936 |
| Cometic Top End Gasket Kit | C3105 |
| Cometic Top End Gasket Kit | C7084 |
| Cometic Top End Gasket Kit | C7139 |
| Cometic Top End Gasket Kit | C7158 |
| Cometic Top End Gasket Kit | C7399 |
| Cometic Top End Gasket Kit | C7855 |
| Cometic Top End Gasket Kit | C7113 |
| Cometic Top End Gasket Kit | C7250 |
| Cometic Top End Gasket Kit | C7337 |
| Cometic Top End Gasket Kit | C7507 |
| Cometic Top End Gasket Kit | C7400 |
| Cometic Top End Gasket Kit | C7689 |
| Cometic Top End Gasket Kit | C7137 |
| Cometic Top End Gasket Kit | C7851 |
| Cometic Top End Gasket Kit | C3057 |
| Cometic Top End Gasket Kit | C7947 |
| Cometic Top End Gasket Kit | C7908-EST |
| Cometic Top End Gasket Kit | C3395-EST |
| Cometic Top End Gasket Kit | C3211 |
| Cometic Top End Gasket Kit | C3164-EST |
| Cometic Top End Gasket Kit | C3428-EST |
| Cometic Top End Gasket Kit | C7279 |
| Cometic Top End Gasket Kit | C3412-EST |
| Cometic Top End Gasket Kit | C3263-EST |
| Cometic Top End Gasket Kit | C7292 |
| Cometic Top End Gasket Kit | N/A |
| Cometic Top End Gasket Kit | C7944 |
| Cometic Top End Gasket Kit | C3416 |
| Cometic Top End Gasket Kit | C7094 |
| Cometic Top End Gasket Kit | C7093-EST |
| Cometic Top End Gasket Kit | C7678 |
| Cometic Top End Gasket Kit | C7757 |
| Cometic Top End Gasket Kit | C7181 |
| Cometic Top End Gasket Kit | C3085 |
| Cometic Top End Gasket Kit | C7115 |
| Cometic Top End Gasket Kit | C7394 |
| Cometic Top End Gasket Kit | C7191 |
| Cometic Top End Gasket Kit | C3089 |
| Cometic Top End Gasket Kit | C7015 |
| Cometic Top End Gasket Kit | C7016 |
| Cometic Top End Gasket Kit | C7116 |
| Cometic Top End Gasket Kit | C7020 |
| Cometic Top End Gasket Kit | C7003 |
| Cometic Top End Gasket Kit | C7126 |
| Cometic Top End Gasket Kit | C3187 |
| Cometic Top End Gasket Kit | C7185 |
| Cometic Top End Gasket Kit | C3288-EST |
| Cometic Top End Gasket Kit | C3047-EST |
| Cometic Top End Gasket Kit | C3270-EST |
| Cometic Top End Gasket Kit | C7688 |
| Cometic Top End Gasket Kit | C7044 |
| Cometic Top End Gasket Kit | C3201-EST |
| Cometic Top End Gasket Kit | C7392 |
| Cometic Top End Gasket Kit | C7762 |
| Cometic Top End Gasket Kit | C7921 |
| Cometic Top End Gasket Kit | C7203 |
| Cometic Top End Gasket Kit | C7241 |
| Cometic Top End Gasket Kit | C7393 |
| Cometic Top End Gasket Kit | C7040 |
| Cometic Top End Gasket Kit | C7764 |
| Cometic Top End Gasket Kit | C7861 |
| Cometic Top End Gasket Kit | C7269 |
| Cometic Top End Gasket Kit | C3096 |
| Cometic Top End Gasket Kit | C7041 |
| Cometic Top End Gasket Kit | C7100 |
| Cometic Top End Gasket Kit | C7135 |
| Cometic Top End Gasket Kit | C7155 |
| Cometic Top End Gasket Kit | C7047 |
| Cometic Top End Gasket Kit | C7154 |
| Cometic Top End Gasket Kit | C7501 |
| Cometic Top End Gasket Kit | C7682 |
| Cometic Top End Gasket Kit | C7030 |
| Cometic Top End Gasket Kit | C7031 |
| Cometic Top End Gasket Kit | C7391 |
| Cometic Top End Gasket Kit | C7011 |
| Cometic Top End Gasket Kit | C7012 |
| Cometic Top End Gasket Kit | C7013 |
| Cometic Top End Gasket Kit | C7018 |
| Cometic Top End Gasket Kit | C7019 |
| Cometic Top End Gasket Kit | C7027 |
| Cometic Top End Gasket Kit | C7028 |
| Cometic Top End Gasket Kit | C7029 |
| Cometic Top End Gasket Kit | C7032 |
| Cometic Top End Gasket Kit | C7034 |
| Cometic Top End Gasket Kit | C7035 |
| Cometic Top End Gasket Kit | C7036 |
| Cometic Top End Gasket Kit | C7037 |
| Cometic Top End Gasket Kit | C7038 |
| Cometic Top End Gasket Kit | C7039 |
| Cometic Top End Gasket Kit | C7042 |
| Cometic Top End Gasket Kit | C7043 |
| Cometic Top End Gasket Kit | C7045 |
| Cometic Top End Gasket Kit | C7046 |
| Cometic Top End Gasket Kit | C7049 |
| Cometic Top End Gasket Kit | C7050 |
| Cometic Top End Gasket Kit | C7052 |
| Cometic Top End Gasket Kit | C7053 |
| Cometic Top End Gasket Kit | C7055 |
| Cometic Top End Gasket Kit | C7056 |
| Cometic Top End Gasket Kit | C7057 |
| Cometic Top End Gasket Kit | C7058 |
| Cometic Top End Gasket Kit | C7060 |
| Cometic Top End Gasket Kit | C7061 |
| Cometic Top End Gasket Kit | C7062 |
| Cometic Top End Gasket Kit | C7068 |
| Cometic Top End Gasket Kit | C7076 |
| Cometic Top End Gasket Kit | C7080 |
| Cometic Top End Gasket Kit | C7081 |
| Cometic Top End Gasket Kit | C7082 |
| Cometic Top End Gasket Kit | C7083 |
| Cometic Top End Gasket Kit | C7086 |
| Cometic Top End Gasket Kit | C7087 |
| Cometic Top End Gasket Kit | C7088 |
| Cometic Top End Gasket Kit | C7089 |
| Cometic Top End Gasket Kit | C7090 |
| Cometic Top End Gasket Kit | C7091 |
| Cometic Top End Gasket Kit | C7092 |
| Cometic Top End Gasket Kit | C7097 |
| Cometic Top End Gasket Kit | C7098 |
| Cometic Top End Gasket Kit | C7099 |
| Cometic Top End Gasket Kit | C7102 |
| Cometic Top End Gasket Kit | C7103 |
| Cometic Top End Gasket Kit | C7105 |
| Cometic Top End Gasket Kit | C7106 |
| Cometic Top End Gasket Kit | C7107 |
| Cometic Top End Gasket Kit | C7108 |
| Cometic Top End Gasket Kit | C7110 |
| Cometic Top End Gasket Kit | C7111 |
| Cometic Top End Gasket Kit | C7117 |
| Cometic Top End Gasket Kit | C7118 |
| Cometic Top End Gasket Kit | C7119 |
| Cometic Top End Gasket Kit | C7131 |
| Cometic Top End Gasket Kit | C7132 |
| Cometic Top End Gasket Kit | C7133 |
| Cometic Top End Gasket Kit | C7134 |
| Cometic Top End Gasket Kit | C7138 |
| Cometic Top End Gasket Kit | C7142 |
| Cometic Top End Gasket Kit | C7145 |
| Cometic Top End Gasket Kit | C7147 |
| Cometic Top End Gasket Kit | C7827 |
| Cometic Top End Gasket Kit | C3216 |
| Cometic Top End Gasket Kit | C7213 |
| Cometic Top End Gasket Kit | C7214 |
| Cometic Top End Gasket Kit | C7230 |
| Cometic Top End Gasket Kit | C7231 |
| Cometic Top End Gasket Kit | C7234 |
| Cometic Top End Gasket Kit | C7235 |
| Cometic Top End Gasket Kit | C7236 |
| Cometic Top End Gasket Kit | C7237 |
| Cometic Top End Gasket Kit | C7238 |
| Cometic Top End Gasket Kit | C7242 |
| Cometic Top End Gasket Kit | C7251 |
| Cometic Top End Gasket Kit | C7257 |
| Cometic Top End Gasket Kit | C7258 |
| Cometic Top End Gasket Kit | C7259 |
| Cometic Top End Gasket Kit | C7266 |
| Cometic Top End Gasket Kit | C7268 |
| Cometic Top End Gasket Kit | C7285 |
| Cometic Top End Gasket Kit | C7298 |
| Cometic Top End Gasket Kit | C7300 |
| Cometic Top End Gasket Kit | C7302 |
| Cometic Top End Gasket Kit | C7333 |
| Cometic Top End Gasket Kit | C7384 |
| Cometic Top End Gasket Kit | C7416 |
| Cometic Top End Gasket Kit | C7423 |
| Cometic Top End Gasket Kit | C7456 |
| Cometic Top End Gasket Kit | C7681 |
| Cometic Top End Gasket Kit | C7690 |
| Cometic Top End Gasket Kit | C7691 |
| Cometic Top End Gasket Kit | C7693 |
| Cometic Top End Gasket Kit | C7726 |
| Cometic Top End Gasket Kit | C7816 |
| Cometic Top End Gasket Kit | C7386 |
| Cometic Top End Gasket Kit | C7939 |
| Cometic Top End Gasket Kit | C7835 |
| Cometic Top End Gasket Kit | C7942 |
| Cometic Top End Gasket Kit | C7943 |
| Cometic Top End Gasket Kit | C3222 |
| Cometic Top End Gasket Kit | C7974 |
| Cometic Top End Gasket Kit | C7989 |
| Cometic Top End Gasket Kit | C7000 |
| Cometic Top End Gasket Kit | C7001 |
| Cometic Top End Gasket Kit | C7002 |
| Cometic Top End Gasket Kit | C7005 |
| Cometic Top End Gasket Kit | C7006 |
| Cometic Top End Gasket Kit | C7007 |
| Cometic Top End Gasket Kit | C7008 |
| Cometic Top End Gasket Kit | C7009 |
| Cometic Top End Gasket Kit | C7010 |
| Cometic Top End Gasket Kit | C7021 |
| Cometic Top End Gasket Kit | C3519-EST |
| Cometic Top End Gasket Kit | C3511-EST |
| Cometic Top End Gasket Kit | C3241-EST |
| Cometic Top End Gasket Kit | C3542 |
| Cometic Top End Gasket Kit | C3541 |
| Cometic Top End Gasket Kit | C3549-EST |
| Cometic Top End Gasket Kit | C3540-EST |
| Cometic Top End Gasket Kit | C3510 |