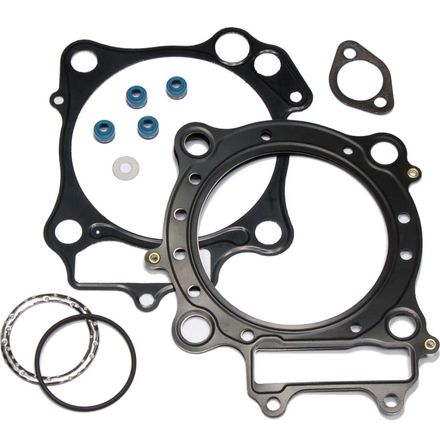 Cometic Top End Gasket Kit
---
5% Off - Save up to $4.00
---
5 Star
127
4 Star
22
3 Star
11
2 Star
11
1 Star
23
Write a Review
Write your review and you'll automatically be entered in our monthly drawing. Include an image or video to DOUBLE your chances to win!
Write Your Review
Missing gasket
Came quick but it was missing the oring head gasket. Luckily I had one that would work.
1 month ago
Colorado mountains
Cr250 top end rebuild
Gasket looks to be holding up. Can say it's doing the job!
1 month 19 days ago
Reno, NV
Worst gasket kit I've used
Ordered one of these since I was just replacing rings. The base gasket fit was extremely tight around the studs. To the point where I'm worried I bent it a little trying to push it down to get it seated. The kit included 3 o-rings for the head none of which sat in the cylinder grooves. They were all too large and I was worried they would pinch when I installed the head. I didn't end up using them. This kit sucks, the only reason I didn't return it is because I used the base gasket and want to ride my bike. Not wait around for another kit in the mail.
2 months 28 days ago
Charleston
Quality product
The kit contained everything I needed and I received it within 36 hrs. A plus purchase
3 months 2 days ago
Ottumwa, IA 52501, USA
Quality product
I always use Cometic gaskets if it is a total rebuild or just the top end . I've used other gasket sets before & end up having to replace them due to failure not with Cometic.Thanks motosport for carrying quality products.
3 months 6 days ago
Paragon, IN.
Super Kit
This gasket set came with my piston kit
3 months 20 days ago
Nashua NH
Came with everything and works great
It came with everything I needed, no missing pieces and went in easily. Only been in for a few weeks so we will see how long it holds up. I was burning oil on my 2008 CRF250R and my mechanic said that this was what i needed. It stopped the issue. Great price to!
3 months 27 days ago
Oklahoma
Top end gasket set
I bought this gasket set for my grand son's YZ 125, but the inside head o-ring was too big and would not fit in the ring groove. So I just wasted my money.
2001 KTM 65SX top end gasket kit
Not a complete set. Missing a o-ring
Over 5 months ago
San Diego
Fit perfectly
bought for my 82 atc 250r and it runs like a champ with no leaks or nothing.
See all bikes that this part fits...
| Product Variant | Manufacturer Part # |
| --- | --- |
| Cometic Top End Gasket Kit | C7760 |
| Cometic Top End Gasket Kit | C7859 |
| Cometic Top End Gasket Kit | C3267-EST |
| Cometic Top End Gasket Kit | C3136-EST |
| Cometic Top End Gasket Kit | C3268-EST |
| Cometic Top End Gasket Kit | C7070 |
| Cometic Top End Gasket Kit | C7071 |
| Cometic Top End Gasket Kit | C7072 |
| Cometic Top End Gasket Kit | C7073 |
| Cometic Top End Gasket Kit | C3150-EST |
| Cometic Top End Gasket Kit | C7978-EST |
| Cometic Top End Gasket Kit | C7971 |
| Cometic Top End Gasket Kit | C3142-EST |
| Cometic Top End Gasket Kit | C7798 |
| Cometic Top End Gasket Kit | C7778 |
| Cometic Top End Gasket Kit | C7508 |
| Cometic Top End Gasket Kit | C7120 |
| Cometic Top End Gasket Kit | C7059 |
| Cometic Top End Gasket Kit | C7112 |
| Cometic Top End Gasket Kit | C7136 |
| Cometic Top End Gasket Kit | C7779 |
| Cometic Top End Gasket Kit | C7467 |
| Cometic Top End Gasket Kit | C3099 |
| Cometic Top End Gasket Kit | C7064 |
| Cometic Top End Gasket Kit | C7065 |
| Cometic Top End Gasket Kit | C7123 |
| Cometic Top End Gasket Kit | C7156 |
| Cometic Top End Gasket Kit | C7280 |
| Cometic Top End Gasket Kit | C7505 |
| Cometic Top End Gasket Kit | C7054 |
| Cometic Top End Gasket Kit | C7857 |
| Cometic Top End Gasket Kit | C3054-EST |
| Cometic Top End Gasket Kit | C3175-EST |
| Cometic Top End Gasket Kit | C3406-EST |
| Cometic Top End Gasket Kit | C3102 |
| Cometic Top End Gasket Kit | C3233-EST |
| Cometic Top End Gasket Kit | C7349 |
| Cometic Top End Gasket Kit | C7143 |
| Cometic Top End Gasket Kit | C3051-EST |
| Cometic Top End Gasket Kit | C3139-EST |
| Cometic Top End Gasket Kit | C7096 |
| Cometic Top End Gasket Kit | C3066-EST |
| Cometic Top End Gasket Kit | C7853 |
| Cometic Top End Gasket Kit | C7936 |
| Cometic Top End Gasket Kit | C3105 |
| Cometic Top End Gasket Kit | C7084 |
| Cometic Top End Gasket Kit | C7139 |
| Cometic Top End Gasket Kit | C7158 |
| Cometic Top End Gasket Kit | C7399 |
| Cometic Top End Gasket Kit | C7855 |
| Cometic Top End Gasket Kit | C7113 |
| Cometic Top End Gasket Kit | C7250 |
| Cometic Top End Gasket Kit | C7337 |
| Cometic Top End Gasket Kit | C7507 |
| Cometic Top End Gasket Kit | C7400 |
| Cometic Top End Gasket Kit | C7689 |
| Cometic Top End Gasket Kit | C7137 |
| Cometic Top End Gasket Kit | C7851 |
| Cometic Top End Gasket Kit | C3057 |
| Cometic Top End Gasket Kit | C7947 |
| Cometic Top End Gasket Kit | C7908-EST |
| Cometic Top End Gasket Kit | C3395-EST |
| Cometic Top End Gasket Kit | C3211 |
| Cometic Top End Gasket Kit | C3164-EST |
| Cometic Top End Gasket Kit | C3428-EST |
| Cometic Top End Gasket Kit | C7279 |
| Cometic Top End Gasket Kit | C3412-EST |
| Cometic Top End Gasket Kit | C3263-EST |
| Cometic Top End Gasket Kit | C7292 |
| Cometic Top End Gasket Kit | N/A |
| Cometic Top End Gasket Kit | C7944 |
| Cometic Top End Gasket Kit | C3416 |
| Cometic Top End Gasket Kit | C7094 |
| Cometic Top End Gasket Kit | C7093-EST |
| Cometic Top End Gasket Kit | C7678 |
| Cometic Top End Gasket Kit | C7757 |
| Cometic Top End Gasket Kit | C7181 |
| Cometic Top End Gasket Kit | C3085 |
| Cometic Top End Gasket Kit | C7115 |
| Cometic Top End Gasket Kit | C7394 |
| Cometic Top End Gasket Kit | C7191 |
| Cometic Top End Gasket Kit | C3089 |
| Cometic Top End Gasket Kit | C7015 |
| Cometic Top End Gasket Kit | C7016 |
| Cometic Top End Gasket Kit | C7116 |
| Cometic Top End Gasket Kit | C7020 |
| Cometic Top End Gasket Kit | C7003 |
| Cometic Top End Gasket Kit | C7126 |
| Cometic Top End Gasket Kit | C3187 |
| Cometic Top End Gasket Kit | C7185 |
| Cometic Top End Gasket Kit | C3288-EST |
| Cometic Top End Gasket Kit | C3047-EST |
| Cometic Top End Gasket Kit | C3270-EST |
| Cometic Top End Gasket Kit | C7688 |
| Cometic Top End Gasket Kit | C7044 |
| Cometic Top End Gasket Kit | C3201-EST |
| Cometic Top End Gasket Kit | C7392 |
| Cometic Top End Gasket Kit | C7762 |
| Cometic Top End Gasket Kit | C7921 |
| Cometic Top End Gasket Kit | C7203 |
| Cometic Top End Gasket Kit | C7241 |
| Cometic Top End Gasket Kit | C7393 |
| Cometic Top End Gasket Kit | C7040 |
| Cometic Top End Gasket Kit | C7764 |
| Cometic Top End Gasket Kit | C7861 |
| Cometic Top End Gasket Kit | C7269 |
| Cometic Top End Gasket Kit | C3096 |
| Cometic Top End Gasket Kit | C7041 |
| Cometic Top End Gasket Kit | C7100 |
| Cometic Top End Gasket Kit | C7135 |
| Cometic Top End Gasket Kit | C7155 |
| Cometic Top End Gasket Kit | C7047 |
| Cometic Top End Gasket Kit | C7154 |
| Cometic Top End Gasket Kit | C7501 |
| Cometic Top End Gasket Kit | C7682 |
| Cometic Top End Gasket Kit | C7030 |
| Cometic Top End Gasket Kit | C7031 |
| Cometic Top End Gasket Kit | C7391 |
| Cometic Top End Gasket Kit | C7011 |
| Cometic Top End Gasket Kit | C7012 |
| Cometic Top End Gasket Kit | C7013 |
| Cometic Top End Gasket Kit | C7018 |
| Cometic Top End Gasket Kit | C7019 |
| Cometic Top End Gasket Kit | C7027 |
| Cometic Top End Gasket Kit | C7028 |
| Cometic Top End Gasket Kit | C7029 |
| Cometic Top End Gasket Kit | C7032 |
| Cometic Top End Gasket Kit | C7034 |
| Cometic Top End Gasket Kit | C7035 |
| Cometic Top End Gasket Kit | C7036 |
| Cometic Top End Gasket Kit | C7037 |
| Cometic Top End Gasket Kit | C7038 |
| Cometic Top End Gasket Kit | C7039 |
| Cometic Top End Gasket Kit | C7042 |
| Cometic Top End Gasket Kit | C7043 |
| Cometic Top End Gasket Kit | C7045 |
| Cometic Top End Gasket Kit | C7046 |
| Cometic Top End Gasket Kit | C7049 |
| Cometic Top End Gasket Kit | C7050 |
| Cometic Top End Gasket Kit | C7052 |
| Cometic Top End Gasket Kit | C7053 |
| Cometic Top End Gasket Kit | C7055 |
| Cometic Top End Gasket Kit | C7056 |
| Cometic Top End Gasket Kit | C7057 |
| Cometic Top End Gasket Kit | C7058 |
| Cometic Top End Gasket Kit | C7060 |
| Cometic Top End Gasket Kit | C7061 |
| Cometic Top End Gasket Kit | C7062 |
| Cometic Top End Gasket Kit | C7068 |
| Cometic Top End Gasket Kit | C7076 |
| Cometic Top End Gasket Kit | C7080 |
| Cometic Top End Gasket Kit | C7081 |
| Cometic Top End Gasket Kit | C7082 |
| Cometic Top End Gasket Kit | C7083 |
| Cometic Top End Gasket Kit | C7086 |
| Cometic Top End Gasket Kit | C7087 |
| Cometic Top End Gasket Kit | C7088 |
| Cometic Top End Gasket Kit | C7089 |
| Cometic Top End Gasket Kit | C7090 |
| Cometic Top End Gasket Kit | C7091 |
| Cometic Top End Gasket Kit | C7092 |
| Cometic Top End Gasket Kit | C7097 |
| Cometic Top End Gasket Kit | C7098 |
| Cometic Top End Gasket Kit | C7099 |
| Cometic Top End Gasket Kit | C7102 |
| Cometic Top End Gasket Kit | C7103 |
| Cometic Top End Gasket Kit | C7105 |
| Cometic Top End Gasket Kit | C7106 |
| Cometic Top End Gasket Kit | C7107 |
| Cometic Top End Gasket Kit | C7108 |
| Cometic Top End Gasket Kit | C7110 |
| Cometic Top End Gasket Kit | C7111 |
| Cometic Top End Gasket Kit | C7117 |
| Cometic Top End Gasket Kit | C7118 |
| Cometic Top End Gasket Kit | C7119 |
| Cometic Top End Gasket Kit | C7131 |
| Cometic Top End Gasket Kit | C7132 |
| Cometic Top End Gasket Kit | C7133 |
| Cometic Top End Gasket Kit | C7134 |
| Cometic Top End Gasket Kit | C7138 |
| Cometic Top End Gasket Kit | C7142 |
| Cometic Top End Gasket Kit | C7145 |
| Cometic Top End Gasket Kit | C7147 |
| Cometic Top End Gasket Kit | C7827 |
| Cometic Top End Gasket Kit | C3216 |
| Cometic Top End Gasket Kit | C7213 |
| Cometic Top End Gasket Kit | C7214 |
| Cometic Top End Gasket Kit | C7230 |
| Cometic Top End Gasket Kit | C7231 |
| Cometic Top End Gasket Kit | C7234 |
| Cometic Top End Gasket Kit | C7235 |
| Cometic Top End Gasket Kit | C7236 |
| Cometic Top End Gasket Kit | C7237 |
| Cometic Top End Gasket Kit | C7238 |
| Cometic Top End Gasket Kit | C7242 |
| Cometic Top End Gasket Kit | C7251 |
| Cometic Top End Gasket Kit | C7257 |
| Cometic Top End Gasket Kit | C7258 |
| Cometic Top End Gasket Kit | C7259 |
| Cometic Top End Gasket Kit | C7266 |
| Cometic Top End Gasket Kit | C7268 |
| Cometic Top End Gasket Kit | C7285 |
| Cometic Top End Gasket Kit | C7298 |
| Cometic Top End Gasket Kit | C7300 |
| Cometic Top End Gasket Kit | C7302 |
| Cometic Top End Gasket Kit | C7333 |
| Cometic Top End Gasket Kit | C7384 |
| Cometic Top End Gasket Kit | C7416 |
| Cometic Top End Gasket Kit | C7423 |
| Cometic Top End Gasket Kit | C7456 |
| Cometic Top End Gasket Kit | C7681 |
| Cometic Top End Gasket Kit | C7690 |
| Cometic Top End Gasket Kit | C7691 |
| Cometic Top End Gasket Kit | C7693 |
| Cometic Top End Gasket Kit | C7726 |
| Cometic Top End Gasket Kit | C7816 |
| Cometic Top End Gasket Kit | C7386 |
| Cometic Top End Gasket Kit | C7939 |
| Cometic Top End Gasket Kit | C7835 |
| Cometic Top End Gasket Kit | C7942 |
| Cometic Top End Gasket Kit | C7943 |
| Cometic Top End Gasket Kit | C3222 |
| Cometic Top End Gasket Kit | C7974 |
| Cometic Top End Gasket Kit | C7989 |
| Cometic Top End Gasket Kit | C7000 |
| Cometic Top End Gasket Kit | C7001 |
| Cometic Top End Gasket Kit | C7002 |
| Cometic Top End Gasket Kit | C7005 |
| Cometic Top End Gasket Kit | C7006 |
| Cometic Top End Gasket Kit | C7007 |
| Cometic Top End Gasket Kit | C7008 |
| Cometic Top End Gasket Kit | C7009 |
| Cometic Top End Gasket Kit | C7010 |
| Cometic Top End Gasket Kit | C7021 |
| Cometic Top End Gasket Kit | C3519-EST |
| Cometic Top End Gasket Kit | C3511-EST |
| Cometic Top End Gasket Kit | C3241-EST |
| Cometic Top End Gasket Kit | C3542 |
| Cometic Top End Gasket Kit | C3541 |
| Cometic Top End Gasket Kit | C3549-EST |
| Cometic Top End Gasket Kit | C3540-EST |
| Cometic Top End Gasket Kit | C3510 |