Boyesen
Boyesen

Supercooler Water Pump Kit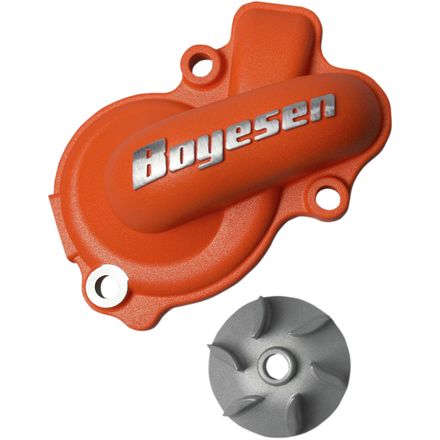 Boyesen Supercooler Water Pump Kit
---
8% Off - Save up to $16.96
---
5 Star
25
4 Star
1
3 Star
1
2 Star
0
1 Star
0
Write a Review
Write your review and you'll automatically be entered in our monthly drawing. Include an image or video to DOUBLE your chances to win!
Write Your Review
4 months 11 days ago
AMA, TX
Over 9 months ago
Florida, USA
Boysen hit it outta the park!!
Supercooler is just that, consistent 8 degree temperature drops over stock in 95 degree Florida heat!! Worst part of installation is draining the coolant, other then that 5 minutes later Braaap!!!
It runs cooler and looks cool
purchased this product for my 2009 crf450r so it would have better flow and less cavitation. the product does what its advertised to do, I can certainly say the bike runs a lot cooler with a fatter radiator especially in sunny Yuma AZ.
Great Purchase
My crf450r was having trouble staying cool, so I purchased this item. It only took 15 minutes to install, great product my bike runs a lot cooler after installing the boyesen supercooler. Definitely recommend buying this item.
Worth It
You hear a lot of rumors about aftermarket pumps but this one is the one. It really works. When compared with the stock impeller this one is significantly larger. My 07 CRF250r used to run at like a billion degrees but now it runs smoother and cooler. Buy this it's worth it.
1 year 9 months ago
West Virginia
Works great and super easy to install!
Received my order in time for a weekend of trail riding in which this supercooler shines! Very easy to install..10 mins max! Does what it says. The impeller has larger fins to move coolant more rapidly. Great add-on if your bike gets hot!
2 years ago
Billings, MT, USA
Cooler running
I ride and race enduros and my bike runs a lot cooler and doesn't boil over anymore
Super easy install!
Threw the Boysesen super on my yzf250 last week. Install was super easy and it looks great on my bike. Contrary to other reviews my kit came with a gasket. I would have given it 5 star except it doesn't look like the picture. Although mine was for an 02 yzf250. Newer models may differ. Motorsport rocks!! Customer for life!!
Over 4 years ago
Livermore, CA, USA
Easy install
I'm not a mechanic,but, with the ease and simplicity of the destructions, the super cooler went on without any problems!!! Haven't been ride'n yet but it sure looks cool and hopefully will keep my bike just as cool...
Over 4 years ago
Minneapolis, MN, USA
Awesome and looks sweet
The water pump and impeller installed super easy on my 08 Honda 250F, it was about a 5 minute job and I also went with engine ice for coolant, bike seems happier now and running cooler, so I am set for tight single track woods riding where overheating for me was more of an issue.
Over 4 years ago
New Cambria, MO 63558, USA
GREAT PURCHASE! HIGHLY RECOMMENDED!!!!
I bought the super cooler for my 2004 yfz 450 that has been bored to a 478. The bigger bore has made it run a lot hotter but thanks to the supercooler, my yfz stays at a much lower temp now! Again, GREAT PRODUCT!!!!
Looks good
I installed on an 08 honda crf250r. It is very easy to install and it does look a little bigger than the stock one. I gave it 3 stars because of cost, it didn't come with a new gasket, and I cant tell that much of a difference but it does look good.
Over 5 years ago
salem,wv
I bought this after having over heating problems at the snowshoe GNCC. Bike ran cool in the 100 degree temps at the John Penton after the install!
Amazing
just installed the hot rods stroker kit in my 04 honda 450r, running on 112 octane this thing brought my temps way down! amazing would buy it again!!
Over 6 years ago
El Cajon, Ca
Worked as expected
I do a lot of desert riding (Glamis) and my engine temps would get a little high after hard riding out in the dunes, but after I installed this I did notice a decrease in temp. The impeller is noticably larger and no issues to date. This was placed on a 2009 yz450f. I will be getting this for the next bike I own, what ever it may be.
Over 6 years ago
san jose, ca
A must have
If you're tough on your bike and you do alot of single track and race offroad, this is a must have product. Bought this a couple of years ago for my Honda crf450r cause I had a couple of boil-overs. Ever since I bought this product, I haven't had any problems with over heating my bike. A great product, easy to install and looks great.
Over 6 years ago
California city, CA
Super supercooler
this product is amazing my 04 yfz 450 runs so much cooler for being in the desert. I can't wait to get one on my wifes bike.
This product is awsome easy install and bike runs much cooler thanks
Over 6 years ago
Colorado
Very happy with boyesen..... Always happy with Motosport.com.... 110 here and the bike runs 10 times cooler.... Thank you Motosport.com and thank you boyesen.
Over 7 years ago
Orange County, CA
Makes a BIG difference
I put this on my 09 WR450 and the bike does not overheat like it used to, it takes some time to install this but in the end it was well worth it to me.
Tblaze337
Q: Hey will this boyesten supercooler water pump work with a hot rods water pump repair kit??
I have a 07' crf250r . Please answer back so I can get this bike back to beast mode
David
2 months 8 days ago
A: Yes it will.
Reeves82
Q: Will this pump fit on my 2008 YFZ 450 SE?
My YFZ is bored over and is running a little warm. I need something to help cool her down, I've heard this helps I just wanna make sure it's gonna fit. And last is there anything else I could get to help it run cooler?
06yz250f
Q: What kind of seal do I have to use with this?
MotoSportExpert
1 year 4 months ago
A: Works with the stock gasket. Stock gaskets can be found in our OEM section here:

http://www.motosport.com/oem-parts

Feel free to give us a call at 888-676-8853 and we would be happy to help you out with your order.
JR12
Location: California, USA
Q: In what color does this come for 2015 rmz 250?
MotoSportExpert
1 year 5 months ago
A: This would be the black Boyesen Supercooler Water Pump Kit.
Greg
Q: Does it come with a new gasket for the outer case?
MotoSportExpert
1 year 5 months ago
A: No. Gasket(s) is NOT included; use stock piece(s) or purchase new one separately.
motorcross
Q: Will this impeller fit on the OEM shaft or do i need to order a new shaft?
MotoSportExpert
1 year 6 months ago
A: Fits the stock shaft.
Bristol13
Q: 2016 YZ250F?
They dont make one to fit the 2016 YZ250F???
MotoSportExpert
1 year 11 months ago
A: Yes Boyesen does offer the Boyesen Supercooler Water Pump Kit for the YZ250F 2014-2016. If it is available through one of our suppliers, we would be happy to order it for you. Please contact one of our sales professionals to inquire about special orders and availability.
Dirt Bike: 1-888-676-8853
Zach
Q: Will this fit my 04 crf 450 with a power bomb exhaust?
Will this fit my bike with that exhaust because it's very close too the pump
MotoSportExpert
2 years 5 months ago
A: The Boyesen SuperCooler Kit for your CRF450R (WPK-06B) is about the same size as the stock water pump cover. If the stock water pump cover fits with an FMF powerbomb, the Boyesen SuperCooler Kit will fit. We are not aware of any fitment problems.
tomas
Location: Maryl Street, Burlington, WI 53105, USA
Q: What color will this be for an 06 crf 250r?
MotoSportExpert
Over 3 years ago
A: It would be a black cover (WPK-07B) for your 2006 Honda CRF250R.
JohnBoy
Q: Twin Air oil filter cap?
will the Twin Air oil filter cap work with this water pump?
MotoSportGrantK
MotoSport Staff
Expert
Top 1 Contributor
Over 3 years ago
A: No, the Twin Air Oil Filter Cap will not work with the Boyesen Supercooler Water Pump Kit.
See all bikes that this part fits...
| Product Variant | Manufacturer Part # |
| --- | --- |
| Black | WPK-07B |
| Black | WPK-07AB |
| Black | WPK-06B |
| Black | WPK-06AB |
| Black | WPK-17B |
| Black | WPK-18B |
| Black | WPK-27B |
| Black | WPK-26B |
| Black | WPK-26AB |
| Black | WPK-08B |
| Black | WPK-37B |
| Black | WPK-38B |
| Black | WPK-38AB |
| Black | WPK-01B |
| Black | WPK-08AB |
| Black | WPK-09B |
| Black | WPK-10B |
| Black | WPK-12AB |
| Black | WPK-24B |
| Black | WPK-31AB |
| Black | WPK-32AB |
| Black | WPK-37AB |
| Black | WPK-38CB |
| Black | WPK-44B |
| Black | WPK-45B |
| Black | WPK-80B |
| Silver | WPK-17 |
| Silver | WPK-18 |
| Silver | WPK-27 |
| Silver | WPK-26 |
| Silver | WPK-37 |
| Silver | WPK-24 |
| Silver | WPK-28 |
| Silver | WPK-31 |
| Magnesium | WPK-17M |
| Magnesium | WPK-18M |
| Magnesium | WPK-27M |
| Magnesium | WPK-26M |
| Magnesium | WPK-24-M |
| Magnesium | WPK-31AM |
| Magnesium | WPK-32AM |
| Magnesium | WPK-37AM |
| Magnesium | WPK-38CM |
| Magnesium | WPK-44M |
| Magnesium | WPK-45M |
| Blue | WPK-31AL |
| White | WPK-31AW |
| Orange | WPK-44O |
| Orange | WPK-45O |