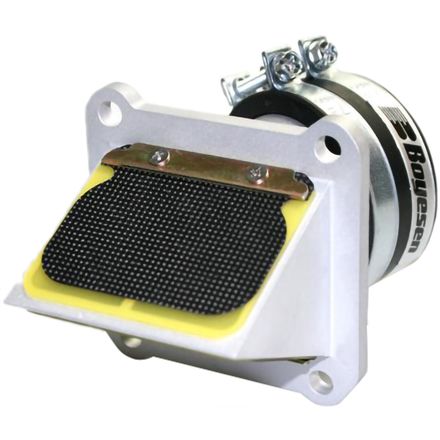 ---
8% Off - Save up to $21.00
---
5 Star
5
4 Star
1
3 Star
0
2 Star
0
1 Star
0
Write a Review
Write your review and you'll automatically be entered in our monthly drawing. Include an image or video to DOUBLE your chances to win!
Write Your Review
3 months 22 days ago
Southwest Florida
BRAAAP
You can't go wrong with Boyesen reeds. The Rad valve is awesome no more rubber intakes.
1 year 3 months ago
NorthEast
Great 2stroke performance part. Great for all around better performance.
Should be noticed especially on bottom end, holeshots and cornering. I would recommend a rad valve to anyone thinking about it.
2 years ago
San Diego, CA
Awesome product
The rad valve was exactly what my 2006 Rm250 needed. My stock intake was dry rotted and needed to be replaced so rather than spending the money on a new OEM part I went with Boyesen. The bike runs so much better now from the bottom to the top. I have no hesitation at all, just quick, crisp revs. It also made the hit of the power band more predictable which helps out a lot on the track. The product comes with everything needed to install including an intake gasket, intake coupling, and clamps plus they give you detailed instructions and suggested jetting settings. I will put one on every 2 stoke I own!
Over 3 years ago
Idaho, USA
High quality part.
I've always been a big fan of the Boyesen Rad Valve. This is my 4th one and I have no reason not to keep coming back. There is always a noticeable performance boost and the fit and finish is great. The housing is tough and the reed petals hold up as long or longer than stock and/or other brands.
Over 5 years ago
San Luis Obispo , CA
RAAAD
I decided to try out the Rad Valve on my Rm 125 and am very satisfied. Being very sensitive to Jetting I had some concerns. It seems like the consensus is that the Rad Valve requires more jetting changes then the V force but is potentially a better mod. I believe this is true. Although I noticed an increase in performance right away. It became more noticeable when I leaned the main out a little more. The Rad Valve improved performance all over the Rpm range.
Will it make you faster? Probably not.
Is it worth the money? That depends on how much money you make and if you know how jet your bike. (MXA's secret jetting specs is a good place to start.) Or the FMF website!! =)
Will I Install a Rad Valve on every 2 stroke I own from now on. Yes!!
Over 5 years ago
Athens Tn.
Proven quality.
Excellent performance as always.
Q: Does this rad valve come with reeds?
ExpertJohnB
13 days ago
A: Yes it does! Get out and rip!
Q: Is there a replacement gasket for this part?
Boyesen Rad Valve RAD-21J 2005 rm125
David
4 months 19 days ago
A: You'll just need to order a OEM gasket for it.
Q: Does it include the intank boot that connects to the carb?
My intank boot for my Yz 85 is dry rotted
MotoSportExpert
1 year 11 months ago
A: Yes. Carb boot, Carb boot clamp and gasket provided. No modifications required.
Q: Will a 2008 yz85 rad valve fit a 2015 yz85?
MotoSportExpert
2 years 3 months ago
A: Yes the Boyesen Rad Valve (RAD-30C) would be the same for the Yamaha YZ85 2002-2016.
Q: Boyesen rad valve
Hi, will this replace the stock rubber part that the carb mounts to, because on my sons bike its all dry rotted. Trying to decide weather to buy the stock carb holder and v-force reeds or just the boyesen. If the boyesen will take care of the carb holder issue it will end up being cheaper for me. Thanks in advance
MotoSportGrantK
Over 3 years ago
A: The Boyesen Rad Valve will come with the boot so you will not need to buy a replacement OEM one.
Q: Boyesen rad valve VS. v force
I want to add a little hp to my bike but im not sure which one to pick boyesen or v force some one help me decide.
MotoSportRyanT
Over 4 years ago
A: I would say either would be a good choice. The V-Force Reed Valve systems are by far the most popular choice when replacing your Reed Valve. Also, the V-Force reeds simply snap into place in the reed valve so changing the reeds is extremely quick and easy.
Q: What do I order for replacement reeds? I have the rad block already
My reeds are worn out and one is broken. I don't see replacements for the rad reeds.
MotoSportExpert
Over 4 years ago
A: The Rad Valve takes specific reeds from Boyeseen. If you can give us a call, we can get you taken care of with pricing and availability of the correct reeds for your 1994 YZ125.
Q: Boyesen vs V Force
Why do the parts look so much different? The V Force is a cage that slips into the existing port on the intake and the Boyesen looks like it's an add on to the engine?
MotoSportExpert
Over 5 years ago
A: They really are both trying to accomplish the same thing. Realistically they they are pretty much the same except Boyesen integrates the intake manifold into their reed block instead of using the stock one. Both are trying to create a less turbulent and effective intaker charge into the engine, and they both do accomplish this. Typically the Boyesen valves are known to produce a little more bottom end, and the V Force's rev a little more freely. Personally on my 125's, i have always ran the V force's.
Q: Do you have the reeds for this part??
It is for a suzuki rm 125 1998 with this boyesen kit.
MotoSportExpert
Over 5 years ago
A: We can get you the replacment Boyesen Rad Valve reeds for your 1998 RM125. Unfortunately we do not stock them and will have to order them in for you. Please give us a call at your convenience and we can get you taken care of for this item.
See all bikes that this part fits...
| Product Variant | Manufacturer Part # |
| --- | --- |
| Boyesen Rad Valve | N/A |
| Boyesen Rad Valve | RAD-01E |
| Boyesen Rad Valve | RAD-01J |
| Boyesen Rad Valve | RAD-03A |
| Boyesen Rad Valve | RAD-15 |
| Boyesen Rad Valve | RAD-10A |
| Boyesen Rad Valve | RAD-10E |
| Boyesen Rad Valve | RAD-20A |
| Boyesen Rad Valve | RAD-21J |
| Boyesen Rad Valve | RAD-24K |
| Boyesen Rad Valve | RAD-30C |
| Boyesen Rad Valve | RAD-34J |
| Boyesen Rad Valve | RAD-01A |
| Boyesen Rad Valve | RAD-01F |
| Boyesen Rad Valve | RAD-01I |
| Boyesen Rad Valve | RAD-02F |
| Boyesen Rad Valve | RAD-04A |
| Boyesen Rad Valve | RAD-12C |
| Boyesen Rad Valve | RAD-12E |
| Boyesen Rad Valve | RAD-12J |
| Boyesen Rad Valve | RAD-13 |
| Boyesen Rad Valve | RAD-25 |
| Boyesen Rad Valve | RAD-30A |
| Boyesen Rad Valve | RAD-34I |
| Boyesen Rad Valve | RAD-35A |
| Stock Motor | RAD-36A |
| Boyesen Rad Valve | RAD-40B |
| Boyesen Rad Valve | RAD-42D |
| Boyesen Rad Valve | RAD-46 |
| Boyesen Rad Valve | RAD-62 |