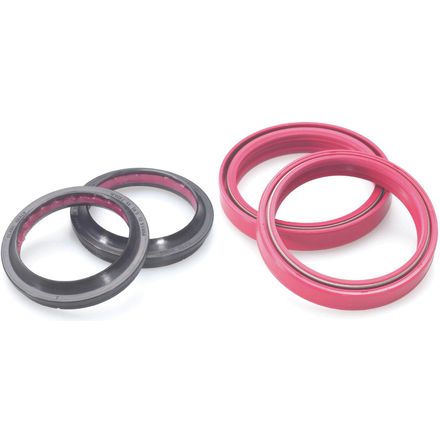 All Balls Fork Seal And Wiper Kit
---
10% Off - Save up to $4.23
---
5 Star
93
4 Star
23
3 Star
3
2 Star
2
1 Star
11
Write a Review
Write your review and you'll automatically be entered in our monthly drawing. Include an image or video to DOUBLE your chances to win!
Write Your Review
9 days 16 hours ago
Twin lake,mi
Work d great
Installed super easy and haven't had any leaks.
10 days 7 hours ago
Canton ohio
Kit came packaged nice!
But are leaking a small amount of oil out the rear of both forks!
1 month ago
Indianapolis, IN
Save your time and $$ and do not buy
I have two bikes, a 2005 KX 250F & a 2015 KTM 250 XC-F, that I replaced the fork seals in 10 hours ago with a pair of All Balls and they are both leaking and must be replaced. After doing my home work, this time, I am going with the SKF = pay the extra few $$$ and save you butt a bunch of work!!
1 month 14 days ago
Atascadero Ca
Go get pivot works
Bought withought doing my research, ended up lasting one ride. Although all balls has great bearing kits I'm not gonna recommend these seals go save your self some time and money and get a set of SKF, OEM, or Pivot Works
1 month 23 days ago
Ralph,AL
Trusted product
I use these seals on all my bikes and ones I work on! Haven't received a faulty set to this day. Great product will continue to use
3 months 9 days ago
Prairieville, LA 70769, USA
Kx65 fork seals
Easy to change and works like a pro.
3 months 11 days ago
Topeka, KS, USA
You pay for what you get
I bought these seals instead of skf hoping they would last a little while at least. I had them installed by a professional shop, and the seals are leaking after not even ten hours of ride time.
3 months 16 days ago
New England
Forks
Great service and selection
The product fit up perfectly. Hard to tell with over all performance only a few hours on these seals.
Great seals, work awesome
First time using these seals. Installation was easy, fitment is great, good quality material. Seals have been on the dirtbike for few months already and so far still holding up great. Super happy with purchase, would purchase again in future, and would recommend.
3 months 19 days ago
Phoenix, AZ, USA
Excellent priced fork seals
install was easy, great quality material. cant speak on longevity of life on them just yet but they dont leak like my old ones!
Q: Does this come with a seal and wiper for each shock or do i have to buy one kit for each
do I need to buy two or does it come with two for each shock
Ooot
1 year 3 months ago
A: This includes a seal and wiper for each fork, you only need to order quantity 1.
Q: Do they actually come in only pink, and does the color show?
MotoSportExpert
1 year 9 months ago
A: The internal fork oil seals will never be seen once installed. The dust wiper seal is black.
Q: Will the 1989 cr500 seals fit 1989 cr250, same forks ?
MotoSportExpert
Over 3 years ago
A: Yes the 1989 Honda CR500 and CR250 both use the same All Balls Fork Seal And Wiper Kit (56-139). Feel free to give us a call at 888-676-8853 and we would be happy to help you out with your order.
Q: What size seal driver do I need to drive the seals?
Butch
Over 4 years ago
A: Though I'm not familiar with the size of fork tube on a Honda rebel, the driver size needs to have the same internal diameter as the external diameter of the fork leg.always remember to drive seals evenly in so as not to crush one side which will cause even new seals to leak immediately, smaller movevments are better.
MotoSportRyanT
Over 4 years ago
A: I would recommend checking your owners/service manual for that information for your bike. You can also measure the diameter of the fork tube to find out what seal driver you will need. I would recommend checking out the Bikemaster Fork Seal Drivers as they come with an adjustable nylon bushing that allows them to cover a wide range of fork seal drivers, your Honda Rebel's forks would likely need the 32-47mm Bikemaster fork seal installer ( http://www.motosport.com/dirtbike/BikeMaster-Fork-Seal-Installer ).
Yamahondazuki
Over 4 years ago
A: In the service manual for your bike it will specify what size forks you have, 48mm for example. You would then buy the 48mm driver.
Q: Dose this kit come with both seals and wipers
MotoSportRyanT
Over 4 years ago
A: Yes, This kit will come with both seals and both wipers.
Butch
Over 4 years ago
A: Yes it does. Always remember to clean the fork tubes buff if necessary, and prelude your seals
yzman
Over 4 years ago
A: yes they do. they come with seals and wipers. they are really good seals
Yamahondazuki
Over 4 years ago
A: Yes it does.
Q: What should be replaced along with a leaking fork seal? What's the risk of riding my bike to the shop with a leaking fork seal?
SteveMaha
Over 4 years ago
A: You will need to replace the fork oil along with the seals and wipers. You may want to replace your fork bushings as well while you have the forks apart, but this is not required if the bushings are in good shape. I wouldn't recommend reusing your fork oil though.

With a blown fork seal, your first initial risk is getting oil on the front brake pads causing them to become contaminated and quite working. Not good on a long trail ride and you'll have to replace them once they touch oil. After that, if you run long enough, you could possibly empty all the oil out of the fork and then they may bind due to increased heat and friction. If a fork seal magically stops leaking, the fork may have just lost all it's oil.
MotoSportExpert
Over 4 years ago
A: Depending how much time is on the the bike and how they look when the forks are pulled apart, it is not a bad a idea to replace the bushings also when installing new fork seals. Other than that there is nothing that should normally wear out if the the fork fluid is changed at regular intervals. If the fork seal just started leaking you shouldn't have to worry about damaging anything internally on the fork. The only thing to really work about is if the fork fluid contaminates the brakes or tire. Street bikes rely heavily on the front brake and that could create a very dangerous situation if it compromised.
idiot730
Over 4 years ago
A: i would recommend doing fork bushing kit too. if you already have the forks apart for the seals and oil it will be worth the time and little extra money to be sure everything is properly functioning.
Butch
Over 4 years ago
A: The problems you may encounter are poor handling, a rough ride as your suspension isn't able to work correctly,and it's never good to have oil on your brakes
soup
Verified Purchaser
Top 500
Over 4 years ago
A: YOU WOULD NEED TO REPLACE THE FORK BUSHINGS ALONG WITH THE FORK SEALS IF THEY ARE WORN. YOU COULD NOT KNOW IF YOUR BUSHING ARE WORN UNLESS YOUR FORK IS APART SO I WOULD JUST GET THE BUSHINGS DONE ANYWAY WITH THE SEALS. YOU COULD GET TO A SHOP JUST FINE SO LONG AS YOUR FORKS AREN'T SPEWING OIL ALL OVER YOUR BRAKES AS THIS COULD PUT YOU IN DANGER.
See all bikes that this part fits...
| Product Variant | Manufacturer Part # |
| --- | --- |
| All Balls Fork Seal And Wiper Kit | 56-146 |
| All Balls Fork Seal And Wiper Kit | 56-147 |
| All Balls Fork Seal And Wiper Kit | 56-148 |
| All Balls Fork Seal And Wiper Kit | 56-149 |
| All Balls Fork Seal And Wiper Kit | 56-150 |
| All Balls Fork Seal And Wiper Kit | 56-100 |
| All Balls Fork Seal And Wiper Kit | 56-101 |
| All Balls Fork Seal And Wiper Kit | 56-104 |
| All Balls Fork Seal And Wiper Kit | 56-106 |
| All Balls Fork Seal And Wiper Kit | 56-112 |
| All Balls Fork Seal And Wiper Kit | 56-113 |
| All Balls Fork Seal And Wiper Kit | 56-114 |
| All Balls Fork Seal And Wiper Kit | 56-115 |
| All Balls Fork Seal And Wiper Kit | 56-117 |
| All Balls Fork Seal And Wiper Kit | 56-119 |
| All Balls Fork Seal And Wiper Kit | 56-120 |
| All Balls Fork Seal And Wiper Kit | 56-121 |
| All Balls Fork Seal And Wiper Kit | 56-123 |
| All Balls Fork Seal And Wiper Kit | 56-124 |
| All Balls Fork Seal And Wiper Kit | 56-126 |
| All Balls Fork Seal And Wiper Kit | 56-129 |
| All Balls Fork Seal And Wiper Kit | 56-130 |
| All Balls Fork Seal And Wiper Kit | 56-132 |
| All Balls Fork Seal And Wiper Kit | 56-133 |
| All Balls Fork Seal And Wiper Kit | 56-133 |
| All Balls Fork Seal And Wiper Kit | 56-134 |
| All Balls Fork Seal And Wiper Kit | 56-135 |
| All Balls Fork Seal And Wiper Kit | 56-136 |
| All Balls Fork Seal And Wiper Kit | 56-137 |
| All Balls Fork Seal And Wiper Kit | 56-138 |
| All Balls Fork Seal And Wiper Kit | 56-139 |
| All Balls Fork Seal And Wiper Kit | 56-140 |
| All Balls Fork Seal And Wiper Kit | 56-141 |
| All Balls Fork Seal And Wiper Kit | 56-142 |
| All Balls Fork Seal And Wiper Kit | 56-144 |
| All Balls Fork Seal And Wiper Kit | 56-105 |
| All Balls Fork Seal And Wiper Kit | 56-125 |
| All Balls Fork Seal And Wiper Kit | 56-156 |
| All Balls Fork Seal And Wiper Kit | 56-158 |
| All Balls Fork Seal And Wiper Kit | 56-161 |
| All Balls Fork Seal And Wiper Kit | 56-162 |
| All Balls Fork Seal And Wiper Kit | 56-165 |
| All Balls Fork Seal And Wiper Kit | 56-166 |
| All Balls Fork Seal And Wiper Kit | 56-168 |
| All Balls Fork Seal And Wiper Kit | 56-169 |
| All Balls Fork Seal And Wiper Kit | 56-170 |
| All Balls Fork Seal And Wiper Kit | 56-167 |
| All Balls Fork Seal And Wiper Kit | 56-123 |
| All Balls Fork Seal And Wiper Kit | 56-107 |
| All Balls Fork Seal And Wiper Kit | 56-109 |
| All Balls Fork Seal And Wiper Kit | 56-111 |
| All Balls Fork Seal And Wiper Kit | 56-116 |
| All Balls Fork Seal And Wiper Kit | 56-118 |
| All Balls Fork Seal And Wiper Kit | 56-122 |
| All Balls Fork Seal And Wiper Kit | 56-127 |
| All Balls Fork Seal And Wiper Kit | 56-128 |
| All Balls Fork Seal And Wiper Kit | 56-143 |
| All Balls Fork Seal And Wiper Kit | 56-145 |
| All Balls Fork Seal And Wiper Kit | 56-154 |
| All Balls Fork Seal And Wiper Kit | 56-157 |
| All Balls Fork Seal And Wiper Kit | 56-159 |
| All Balls Fork Seal And Wiper Kit | 56-171 |
| All Balls Fork Seal And Wiper Kit | 56-172 |
| All Balls Fork Seal And Wiper Kit | 56-173 |
| All Balls Fork Seal And Wiper Kit | 56-174 |
| All Balls Fork Seal And Wiper Kit | 56-175 |
| All Balls Fork Seal And Wiper Kit | 56-177 |
| All Balls Fork Seal And Wiper Kit | 56-178 |
| All Balls Fork Seal And Wiper Kit | 56-179 |
| All Balls Fork Seal And Wiper Kit | 56-180 |
| All Balls Fork Seal And Wiper Kit | 56-181 |
| All Balls Fork Seal And Wiper Kit | 56-182 |
| All Balls Fork Seal And Wiper Kit | 56-183 |