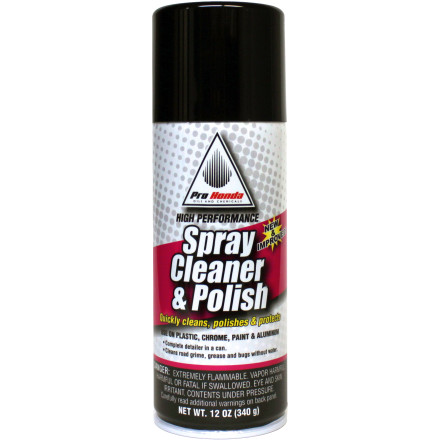 Pro Honda Spray Cleaner and Polish
44 Reviews
42

reviews

2

reviews

0

reviews

0

reviews

0

reviews
All Reviews
3 months 28 days ago
Fletcher,NC
Carbon Fibre
I use this on all
My race bicycles. Awesome on Carbon Fibre
Over 5 months ago
Florida
Great google lens cleaner
I've used this religiously over the past couple years. I actually don't use it on my bike often but I keep a can in my google case for dirty lens & have yet to find a cleaner that performs as well. It doesnt leave streak marks or heavily scratch my lens (using a microfiber to wipe it.) Great stuff!
Over 7 months ago
illinois
Shine
Makes the plastic on my old 2001 shine, and mud washes off easier. Love it
Over 8 months ago
enfield ct
Great wax
works on alumium great and painted bike
Over 8 months ago
Temecula, Ca.
BEST CLEANER/WAX OUT THERE!!
I have been using this product for years and it is awesome. I use it to detail my restored vintage motorcycles for shows and they really shine! I like that it doesn't leave any residue or oils, it just cleans and shines. Iv'e also waxed my truck and Jeep with it and it lasts a long time repelling dirt and bugs.. Great product, you won't be disappointed.
Over 8 months ago
Walsh,co
It is great
I have used it before I like it a lot
Over 9 months ago
Louisiana
Just right
So glad to find this at your online store! It's the best I've found!
Over 9 months ago
Palm Desert Ca
Great shine
I bought this spray for my car. I don't even have a bike. I've been looking for a good sealant. This product is great . I haven't needed to wash my car for going on 3 month. Dust off shines like new. I ordered 2 cans still have 1 and 3/4 cans left. Buying 2 more just have.
Over 10 months ago
Virginia Beach
Simple The Best
Have purchased multiple times over many years and the quality is still outstanding. Use it on all of our vehicles-plastic, metal, glass.....everything!
Over 10 months ago
Francesville Indiana
Awesome stuff
This stuff is awesome and great service getting it to me
# Part Numbers
| Product Variant | Manufacturer Part # |
| --- | --- |
| 12 oz Pro Honda Spray Cleaner and Polish | 08732-SCP00 |