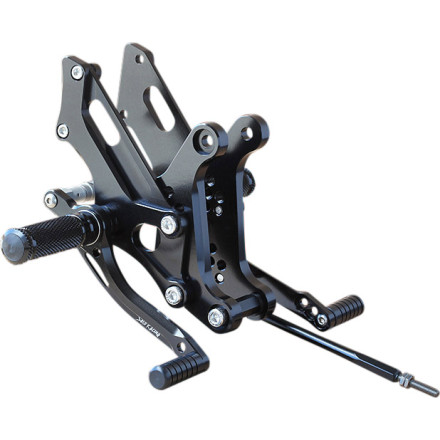 Sato Racing Adjustable Rearsets
---
4.50
5
4
Rating: 4.5 out of 5 stars
---
4 Reviews
3

reviews

0

reviews

1

reviews

0

reviews

0

reviews
All Reviews
Great rearsets. Installation instructions blow, but easy to figure out.
Color
Overall the construction and quality of the part was great. However I ordered gold and the actual color was a dark orange. This did not match my forks or brake components as I expected.
Over 6 years ago
Pacifica, CA, USA
Best rearsets around!
I admit, these are pretty pricey. But there is good reason! The quality that you find in Sato products can not be replicated.

They do have almost full use of the adjustable plates, other than the brake side not being able to go up 1 more setting because of the master cylinder hitting the subframe. That might bother some, but I don't want to go up any higher since I already have them high enough with more than enough ground clearance.

Only bad thing is maybe when it comes to replacement parts. They are not as readily available as Woodcrafts or Vortex.
OEM Replacement Rear Sets
These things are to die for and look great. Gives the bike an italian feature. Purchased the silver that look great on the black frame. Minimum instructions as the items will come from Japan (wrapped in Japanese newspaper), however, the illustrated picture works if you are patient. During instal, think outside the box as the solutions are not based on what you took off. Keep all hardware as some will be used for install.
Fitment
See all bikes that this part fits...
# Part Numbers
| Product Variant | Manufacturer Part # |
| --- | --- |
| Black / Standard/GP Shift | K-ZX609RS-BK |
| Black / Standard Shift / Standard Version | KTM-RC8RS-BK |
| Black / Standard/GP Shift | KTM-690RS-BK |
| Black / Standard Shift | KTM-990RS-BK |
| Black / Standard/GP Shift | MV-BRURS2-BK |
| Black / GP Shift | MV-F410RSR-BK |
| Black / Standard Shift | MV-F410RS-BK |
| Black / GP Shift | MV-F4RSR2-BK |
| Black / Standard Shift | MV-F4RS2-BK |
| Black / Standard/GP Shift | S-KINGRS-BK |
| Black / Standard/GP Shift | S-GSXRS-BK |
| Black / Standard/GP Shift | S-GSX105RS-BK |
| Black / Standard/GP Shift | S-GSX107RS-BK |
| Black / Standard/GP Shift | S-GSX109RS-BK |
| Black / Standard/GP Shift | S-GSX606RS-BK |
| Black / Standard Shift | S-GSXRS-BK |
| Black / GP Shift | S-GSX1308RSR-BK |
| Black / Standard Shift | S-GSX1308RS-BK |
| Black / Standard/GP Shift | T-675RS-BK |
| Black / Standard | T-595RS-BK |
| Black / Standard Shift | Y-FZ106RS2-BK |
| Black / Standard/GP Shift | Y-VMAX09RS-BK |
| Black / Standard/GP Shift | Y-R102RS-BK |
| Black / Standard/GP Shift | Y-R104RS-BK |
| Black / Standard/GP Shift | Y-R107RS-BK |
| Black / Standard/GP Shift | Y-R109RS-BK |
| Black / Standard/GP Shift | Y-R603RS-BK |
| Black / Standard/GP Shift | A-RSV04RS2-BK |
| Black / Standard/GP Shift | A-RSV4RS-BK |
| Black / Standard/GP Shift | BMW-K12RS-BK |
| Black / Standard Shift | BMW-K13RS-BK |
| Black / Standard/GP Shift | D-1098RS2-BK |
| Black / Standard/GP Shift | D-1198RS2-BK |
| Black / Standard/GP Shift | D-916RS-BK |
| Black / Standard/GP Shift | D-999RS-BK |
| Black / Standard/GP Shift | D-848RS2-BK |
| Black / Standard Shift | D-DLRS-BK |
| Black / Standard/GP Shift | D-MULTIRS-BK |
| Black / Standard Shift | D-MH9RS2-BK |
| Black / Standard/GP Shift | D-M1100RS-BK |
| Black / Standard/GP Shift | D-M69610RS-BK |
| Black / Standard Shift | D-S4RS2-BK |
| Black / Standard/GP Shift | D-STRS-BK |
| Black / Standard/GP Shift | H-919RS-BK |
| Black / Standard/GP Shift | H-CBR109RSA-BK |
| Black / Standard/GP Shift | H-CBR1RS2-BK |
| Black / Standard/GP Shift | H-CBR108RS-BK |
| Black / Standard Shift | H-C250RS-BK |
| Black / Standard/GP Shift | H-CBR609RSA-BK |
| Black / Standard/GP Shift | H-CBR6RS-BK |
| Black / Standard/GP Shift | H-CBR609RS-BK |
| Black / Standard/GP Shift | H-954RS-BK |
| Black / Standard Shift | H-RC51RS-BK |
| Black / Standard Shift | H-VFR8RS-BK |
| Black / Standard/GP Shift | K-650RS-BK |
| Black / Standard Shift | K-250RS-BK |
| Black / GP Shift | K-ZX1010RSR-BK |
| Black / Standard Shift | K-Z1010RS-BK |
| Black / Standard | K-N1000RS-BK |
| Black / GP Shift | K-ZX106RSR-BK |
| Black / Standard Shift | K-ZX106RS-BK |
| Black / Standard/GP Shift | K-ZX108RS-BK |
| Black / Standard Shift | K-ZX1011RS-BK |
| Black / GP Shift | K-ZX14RSR-BK |
| Black / Standard Shift | K-ZX14RS-BK |
| Black / Standard Shift | A-RSV411RS-BK |
| Black / GP Shift | A-RSV413RSR-BK |
| Black / Standard Shift | A-RSV413RS-BK |
| Black / Standard Shift | A-V4RRS-BK |
| Black / Standard/GP Shift / ABS | BMW-S1RSA-BK |
| Black / Standard/GP Shift | D-M1100ERS-BK |
| Black / Standard/GP Shift | D-M796RS-BK |
| Black / Standard/GP Shift | H-CB1000RS-BK |
| Black / Standard Shift | H-CBR513RS-BK |
| Black / Standard/GP Shift | H-CBR613RS-BK |
| Black / Standard Shift | HD-SSTR14RS-BK |
| Black / Standard Shift | HD-SSTRRS-BK |
| Black / Standard/GP Shift | HD-XR1209RS-BK |
| Black / GP Shift | H-GROMRS-BK |
| Black / GP Shift | H-VFR8RSR-BK |
| Black / Standard Shift | K-25013RS-BK |
| Black / Standard Shift | K-65012RS-BK |
| Black / Standard Shift | KTM-1290RS-BK |
| Black / Standard/GP Shift | KTM-69012RS-BK |
| Black / GP Shift | K-ZX1412RSR-BK |
| Black / Standard Shift | K-ZX1412RS-BK |
| Black / Standard Shift | K-ZX613RS-BK |
| Black / Standard/GP Shift | MV-BRU13RS-BK |
| Black / Quick Shift | MV-F312RSQ-BK |
| Black / Standard/GP Shift | MV-F312RS-BK |
| Black / Standard/GP Shift | S-GSX611RS-BK |
| Black / Standard/GP Shift | T-67511RS-BK |
| Black / Standard/GP Shift | T-67513RS-BK |
| Black / Standard Shift | T-BONRS-BK |
| Black / Standard Shift | T-ST11RS-BK |
| Black / Standard/GP Shift | Y-MT09RS-BK |
| Black / Standard Shift | BMW-R12RS-BK |
| Black / Standard/GP Shift | BMW-R9TRS-BK |
| Black / Standard/GP Shift | BMW-S1000RS-BK |
| Black / Standard/GP Shift | BMW-S115RS-BK |
| Black / Standard Shift | D-SCRAMRS-BK |
| Black / Standard/GP Shift | H-650RS-BK |
| Black / Standard Shift | H-VFR814RS-BK |
| Black / Standard Shift Quick Shifter Compatible | H-VFR814RSQ-BK |
| Black / Standard Shift | K-H2RS-BK |
| Black / Reverse Shift | K-H2RSR-BK |
| Black / Reverse Shift | K-N1000RSR-BK |
| Black / Standard Shift | KTM-RC390RS-BK |
| Black / Reverse Shift | KTM-RC390RSR-BK |
| Black / Standard/GP Shift | MV-DRAGRS-BK |
| Black / Standard/GP Shift | S-B1250RS-BK |
| Black / Standard/GP Shift | S-GSR750RS-BK |
| Black / Standard/GP Shift | S-GSX1314RS-BK |
| Black / Standard Shift | S-S1000RS-BK |
| Black / Reverse Shift | S-S1000RSR-BK |
| Black / Standard/GP Shift | Y-MT07RS-BK |
| Black / Standard/GP Shift | Y-R115RS-BK |
| Black / Standard/GP Shift | Y-R3RS-BK |
| Black / Standard/GP Shift | T-ST67513RS-BK |
| Black / GP Shift | H-GROM16RS-BK |
| Black / Standard | K-ZX1016RS-BK |
| Black / GP Shift | K-ZX1016RSR-BK |
| Gold / Standard/GP Shift | K-ZX609RS-GD |
| Gold / Standard Shift / Standard Version | KTM-RC8RS-GD |
| Gold / Standard/GP Shift | KTM-690RS-GD |
| Gold / Standard Shift | KTM-990RS-GD |
| Gold / Standard/GP Shift | MV-BRURS2-GD |
| Gold / GP Shift | MV-F410RSR-GD |
| Gold / Standard Shift | MV-F410RS-GD |
| Gold / GP Shift | MV-F4RSR2-GD |
| Gold / Standard Shift | MV-F4RS2-GD |
| Gold / Standard/GP Shift | S-KINGRS-GD |
| Gold / Standard/GP Shift | S-GSXRS-GD |
| Gold / Standard/GP Shift | S-GSX105RS-GD |
| Gold / Standard/GP Shift | S-GSX107RS-GD |
| Gold / Standard/GP Shift | S-GSX109RS-GD |
| Gold / Standard/GP Shift | S-GSX606RS-GD |
| Gold / Standard Shift | S-GSXRS-GD |
| Gold / GP Shift | S-GSX1308RSR-GD |
| Gold / Standard Shift | S-GSX1308RS-GD |
| Gold / GP Shift | Y-FZ106RSR-GD |
| Gold / Standard Shift | Y-FZ106RS2-GD |
| Gold / Standard/GP Shift | Y-VMAX09RS-GD |
| Gold / Standard/GP Shift | Y-R104RS-GD |
| Gold / Standard/GP Shift | Y-R107RS-GD |
| Gold / Standard/GP Shift | Y-R109RS-GD |
| Gold / Standard/GP Shift | Y-R603RS-GD |
| Gold / Standard/GP Shift | Y-R606RS-GD |
| Gold / Standard/GP Shift | A-RSV04RS2-GD |
| Gold / Standard/GP Shift | A-RSV4RS-GD |
| Gold / Standard/GP Shift | BMW-K12RS-GD |
| Gold / Standard Shift | BMW-K13RS-GD |
| Gold / Standard/GP Shift / Non-ABS | BMW-S1RS-GD |
| Gold / Standard/GP Shift | D-1098RS2-GD |
| Gold / Standard/GP Shift | D-916RS-GD |
| Gold / Standard/GP Shift | D-999RS-GD |
| Gold / Standard/GP Shift | D-848RS2-GD |
| Gold / Standard Shift | D-DLRS-GD |
| Gold / Standard/GP Shift | D-MULTIRS-GD |
| Gold / Standard Shift | D-MH9RS2-GD |
| Gold / Standard/GP Shift | D-M1100RS-GD |
| Gold / Standard/GP Shift | D-M69610RS-GD |
| Gold / Standard Shift | D-S4RS2-GD |
| Gold / Standard/GP Shift | D-STRS-GD |
| Gold / Standard/GP Shift | H-CBR109RSA-GD |
| Gold / Standard/GP Shift | H-CBR1RS2-GD |
| Gold / Standard/GP Shift | H-CBR108RS-GD |
| Gold / Standard Shift | H-C250RS-GD |
| Gold / Standard/GP Shift | H-CBR609RSA-GD |
| Gold / Standard/GP Shift | H-CBR6RS-GD |
| Gold / Standard/GP Shift | H-CBR609RS-GD |
| Gold / Standard/GP Shift | H-954RS-GD |
| Gold / Standard Shift | H-RC51RS-GD |
| Gold / Standard Shift | H-VFR8RS-GD |
| Gold / Standard/GP Shift | K-650RS-GD |
| Gold / Standard Shift | K-250RS-GD |
| Gold / GP Shift | K-ZX1010RSR-GD |
| Gold / Standard Shift | K-Z1010RS-GD |
| Gold / Standard | K-N1000RS-GD |
| Gold / GP Shift | K-ZX106RSR-GD |
| Gold / Standard Shift | K-ZX106RS-GD |
| Gold / Standard/GP Shift | K-ZX108RS-GD |
| Gold / Standard Shift | K-ZX1011RS-GD |
| Gold / GP Shift | K-ZX14RSR-GD |
| Gold / Standard Shift | K-ZX14RS-GD |
| Gold / Standard/GP Shift | K-ZX605RS-GD |
| Gold / Standard Shift | A-RSV411RS-GD |
| Gold / GP Shift | A-RSV413RSR-GD |
| Gold / Standard Shift | A-RSV413RS-GD |
| Gold / Standard Shift | A-V4RRS-GD |
| Gold / Standard/GP Shift / ABS | BMW-S1RSA-GD |
| Gold / Standard/GP Shift | D-M1100ERS-GD |
| Gold / Standard/GP Shift | D-M796RS-GD |
| Gold / Standard/GP Shift | H-CB1000RS-GD |
| Gold / Standard Shift | H-CBR513RS-GD |
| Gold / Standard/GP Shift | H-CBR613RS-GD |
| Gold / GP Shift | H-GROMRS-GD |
| Gold / GP Shift | H-VFR8RSR-GD |
| Gold / Standard Shift | K-25013RS-GD |
| Gold / Standard Shift | K-65012RS-GD |
| Gold / Standard Shift | KTM-1290RS-GD |
| Gold / Standard/GP Shift | KTM-69012RS-GD |
| Gold / GP Shift | K-ZX1412RSR-GD |
| Gold / Standard Shift | K-ZX1412RS-GD |
| Gold / Standard Shift | K-ZX613RS-GD |
| Gold / Standard/GP Shift | MV-BRU13RS-GD |
| Gold / Quick Shift | MV-F312RSQ-GD |
| Gold / Standard/GP Shift | MV-F312RS-GD |
| Gold / Standard/GP Shift | S-GSX611RS-GD |
| Gold / Standard/GP Shift | T-67511RS-GD |
| Gold / Standard/GP Shift | T-67513RS-GD |
| Gold / Standard Shift | T-ST11RS-GD |
| Gold / Standard/GP Shift | Y-MT09RS-GD |
| Gold / Standard Shift | BMW-R12RS-GD |
| Gold / Standard/GP Shift | BMW-S1000RS-GD |
| Gold / Standard/GP Shift | BMW-S115RS-GD |
| Gold / Standard Shift | D-SCRAMRS-GD |
| Gold / Standard/GP Shift | H-650RS-GD |
| Gold / Standard Shift | H-VFR814RS-GD |
| Gold / Standard Shift Quick Shifter Compatible | H-VFR814RSQ-GD |
| Gold / Standard Shift | K-H2RS-GD |
| Gold / Reverse Shift | K-H2RSR-GD |
| Gold / Standard Shift | KTM-RC390RS-GD |
| Gold / Reverse Shift | KTM-RC390RSR-GD |
| Gold / Standard/GP Shift | MV-DRAGRS-GD |
| Gold / Standard/GP Shift | S-B1250RS-GD |
| Gold / Standard/GP Shift | S-GSR750RS-GD |
| Gold / Standard/GP Shift | S-GSX1314RS-GD |
| Gold / Standard Shift | S-S1000RS-GD |
| Gold / Reverse Shift | S-S1000RSR-GD |
| Gold / Standard/GP Shift | Y-MT07RS-GD |
| Gold / Standard/GP Shift | Y-R115RS-GD |
| Gold / Standard/GP Shift | Y-R3RS-GD |
| Gold / Standard/GP Shift | T-ST67513RS-GD |
| Gold / GP Shift | H-GROM16RS-GD |
| Gold / Standard | K-ZX1016RS-GD |
| Gold / GP Shift | K-ZX1016RSR-GD |
| Silver / Standard/GP Shift | K-ZX609RS-SV |
| Silver / Standard Shift / Standard Version | KTM-RC8RS-SV |
| Silver / Standard/GP Shift | KTM-690RS-SV |
| Silver / Standard Shift | KTM-990RS-SV |
| Silver / Standard/GP Shift | MV-BRURS2-SV |
| Silver / GP Shift | MV-F410RSR-SV |
| Silver / Standard Shift | MV-F410RS-SV |
| Silver / GP Shift | MV-F4RSR2-SV |
| Silver / Standard Shift | MV-F4RS2-SV |
| Silver / Standard/GP Shift | S-KINGRS-SV |
| Silver / Standard/GP Shift | S-GSXRS-SV |
| Silver / Standard/GP Shift | S-GSX105RS-SV |
| Silver / Standard/GP Shift | S-GSX107RS-SV |
| Silver / Standard/GP Shift | S-GSX109RS-SV |
| Silver / Standard/GP Shift | S-GSX606RS-SV |
| Silver / Standard Shift | S-GSXRS-SV |
| Silver / GP Shift | S-GSX1308RSR-SV |
| Silver / Standard Shift | S-GSX1308RS-SV |
| Silver / Standard/GP Shift | T-675RS-SV |
| Silver / GP Shift | Y-FZ106RSR-SV |
| Silver / Standard Shift | Y-FZ106RS2-SV |
| Silver / Standard/GP Shift | Y-VMAX09RS-SV |
| Silver / Standard/GP Shift | Y-R104RS-SV |
| Silver / Standard/GP Shift | Y-R107RS-SV |
| Silver / Standard/GP Shift | Y-R109RS-SV |
| Silver / Standard/GP Shift | Y-R603RS-SV |
| Silver / Standard/GP Shift | Y-R606RS-SV |
| Silver / Standard/GP Shift | A-RSV04RS2-SV |
| Silver / Standard/GP Shift | A-RSV4RS-SV |
| Silver / Standard/GP Shift | BMW-K12RS-SV |
| Silver / Standard Shift | BMW-K13RS-SV |
| Silver / Standard/GP Shift / Non-ABS | BMW-S1RS-SV |
| Silver / Standard/GP Shift | D-1098RS2-SV |
| Silver / Standard/GP Shift | D-1198RS2-SV |
| Silver / Standard/GP Shift | D-916RS-SV |
| Silver / Standard/GP Shift | D-999RS-SV |
| Silver / Standard/GP Shift | D-848RS2-SV |
| Silver / Standard Shift | D-DLRS-SV |
| Silver / Standard/GP Shift | D-MULTIRS-SV |
| Silver / Standard Shift | D-MH9RS2-SV |
| Silver / Standard/GP Shift | D-M1100RS-SV |
| Silver / Standard/GP Shift | D-M69610RS-SV |
| Silver / Standard Shift | D-S4RS2-SV |
| Silver / Standard/GP Shift | D-STRS-SV |
| Silver / Standard/GP Shift | H-919RS-SV |
| Silver / Standard/GP Shift | H-CBR109RSA-SV |
| Silver / Standard/GP Shift | H-CBR1RS2-SV |
| Silver / Standard/GP Shift | H-CBR108RS-SV |
| Silver / Standard Shift | H-C250RS-SV |
| Silver / Standard/GP Shift | H-CBR609RSA-SV |
| Silver / Standard/GP Shift | H-CBR6RS-SV |
| Silver / Standard/GP Shift | H-CBR609RS-SV |
| Silver / Standard/GP Shift | H-954RS-SV |
| Silver / Standard Shift | H-RC51RS-SV |
| Silver / Standard Shift | H-VFR8RS-SV |
| Silver / Standard/GP Shift | K-650RS-SV |
| Silver / Standard Shift | K-250RS-SV |
| Silver / GP Shift | K-ZX1010RSR-SV |
| Silver / Standard Shift | K-Z1010RS-SV |
| Silver / Standard | K-N1000RS-SV |
| Silver / GP Shift | K-ZX106RSR-SV |
| Silver / Standard Shift | K-ZX106RS-SV |
| Silver / Standard/GP Shift | K-ZX108RS-SV |
| Silver / Standard Shift | K-ZX1011RS-SV |
| Silver / GP Shift | K-ZX14RSR-SV |
| Silver / Standard Shift | K-ZX14RS-SV |
| Silver / Standard/GP Shift | K-ZX605RS-SV |
| Silver / Standard Shift | A-125RSR-SV |
| Silver / GP Shift | A-125RS-SV |
| Silver / Standard Shift | A-RSV411RS-SV |
| Silver / GP Shift | A-RSV413RSR-SV |
| Silver / Standard Shift | A-RSV413RS-SV |
| Silver / Standard Shift | A-V4RRS-SV |
| Silver / Standard/GP Shift / ABS | BMW-S1RSA-SV |
| Silver / Standard/GP Shift | D-M1100ERS-SV |
| Silver / Standard/GP Shift | D-M796RS-SV |
| Silver / Standard/GP Shift | H-CB1000RS-SV |
| Silver / Standard Shift | H-CBR513RS-SV |
| Silver / Standard/GP Shift | H-CBR613RS-SV |
| Silver / Standard Shift | HD-SSTR14RS-SV |
| Silver / Standard Shift | HD-SSTRRS-SV |
| Silver / Standard/GP Shift | HD-XR1209RS-SV |
| Silver / Standard Shift | H-NC700RS-SV |
| Silver / GP Shift | H-VFR8RSR-SV |
| Silver / Standard Shift | K-25013RS-SV |
| Silver / Standard Shift | K-65012RS-SV |
| Silver / Standard Shift | KTM-1290RS-SV |
| Silver / Standard/GP Shift | KTM-69012RS-SV |
| Silver / GP Shift | K-ZX1412RSR-SV |
| Silver / Standard Shift | K-ZX1412RS-SV |
| Silver / Standard Shift | K-ZX613RS-SV |
| Silver / Standard/GP Shift | MV-BRU13RS-SV |
| Silver / Quick Shift | MV-F312RSQ-SV |
| Silver / Standard/GP Shift | MV-F312RS-SV |
| Silver / Standard/GP Shift | S-GSX611RS-SV |
| Silver / Standard/GP Shift | T-67511RS-SV |
| Silver / Standard/GP Shift | T-67513RS-SV |
| Silver / Standard Shift | T-BONRS-SV |
| Silver / Standard Shift | BMW-R12RS-SV |
| Silver / Standard/GP Shift | BMW-R9TRS-SV |
| Silver / Standard/GP Shift | BMW-S1000RS-SV |
| Silver / Standard/GP Shift | BMW-S115RS-SV |
| Silver / Standard Shift | D-SCRAMRS-SV |
| Silver / Standard/GP Shift | H-650RS-SV |
| Silver / Standard Shift Quick Shifter Compatible | H-VFR814RSQ-SV |
| Silver / Standard Shift | H-VFR814RS-SV |
| Silver / Standard/GP Shift | S-B1250RS-SV |
| Silver / Standard/GP Shift | S-GSR750RS-SV |
| Silver / Reverse Shift | S-S1000RSR-SV |
| Silver / Standard Shift | S-S1000RS-SV |
| Silver / Standard/GP Shift | Y-MT07RS-SV |
| Silver / Standard/GP Shift | Y-R115RS-SV |
| Silver / Standard/GP Shift | T-ST67513RS-SV |
| Silver / Standard | K-ZX1016RS-SV |
| Silver / GP Shift | K-ZX1016RSR-SV |