Wiseco
Wiseco Pro-Lite 4-Stroke Piston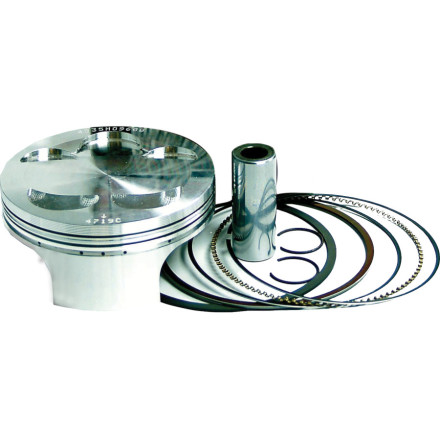 Wiseco Pro-Lite 4-Stroke Piston
---
10% Off - Save up to $25.01
---
5 Star
28
4 Star
2
3 Star
1
2 Star
0
1 Star
1
Write a Review
Write your review and you'll automatically be entered in our monthly drawing. Include an image or video to DOUBLE your chances to win!
Write Your Review
Came in great packaging and came fast
Bought about a month ago and installed and so far it's been great
1 month 7 days ago
Monroe la
Great product
I bought this couple months back and it improved my bike performance a lot... I'm well satisfied with my purchase
Great piston and ring set
Great long lasting piston that you can rely on keeping your bike running
2 months 28 days ago
Bowman SC
Great product
Was repairing a customers TRX 400 ex
This piston has history and has been a great product to use!!
3 months 14 days ago
Columbus
Great Product
I have always ran Wiseco in my atv's, recently did a full rebuild with a new Wiseco piston and has been running great.
4 months 3 days ago
Athens,AL
Great piston and gasket kit
Rebuilt my top end on my kx250f everything went together great, only problem I seen was the directions on installing g rings was a little wonky the way it was written and it could confuse some people, bit other than that this was a 1 hour job, the cometic gasket kit featured metal gaskets which are great for keeping tight seals.
4 months 4 days ago
Portland OR
Quality
I bought this piston as a replacement for my OEM. It is an awesome kit, Wiseco even gives a sweet little baggy with the piston. All directions and hardware were easy to read and easy to install.
More power!
Maybe it's just because it's a new top end but the Wiseco definitely felt like it had quicker throttle response and way more grunt down low than the stock piston.
See all bikes that this part fits...
| Product Variant | Manufacturer Part # |
| --- | --- |
| .080 Oversize | 11035M07800 |
| Stock Bore | 40002M09700 |
| Stock Bore | 40009M07700 |
| .090 Oversize | 40011M07900 |
| Stock Bore | 40015M08800 |
| Stock Bore | 40020M07700 |
| Stock Bore | 40056M08800 |
| Stock Bore | 40064M09500 |
| Stock Bore | 40073M09500 |
| Stock Bore | 40074M07800 |
| Stock Bore | 40083M05000 |
| Stock Bore | 40091M09500 |
| Stock Bore | 40094M07700 |
| Stock Bore | 40095M09600 |
| Stock Bore | 40096M09600 |
| .080 Oversize | 40098M05200 |
| Stock Bore | 40110M09600 |
| Stock Bore | 40117M09500 |
| .040 Oversize | 40118M05350 |
| Stock Bore | 40129M07680 |
| Stock Bore | 40133M10000 |
| .020 Oversize | 40133M10050 |
| .060 Oversize | 40133M10100 |
| Stock Bore | 40136M09603 |
| Stock Bore | 40144M07800 |
| Stock Bore | 40145M07680 |
| Stock Bore | 40151M07700 |
| .040 Oversize | 4606M08600 |
| .080 Oversize | 4606M08700 |
| .120 Oversize | 4606M08800 |
| Stock Bore | 4630M07800 |
| .080 Oversize | 4630M08000 |
| Stock Bore | 4689M07300 |
| .020 Oversize | 4689M07350 |
| .040 Oversize | 4689M07400 |
| .060 Oversize | 4689M07450 |
| .080 Oversize | 4689M07500 |
| .080 Oversize | 4713M09200 |
| Stock Bore | 4715M10000 |
| .100 Oversize | 4715M10240 |
| .080 Oversize | 4731M09700 |
| Stock Bore | 4752M05400 |
| .020 Oversize | 4752M05450 |
| .040 | 4752M05500 |
| Stock Bore | 4755M09600 |
| .080 Oversize | 4755M09800 |
| .120 Oversize | 4755M09900 |
| .080 Oversize | 4785M09700 |
| .020 | 4798M03950 |
| .040 Oversize | 4798M04000 |
| .060 Oversize | 4798M04050 |
| .080 Oversize | 4798M04100 |
| Stock Bore | 4805M09500 |
| Stock Bore | 4815M05700 |
| .040 Oversize | 4815M05800 |
| .160 Oversize | 4815M06100 |
| Stock Bore | 4816M06550 |
| .020 Oversize | 4816M06600 |
| .040 Oversize | 4816M06650 |
| .060 Oversize | 4816M06700 |
| .080 Oversize | 4816M06750 |
| .080 | 4842M07900 |
| Stock Bore | 4858M07700 |
| Stock Bore | 4870M09550 |
| .080 Oversize | 4872M07900 |
| .020 Oversize | 4875M05350 |
| .040 Oversize | 4875M05400 |
| Stock Bore | 4880M04700 |
| .020 Oversize | 4880M04750 |
| .040 Oversize | 4880M04800 |
| Stock Bore | 4881M07700 |
| .200 Oversize | 4890M10100 |
| Stock Bore | 4901M09600 |
| .080 Oversize | 4901M09800 |
| .080 Oversize | 4915M06800 |
| Stock Bore | 4927M07700 |
| Stock Bore | 4928M07700 |
| Stock Bore | 4937M09700 |
| Stock Bore / 12:1 | 4942M08900 |
| Stock Bore | 4947M10000 |
| .080 Oversize | 4952M07900 |
| Stock Bore | 4954M09600 |
| Stock Bore | 4979M09600 |
| Stock Bore | 4981M07600 |
| Stock Bore | 4982M08300 |
| .240 Oversize | 4983M08300 |
| .160 Oversize | 4984M08200 |
| Stock Bore | 4989M10000 |
| .040 Oversize | 4989M10100 |
| .100 Oversize | 4989M10241 |
| Stock Bore | 4606M08500 |
| Stock Bore / 11:1 | 4941M08900 |
| Stock Bore | 4731M09500 |
| Stock Bore | 4915M06600 |
| Stock Bore | 40065M06600 |
| Stock Bore | 4829M07800 |
| Stock Bore | 4949M07800 |
| Stock Bore | 40003M07680 |
| Stock Bore | 4973M09600 |
| Stock Bore | 4904M07700 |
| Stock Bore | 4920M07700 |
| Stock Bore | 40010M07700 |
| Stock Bore | 40019M07700 |
| Stock Bore | 4900M09600 |
| Stock Bore | 4980M09600 |
| Stock Bore | 4911M09550 |
| Stock Bore | 4713M09000 |
| Stock Bore | 4807M09920 |
| Stock Bore | 4737M10000 |
| .020 Oversize | 4737M10050 |
| .040 Oversize | 4737M10100 |
| Stock Bore | 4902M10200 |
| Stock Bore | 4843M07700 |
| Stock Bore | 4921M07700 |
| Stock Bore | 40007M07700 |
| Stock Bore | 4869M09550 |
| Stock Bore | 4953M09600 |
| Stock Bore | 4574M07400 |
| Stock Bore | 4848M09400 |
| Stock Bore | 4899M09600 |
| Stock Bore | 4419M08300 |
| Stock Bore | 4865M09500 |
| Stock Bore | 4693M09500 |
| Stock Bore | 4785M09500 |
| Stock Bore | 40001M09700 |
| Stock Bore | 4882M07700 |
| Stock Bore | 4952M07700 |
| Stock Bore | 4872M07700 |
| Stock Bore | 40072M07700 |
| Stock Bore | 4649M09200 |
| Stock Bore / 11.5:1 | 4753M09600 |
| Stock Bore / 12:1 | 4820M09600 |
| Stock Bore / 12:1 | 4978M09600 |
| Stock Bore | 40089M09600 |
| Stock Bore | 40082M09600 |
| Stock Bore | 40111M09700 |
| Stock Bore | 40116M07700 |
| Stock Bore | 40114M07680 |
| Stock Bore | 40014M08800 |
| Stock Bore | 40086M09600 |
| Stock Bore | 40069M07600 |
| Stock Bore | 40124M07700 |
| Stock Bore | 40125M09603 |