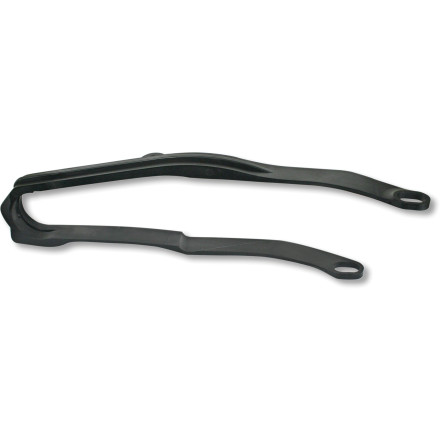 KTM OEM Parts OEM Chain Slider
---
13% Off - Save up to $2.69
---
5 Star
14
4 Star
1
3 Star
1
2 Star
0
1 Star
0
3 months 2 days ago
Baker, FL
It's what I expected
I bought a chain slider for a CR 85, not a KTM. Anyway, it matched up and is working well!
Chain slider , Nice OEM , High quality
Fit Perfectly on my KTM 250 EXC. Now it's just like new again.
1 year 5 months ago
Central Oregon
You can tell its factory because it is.
2 years 6 months ago
Yakima, WA, USA
Over 5 years ago
Star, Idaho
Great OEM
Great OEM part and can't beat the price.
Over 5 years ago
Lake Tahoe, United States
OEM Rocks
The best there is after testing others
Over 5 years ago
Tampa, FL, USA
It's OEM it better fit
it did not include the 2 special washers for the mounting screws. thank goodness my old ones are in good enough condition. this is my first time replacing and was not aware. i would have ordered new ones had i known. i didn't see any info on the website concerning these washers.
JMP013
Q: How do I go about installing a new chain slider?
MotoSportExpert
Over 6 years ago
A: On the 2002 CR125 you will need to remove the chain and the front sprocket. With those removed you can remove the 3 bolts holding the chain slider to the swingarm. You will want to pull the slider forward off of the swingarm. Once removed, you can install the new slider in reverse of how you removed it.
garrettcrf250r
Q: How long should the stock chain slider last?
I have a 2007 crf250r and I am a novice rider. I dont know how to tell if there is wear or not. But normally how long should the stock chain slider last? I have 50 hours on my bike.
HondaRider714
Over 9 years ago
A: I would say longer than 50 hours. I had an 01 cr 250 with a lot of ride time on the stock chain slider and more to go. I have an 02 with alot of ride time and the only reason I'm buying a new one is because I lost the original one. And to tell if there is wear or not one good way is if you can see the swing arm which is obvious or if you think your chain is not tracking right or may be getting hung up.
Deano44
Q: Is this the rubber part that wrapes around the swing arm to protect it from the chain wearing in to the swing arm?
james718
Over 10 years ago
A: Yes you are correct, this is the protector that wraps around the swingarm by the countershaft sprocket.
See all bikes that this part fits...
| Product Variant | Manufacturer Part # |
| --- | --- |
| KTM OEM Parts OEM Chain Slider | 50304066100 |
| KTM OEM Parts OEM Chain Slider | 58404066000 |
| KTM OEM Parts OEM Chain Slider | 46104066000 |