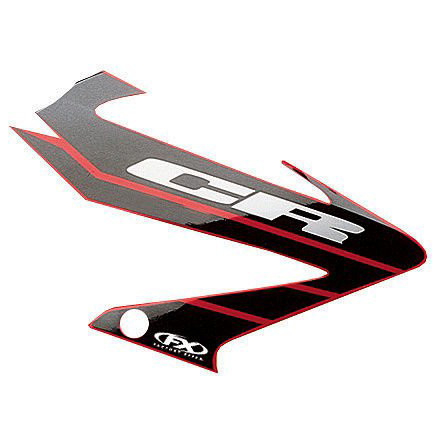 Factory Effex OEM Graphics 04 Honda
11 Reviews
3

reviews

0

reviews

1

reviews

0

reviews

7

reviews
All Reviews
Does not fit right.
Requires too much trimming. Once you get them installed they look just okay. Not impressed.
1 year 10 months ago
Fort worth tx
Does not fit
I'm incredibly unhappy with these Graphics. Nothing lines up, the bolt holes are no where close. The graphics look great and seem to be quality, but are useless and a waste of money since they don't fit.
Does not even come close to the OEM graphics
I purchased this kit for my 2004 CR 250. It was a waste of money. Not sure what these guys are thinking? Nothing lines up, the holes dont match. Garbage.
2 years 7 months ago
Coeur d'Alene, ID, USA
Not an exact fit
The graphics are not a factory fit. I didn't have to trim mine much at all, but you can see the difference between the stock vs. aftermarket layout. They ended up looking decent, but if you want an exact fit it may be best to visit your local dealer and see if they can get their hands on OEM or something else.
What You'd Expect
Great quality, thick vinyl with excellent adhesive backing. I installed them on my 03 CR125 with 03 shrouds they fit great. If at first you dont think they will fit, just line up one edge and start laying them on. They will fit and look right when you are done.
Over 3 years ago
Citrus Heights
Cr sticker kit
Put these on a 03 CR125 and they fit perfect. No cutting needed.
Over 6 years ago
Middleton, MA, USA
Garbage
the product claims to be cut to oem graphics theyre not even close and now my radiator shrouds look stuiped they messed up the look of my bike i would never buy these again
Over 7 years ago
California
FACTORY EFFEX OEM GRAPHICS 04 HONDA
I bought these for my '03 CR125 because the ad said they would fit. They are cut very slightly different than my '03 OEM graphics but the fit was otherwise very good and they were easy to install. I would recommend these...
Fitment
See all bikes that this part fits...
# Part Numbers
| Product Variant | Manufacturer Part # |
| --- | --- |
| Factory Effex OEM Graphics 04 Honda | 07-05320 |
| Factory Effex OEM Graphics 04 Honda | 07-05332 |