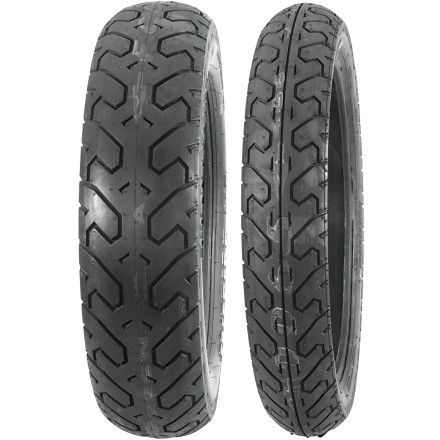 5 Star
16
4 Star
4
3 Star
0
2 Star
0
1 Star
0
Write a Review
Write your review and you'll automatically be entered in our monthly drawing. Include an image or video to DOUBLE your chances to win!
Write Your Review
1 year 6 months ago
Portland, OR, USA
'75 Guzzi
These Spitfires are perfect on my '75 Guzzi!
Tire purchase
My recent tire purchase was very satisfactory. Motosport shipped quickly and the tire was of current manfacture date and in excellent condition. I would definitely recommend Motosport as a parts source.
2 years ago
Phoenix, AZ, USA
Good reasonable choice for old bikes
Front tire for 79 CBX. Seems to work well, however very few miles on it yet. Don't know about wear. Bike handles fine. Fits under fender well, which can be an issue on this bike.
Over 3 years ago
Saco, ME, USA
great tires, stick to the road
S11 tires. Bridgestone
I have used 4 sets of these on my 81 gl500. They are a great tire. 1 or 2 up, no problem. Drag pegs, and hang with sportbikes in the tight stuff. Great in the wet. I get about 10-12 miles out of them.
I like these tires
I put these on a 1980 honda cx500. Before this tire I've always put dunlop tires on my bikes. But I was very pleased with these tires. Cheaper and perform great.
Order & shipping
Ordering was really easy and everything arrivd in only two days. I look forward to ordering more!!
Over 5 years ago
The Hill Country in Texas
Excellent cruiser tires
Awesome tires for my '78 kz650 and the raised white letters keep it classic. Easy to install because I work on cars and bikes. Good in the rain.
Over 5 years ago
Tomahawk,KY
Good tires.
These tires seem to be very good quality. I have not put enough miles on them to tell about the durability. The shipping was great. The price was the best I could find.
Over 5 years ago
Massachusetts
So Far So Good
Mounted this tire about 600 miles ago to match the spitfire on the rear. I'm happy so far. Seems to be handling just fine.
Over 5 years ago
Chesapeake, VA
Great Sport Tire
The Bridgestone S11 provides great traction & handling for sport touring & mildly aggressive riding. I was amazed by the immediate improvement in the overall feel of the handling after replacing my old rubber with this tire. I have the matched rear tire also installed.
Over 5 years ago
Loves Park, IL
Great quality for the money.
Bought these at "set" pricing for $124.99. Figured I couldn't go wrong at that price for some nice Bridgestones. Will be mounting on an '81 GL1100i.
Over 5 years ago
Franklin, TN.
Great tires
Have always liked the Bridgestone Spitfires. Too bad they don't offer the Raised White Letter for my OEM sizes anymore.
Over 6 years ago
Port Orchard, WA
Excellent Service
Excellent seller, quick service and fast shipping. I ordered this tire on B-Bandit and the tire was on back order for weeks until the order was finally cancelled. Motorsport processed and shipped it pronto. The only reason it's not a 5 star rating is I have not ridden on it yet. It will be on the street and going to Bonneville Salt Flats for racing this summer. Typically the Spitfire S11 provides better mileage than high performance compounds but is a great all around tire especially for the money.
Over 6 years ago
montgomery, al
Savage outlaw look
Immediately noticed my handling to be better than ever before...bought the bike 6 months ago and ran the back tire slick before it blew. This bike didn't ride this well when I got it 6 months ago. Tires almost felt sticky to the road. Excellent buy, excellent service from Motosport. Customer service was great.
Good thread
I like these wheels i run them on my vintage honda. It gives it a beaffy look.
Over 6 years ago
Toone,Tennessee
Great tires
These tires so far are doing just fine I am will buy another set when these are wore out
Over 6 years ago
College Station,TX
Awesome tires
Awesome tires at a great price I will defently buy them again!
Over 6 years ago
Los Angeles, CA
Good tire
I put these on my full fairing-ed 1978 Honda GL 1000 touring bike. I was unsure about them as I had always been a Dunlop guy. The Elite 2 were on it before and lasted a really long time. Unlike the Elite 2's these Bridgestone's have really good cornering ability. This is mostly due to the more round nature of the tire as opposed to the more flat Elite series. Definitely recommend as long as they last!
Taylor
Location: Riverside, CA, USA
Q: Is the lettering "Bridgstone Spitfire" in white? Your last answer was 3 years ago.?
If these have the black lettering, can you order the white lettering? Or can you post a link to the spitfire tires with white lettering on your site?
David
2 months 13 days ago
A: These are black lettering. Please give us a call at 1-866-667-6288! We can special order white lettering tires for you.
Jimsoncity
Q: Spitfire s11's RWL's for a Bonny '08 t100,,, which size/set do you recommend based on a good ride and a chunky vintage look., will get wheels to suit.?
MotoSportExpert
Over 3 years ago
A: We have the stock tire sizes listed for most all models on our website. Please be sure that you have the proper machine in your "shopping for" selection. We do NOT have a listing of alternative sizes available for your machine. We suggest staying with the stock sizing as changing the size can cause issues with handling, reliability, rubbing and could have adverse effects on performance.
thibaut
Q: Is it possible to put a 18' tire on a 19' rim ?
I would like to buy a 120/90-18 tire but the rim of my motorcycle is for 19' tires.
MotoSportExpert
Over 3 years ago
A: No, that would be your rim diameter. The 18" will be too small to fit on the 19" rim.
leoshiels
Q: This is Blackwall or Raised White Letters (RWL)?
MotoSportRyanT
Over 3 years ago
Location: Portland, OR, USA
A: This tire would be a blackwall. The lettering on the tire is all black.
Iggy
Q: How wide of a tire will fit on the rear 15" wheel of a 1997 suzuki marauder with a stock swingarm?
MotoSportExpert
Over 4 years ago
Location: Portland, OR, USA
A: It is not recommended to install wider tires on stock width wheels as the tire selected for the bike fits the wheel properly. Not only can going to a wider make the tire/wheel not fit the bike, it can cause adverse handling effects and and cause premature tire wear.
Front Tire
| Product Variant | Manufacturer Part # |
| --- | --- |
| 110/90-19H | 147001 |
| 100/90H-19 | 147125 |
| 100/90-19H | 146919 |
| 90/90-19H | 146897 |
| 110/90-18H | 146951 |
| 100/90-18H | 146900 |
| 130/90-16H | 006203 |
Rear Tire
| Product Variant | Manufacturer Part # |
| --- | --- |
| 120/90-18H | 147303 |
| 110/90-18H | 147273 |
| 130/90-16H | 147311 |
| 130/90H-16 | 147362 |