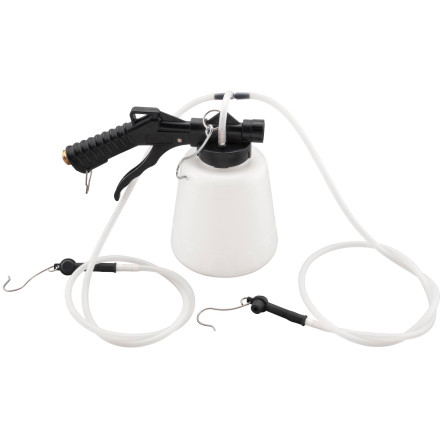 BikeMaster Vacuum Brake Fluid Bleeder
5 Star
2
4 Star
3
3 Star
1
2 Star
0
1 Star
1
Good
I work fast and really good
You need an air compressor to use this!
While this is better than a mityvac in my opinion, I don't use either of them on motorcycles very often because I can reach the master and bleeder at the same time. It does come in handy if you're working on something bigger, and I appreciate that it holds a larger volume than a mityvac does. You need a compressor with some guts to run it constantly, but you can get away with building up pressure and having suction in bursts. One drawback is it's loud - from your compressor running constantly and the noise from air rushing through the nozzle on this thing.
Get the manual one
I bleed my brakes and clutches quite frequently. My hope was to make the job move even faster with this compressed air assisted vacuum.

No such luck. This device works poorly with a regular air compressor.

Just buy the manual hand pump vacuum bleeder, save the headache of this contraption.
Does as it should
Nedd a air compressor and make sure the black boots on end of hose's are pushed all the way on bleeder nipples. Good product.
Makes is easy
makes bleeding brakes super easy. I roadrace motorcycles and change my fluid frequently. Using a manual pump is a messy pain in the @$$. This pump cuts the time and effort plus it's costs 1/3 of comparable automotive vaccum pumps.
Works as expected
Hook it up, pull the trigger, open the bleeder, pump the brakes. You're done when the air bubbles stop. Keep the fluid topped off. Major time saver over doing it manually.
Over 6 years ago
Bama (Roll Tide)
Needs air compressor!
Great and easy to use brake bleeder! The dual line synchronous bleeding is awesome for time saving efforts. The only caution I throw to the wind is that this bleeder does require an air-compressor to work!!! It did not say this in the description anywhere!!!! Other than that, usual good BikeMaster quality, not awesome, but far from cheap and useless.
Alloy20
Q: Does this come with a user manual?
robert
1 year 7 months ago
A: The product will come with instructions.
surge123456789
Q: Any way to get spare parts for brake bleeder
the bottle is starting to collapse on its self if used to long. would like to get a new bottle.
MotoSportExpert
Over 3 years ago
A: Unfortunately replacement parts are not available.

info@bikemaster.com
(877) 848-1320
| Product Variant | Manufacturer Part # |
| --- | --- |
| BikeMaster Vacuum Brake Fluid Bleeder | WH-507M |