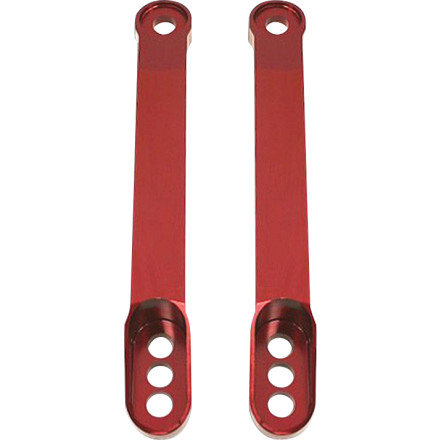 Yana Shiki LRC Lowering Link
---
15% Off - Save up to $23.99
---
5 Star
1
4 Star
2
3 Star
0
2 Star
1
1 Star
0
Write a Review
Write your review and you'll automatically be entered in our monthly drawing. Include an image or video to DOUBLE your chances to win!
Write Your Review
Over 7 months ago
Alabama
Great for the price
Great for the price and accurate description.
1 year 5 months ago
Michigan, USA
Nice
Easy to install it lowered it about 5 in made bike look mean and ready more comfortable on bike
1 year 8 months ago
Odessa Ne
Reccomend to anyone
Does what it's supposed to do, easy install and look better than stock although you really don't see them. I think it lowered a little more then specified, but love it none the less!
See all bikes that this part fits...
| Product Variant | Manufacturer Part # |
| --- | --- |
| Polished / 1.5in. And 3in. And Stock/No Engraving | LL-HN-104 |
| Polished / Lift 1.25in. To Drop 1.75in./No Engraving | lla-ka-109 |
| Polished / 1.125in./No Engraving | LLY400 |
| Polished / 1in. And 3in. | A2940LRC |
| Polished / 1in. And 3in. | A2937LRC |
| Polished / 2in. And 4in. | A2797LRC |
| Chrome / 2in. And 4in. | CA3056LRC |
| Chrome / 2in. And 4in. And Stock/No Engraving | CEA2993 |
| Polished / 2in. | A4065LRC |
| Polished / 2in. And 4in. | A2995LRC |
| Polished / 2in. And 4in. | A3102LRC |
| Polished / 3in. | A3067LRC |
| Chrome / 1in. And 2in./LRC Engraving | CA2912LRC |
| Polished / 1.5in./No Engraving | LL4317 |
| Polished / Stock To 3in./No Engraving | LLA-HN-106 |
| Polished / 2in. And 4in. | A2798LRC |
| Polished / 1.5in./No Engraving | LL2942 |
| Polished / Stock To 3in./No Engraving | LLA-HN-107 |
| Polished / Stock To 3in./No Engraving | LLA-YA-106 |
| Polished / 2.25in./No Engraving | LLS0579 |
| Polished / 1in. | A2861LRC |
| Polished / 2in. | A3106LRC |
| Polished / 1.75in. | A4316LRC |
| Polished / 2.5in. And 4.5in. | A3047LRC |
| Polished / 2in. And 4in. | A3103LRC |
| Black / 1in. And 2in. And Stock/No Engraving | A3056AB |
| Polished / 1.75in. And Stock/No Engraving | A5005 |
| Chrome / 1.25in. And 2.5in. And Stock/LRC Engraving | CA2941 |
| Chrome / 2in./LRC Engraving | CA3067LRC |
| Polished / Stock To 3in./No Engraving | LLA-YA-105 |
| Polished / Stock To 3in./No Engraving | LLA-YA-108 |
| Polished / 1.25in./No Engraving | LLH0215 |
| Polished / 1.5in. | A3101LRC |
| Polished / 1.25in. And 2.5in. | A2912LRC |
| Polished / 2in./No Engraving | A3207 |
| Polished / Stock To 3in./No Engraving | A7069 |
| Polished / 1in. And 1.5in. And 2in./No Engraving | A8007 |
| Chrome / 2in. And 4in. And Stock/LRC Engraving | CA2993LRC |
| Polished / Stock To 3in./No Engraving | LLA-YA-104 |
| Polished / 2in. | A3291LRC |
| Polished / 1.5in./LRC Engraving | A3719LRC |
| Polished / Stock To 4in./No Engraving | LL-KW-500 |
| Polished / 1.25in./No Engraving | LLH0218 |
| Polished / 2in. And Stock/No Engraving | LLK0436 |
| Polished / 1.5in. | A2948LRC |
| Red / 2in. And 4in. | A3056ARLRC |
| Polished / 1.75in./LRC Engraving | A4351LRC |
| Polished / 1in. And 3in./No Engraving | LL2849LRC |
| Polished / Stock To 3in./No Engraving | LLA-HN-105 |
| Polished / Stock To 3in./No Engraving | LLA-HN-108 |
| Polished / 1in.-4in. | A2941LRC |
| Polished / 2in. And 4in. | A2993LRC |