Yana Shiki
Yana Shiki

LRC Billet Swingarm Extension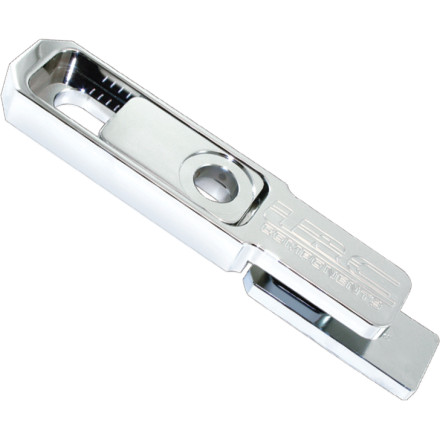 Yana Shiki LRC Billet Swingarm Extension
---
15% Off - Save up to $62.84
---
Enter to Win $500
Write your review and you'll automatically be entered in our monthly drawing. Include an image or video to DOUBLE your chances to win!
Write Your Review
hansulu
Q: Cbr1000rr abs 2013?
hi will this fit my cbr1000rr abs 2013?? i only saw 2016 cbr1000rr in the fittiment page!!!
David
1 month 22 days ago
A: Yes.
madgrizz
Q: Chain size?
I have a 2006 Honda cbr600rr and want to extend it 6 inches so what size chain and brake line would I need?
MotoStaff
Over 12 months ago
A: We'd recommend getting a 150 link chain and using a chain breaker to shorten it to length when its on the bike. As for brake line, a +6" should do you, but we would recommend measuring it before hand once the swingarm extension is installed.

the +6" brake line option is available here.
http://www.motosport.com/galfer-rear-brake-line-kit

example of a 150 link chain is here.
http://www.motosport.com/bikemaster-525-bmxr-xring-chain-colored
Dj5nice16
Q: Wondering if chain and brake line still obtainable?
1998 cbr 900rrr
MotoSportExpert
1 year ago
A: Yes, we have certain chains available in 140 or 150 link lengths, for example the RK GXW Chain. The brake line will be a special order item, but that's no problem. Give us a call at 1-866-677-7338 and we'll get you set up!
gixxer902
Location: Nova Scotia, Canada
Q: I want to buy your swing arm extension kit and your lowering kit but how will the overall handling change if any?
Jbgixer
Location: CA-1, Marina, CA 93933, USA
Q: Streched parts?
What else do i need for this 4-6 kit and can i buy egerything needed thur you please help thanks
MotoSportExpert
1 year 6 months ago
A: It will require a longer chain and brake line. Please give us a call at 888-676-8853 and we would be happy to help you out with your order.
gary
Q: Can you guys give me the axle hole diameter and the offset for the swingarm and the dimentions of the oval part that fits into the swingarm?
im trying to get an extention for my WR 500 and I realize I will have to modify it a bit but if I can get one that comes close I will buy it
MotoSportExpert
Over 3 years ago
A: Yana Shiki LRC Billet Swingarm Extension does not have a listing for a WR500. I would suggest to contact the manufacturer for the information you are looking for since this would be a custom application.

http://www.yanashiki.com/
Chewy
Location: Saint Paul, MN, USA
Q: I purchased a yana shiki swingarm I was wondering what is suggested to fit a 6in. stretch for a stock ninja 250r 08?
Ninja 250r 08 stock sprockets with a 6" stretch. Wanted to know how many links is needed for chain? Thanks
MotoSportExpert
Over 3 years ago
A: The 140L chain should be long enough for the 6" extension on your 2008 Ninja 250R.
Rhodes1
Q: Will these extensions fit a cbr 600 f4 or just a f4i?
MotoSportGrantK
Top 1 Contributor
Expert
MotoSport Staff
Over 3 years ago
A: Unfortunately, Yana Shiki is not currently offering a swingarm extension for the Honda CBR600F4 and it is different than the CBR600F4I.
jimmy
Location: Federalsburg, MD 21632, USA
Q: I have a 2005 yzf r6. i want to strech it 6inch. what size chain should i get?
MotoSportExpert
Over 3 years ago
A: The length of chain will also depend on your gearing. usually 140-150L will be enough with the 6" extension.
tiger
Q: DOES THIS COME WITH BOTH SIDES?
I know this might sound stupid but does this stretch come with both sides or is this the price for just one side?
MotoSportExpert
Over 4 years ago
Location: Portland, OR, USA
A: When you purchase this kit, it does come with an extension for each side.
See all bikes that this part fits...
| Product Variant | Manufacturer Part # |
| --- | --- |
| Black / 4-6" | N/A |
| Polished / 4-6" | N/A |
| Polished / 4-6" | A2872LRC |
| Polished / 4-6" | A2934LRC |
| Polished / 4-6" | A3045LRC |
| Polished / 4-6" | A3061LRC |
| Polished / 4-6" | A3112LRC |
| Polished / 4-6" | A3232LRC |
| Polished / 4-6" | A3285LRC |
| Polished / 4-6" | A4269LRC |
| Polished / 7-9" | A3701LRC |
| Polished / 4-10" | A3086LRC |
| Polished / 4-6" | A3292LRC |
| Polished / 4-6" | A4350LRC |
| Polished / 4-6" | A2874LRC |
| Polished / 4-10" | A4317LRC |
| Polished / 4-6" | A4292LRC |
| Polished With Brake Caliper Bracket / 4-6" | A2666LRC&Y2A |
| Polished With Brake Caliper Bracket / 4-6" | A2666LRC&Y4A |
| Polished With Brake Caliper Bracket / 4-6" | A2978LRC&Y4A |
| Polished With Brake Caliper Bracket / 4-6" | A2666LRC & Y1A |
| Polished With Brake Caliper Bracket / 7-9" | A2666LLRC&Y1A |
| Polished With Brake Caliper Bracket / 7-9" | A2666LLRC & Y2A |
| Polished With Brake Caliper Bracket / 7-9" | A2666LLRC & Y4A |
| Black / 4-6" | A3045ABLRC |
| Black / 4-6" | A3112ABLRC |
| Black / 4-6" | A3285ABLRC |
| Black / 4-6" | A2872ABLRC |
| Black / 4-6" | A2885ABLRC |
| Black / 4-6" | A2887ABLRC |
| Black / 4-6" | A2934ABLRC |
| Black / 4-6" | A3087ABLRC |
| Black / 7-9" | A3701ABLRC |
| Black / 4-10" | A4317ABLRC |
| Black / 4-6" | A3292ABLRC |
| Black / 4-6" | A4350ABLRC |
| Black / 4-6" | A4292ABLRC |
| Black With Brake Caliper Bracket / 4-6" | A2666ABLRC & Y4B |
| Black With Brake Caliper Bracket / 4-6" | A2978ABLRC & Y4B |
| Black With Brake Caliper Bracket / 4-6" | A2666ABLRC & Y1B |
| Black With Brake Caliper Bracket / 7-9" | A2666LABLRC & Y1B |
| Black With Brake Caliper Bracket / 4-6" | A2666ABLRC & Y2B |
| Black With Brake Caliper Bracket / 7-9" | A2666LABLRC & Y2B |
| Black With Brake Caliper Bracket / 7-9" | A2666LABLRC & Y4B |
| Chrome With Brake Caliper Bracket / 4-6" | CA2666LRC & CY4A |
| Chrome With Brake Caliper Bracket / 4-6" | CA2978LRC & CY4A |
| Chrome With Brake Caliper Bracket / 4-6" | CA2666LRC&CY1A |
| Chrome With Brake Caliper Bracket / 7-9" | CA2666LLRC & CY1A |
| Chrome With Brake Caliper Bracket / 4-6" | CA2666LRC & CY2A |
| Chrome With Brake Caliper Bracket / 7-9" | CA2666LLRC & CY2A |
| Chrome With Brake Caliper Bracket / 7-9" | CA2666LLRC & CY4A |
| Chrome / 4-6" | CA2872LRC |
| Chrome / 4-6" | CA2882LRC |
| Chrome / 4-6" | CA2934LRC |
| Chrome / 4-6" | CA3045LRC |
| Chrome / 4-6" | CA3285LRC |
| Chrome / 4-6" | CA4269LRC |
| Chrome / 4-6" | CA2885LRC |
| Chrome / 4-6" | CA2887LRC |
| Chrome / 4-6" | CA3087LRC |
| Chrome / 7-9" | CA3701LRC |
| Chrome / 4-10" | CA4317LRC |
| Chrome / 4-6" | CA3292LRC |
| Chrome / 4-6" | CA4350LRC |
| Chrome / 4-6" | CA2873LRC |
| Chrome / 4-6" | CA3112LRC |
| Chrome / 4-6" | CA3290LRC |
| Chrome / 4-6" | CA3293LRC |
| Chrome / 4-6" | CA4292LRC |