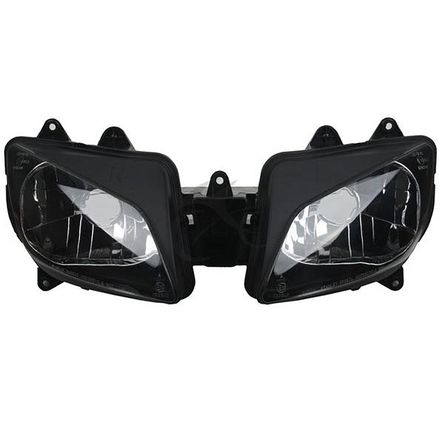 ---
15% Off - Save up to $98.09
---
Enter to Win $500
Write your review and you'll automatically be entered in our monthly drawing. Include an image or video to DOUBLE your chances to win!
Write Your Review
rossm
Q: Headlight question
Hi there hopefully a quick question, are these head lights centre dipping or offset, right or left? Regards Ross
Alex
Over 9 months ago
A: These will be the exact same as the OEM ones they replace! They are a direct replacement.
See all bikes that this part fits...
| Product Variant | Manufacturer Part # |
| --- | --- |
| Yana Shiki Headlight | HL1025-5 |
| Yana Shiki Headlight | HL1027-5 |
| Yana Shiki Headlight | HL1053-5 |
| Yana Shiki Headlight | HL1189-5 |
| Halo Style | HL1201H-5 |
| Yana Shiki Headlight | HL2015-5 |
| Yana Shiki Headlight | HL2068-5 |
| Yana Shiki Headlight | HL2309-5 |
| Yana Shiki Headlight | HL2310-5 |
| Yana Shiki Headlight | HL2312-5 |
| Yana Shiki Headlight | HL2314-5 |
| Yana Shiki Headlight | HL2317-5 |
| Yana Shiki Headlight | HL2046-5 |
| Yana Shiki Headlight | HL1331-5 |
| Yana Shiki Headlight | HL1124-5 |
| Yana Shiki Headlight | HL1199-5 |
| Yana Shiki Headlight | HL1043-5 |
| Yana Shiki Headlight | HL1333-5 |
| Yana Shiki Headlight | HL1035-5 |
| Yana Shiki Headlight | HL1044-5 |
| Yana Shiki Headlight | HL1200-5 |
| Yana Shiki Headlight | HL1186-5 |
| Yana Shiki Headlight | HL1033-5 |
| Yana Shiki Headlight | HL1181-5 |
| Yana Shiki Headlight | HL1029-5 |
| Yana Shiki Headlight | HL1023-5 |
| Yana Shiki Headlight | HL1031-5 |
| Yana Shiki Headlight | HL1201-5 |
| Yana Shiki Headlight | HL1178-5 |
| Yana Shiki Headlight | HL1046-5 |
| Yana Shiki Headlight | HL1334-5 |
| Yana Shiki Headlight | HL1047-5 |
| Yana Shiki Headlight | HL1041-5 |
| Yana Shiki Headlight | HL1039-5 |
| Yana Shiki Headlight | HL1022-5 |
| Yana Shiki Headlight | HL1037-5 |
| Yana Shiki Headlight | HL1129-5 |
| Yana Shiki Headlight | HL1188-5 |
| Yana Shiki Headlight | HL1207-5 |
| Yana Shiki Headlight | HL2009-5 |
| Yana Shiki Headlight | HL2011-5 |
| Yana Shiki Headlight | HL2016-5 |
| Yana Shiki Headlight | HL2017-5 |
| Yana Shiki Headlight | HL2021-5 |
| Yana Shiki Headlight | HL2023-5 |
| Yana Shiki Headlight | HL2029-5 |
| Yana Shiki Headlight | HL2036-5 |
| Yana Shiki Headlight | HL2039-5 |
| Yana Shiki Headlight | HL2059-5 |
| Yana Shiki Headlight | HL2060-5 |
| Yana Shiki Headlight | HL2061-5 |
| Yana Shiki Headlight | HL2078-5 |
| Yana Shiki Headlight | HL2082-5 |
| Yana Shiki Headlight | HL2091-5 |
| Yana Shiki Headlight | HL2019-5 |
| Yana Shiki Headlight | HL1034-5 |
| Yana Shiki Headlight | HL1003-5 |
| Yana Shiki Headlight | HL1187-5 |
| Yana Shiki Headlight | HL1028-5 |
| Yana Shiki Headlight | HL1332-5 |
| Yana Shiki Headlight | HL1198-5 |