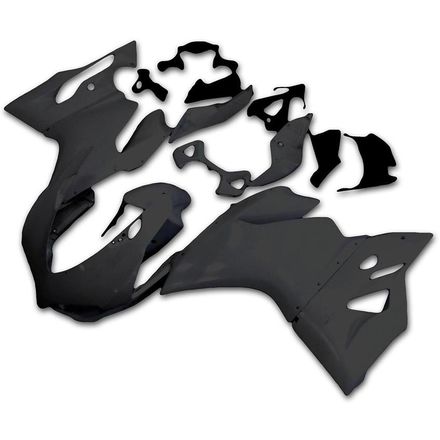 ---
15% Off - Save up to $212.99
---
5 Star
1
4 Star
0
3 Star
0
2 Star
0
1 Star
1
Write a Review
Write your review and you'll automatically be entered in our monthly drawing. Include an image or video to DOUBLE your chances to win!
Write Your Review
4 months 20 days ago
Colorado
Easy fit, no drilling
Well worth the wait. Bolt up no drilling as good as oem. Took pain perfect
Over 6 months ago
San Diego, CA
Fitment
Good packing, fast shipment but HORRIBLE FITMENT. Some holes weren't punched and did not line up.
Stevenw2032
Q: 04 gsxr 600. Does this kit include a gas tank cover?
TylerGearhead
1 month 22 days ago
A: Looks like it states gas tank covers available only on models according to O.E. specifications.
JSturges
Q: Is the black fairing kit for a 2004 CBR1000RR matte or gloss?
MotoStaff
1 year 5 months ago
A: The black color will be glossy, not matte.
Bbrown
Q: Is the color lighter or darker than the original ?
The 2008 factory orange
See all bikes that this part fits...
| Product Variant | Manufacturer Part # |
| --- | --- |
| Black | BKBM501BCK |
| Black | BKD101BCK |
| Black | BKD102BCK |
| Black | BKH203BCK |
| Black | BKH204BCK |
| Black | BKH205BCK |
| Black | BKH206BCK |
| Black | BKH208BCK |
| Black | BKH209BCK |
| Black | BKH210BCK |
| Black | BKH211BCK |
| Black | BKH212BCK |
| Black | BKH213BCK |
| Black | BKH214BCK |
| Black | BKH215BCK |
| Black | BKK302BCK |
| Black | BKK303BCK |
| Black | BKK304BCK |
| Black | BKK305BCK |
| Black | BKK306BCK |
| Black | BKK309BCK |
| Black | BKK310BCK |
| Black | BKK311BCK |
| Black | BKK312BCK |
| Black | BKK313BCK |
| Black | BKS401BCK |
| Black | BKS404BCK |
| Black | BKS405BCK |
| Black | BKS406BCK |
| Black | BKS407BCK |
| Black | BKS408BCK |
| Black | BKS409BCK |
| Black | BKS410BCK |
| Black | BKS411BCK |
| Black | BKS412BCK |
| Black | BKY502BCK |
| Black | BKY504BCK |
| Black | BKY509BCK |
| Black | BKY510BCK |
| Black | BKY511BCK |
| Black | BKY512BCK |
| Unpainted | BKBM501UNP |
| Unpainted | BKD101UNP |
| Unpainted | BKD102UNP |
| Unpainted | BKH201UNP |
| Unpainted | BKH202UNP |
| Unpainted | BKH203UNP |
| Unpainted | BKH204UNP |
| Unpainted | BKH205UNP |
| Unpainted | BKH206UNP |
| Unpainted | BKH208UNP |
| Unpainted | BKH209UNP |
| Unpainted | BKH210UNP |
| Unpainted | BKH211UNP |
| Unpainted | BKH212UNP |
| Unpainted | BKH213UNP |
| Unpainted | BKH214UNP |
| Unpainted | BKH215UNP |
| Unpainted | BKK301UNP |
| Unpainted | BKK302UNP |
| Unpainted | BKK303UNP |
| Unpainted | BKK304UNP |
| Unpainted | BKK305UNP |
| Unpainted | BKK306UNP |
| Unpainted | BKK307UNP |
| Unpainted | BKK308UNP |
| Unpainted | BKK309UNP |
| Unpainted | BKK310UNP |
| Unpainted | BKK311UNP |
| Unpainted | BKK312UNP |
| Unpainted | BKK313UNP |
| Unpainted | BKS401UNP |
| Unpainted | BKS402UNP |
| Unpainted | BKS403UNP |
| Unpainted | BKS404UNP |
| Unpainted | BKS405UNP |
| Unpainted | BKS406UNP |
| Unpainted | BKS407UNP |
| Unpainted | BKS408UNP |
| Unpainted | BKS409UNP |
| Unpainted | BKS410UNP |
| Unpainted | BKS411UNP |
| Unpainted | BKS412UNP |
| Unpainted | BKY501UNP |
| Unpainted | BKY502UNP |
| Unpainted | BKY504UNP |
| Unpainted | BKY505UNP |
| Unpainted | BKY506UNP |
| Unpainted | BKY507UNP |
| Unpainted | BKY508UNP |
| Unpainted | BKY509UNP |
| Unpainted | BKY510UNP |
| Unpainted | BKY511UNP |
| Unpainted | BKY512UNP |
| Red | BKD101RED |
| Red | BKD102RED |
| Red | BKH201RED |
| Red | BKH203RED |
| Red | BKH204RED |
| Red | BKH206RED |
| Red | BKH208RED |
| Red | BKH209RED |
| Red | BKH210RED |
| Red | BKH212RED |
| Red | BKH214RED |
| Red | BKH215RED |
| Red | BKK305RED |
| Red | BKK309RED |
| Red | BKY501RED |
| Red | BKY502RED |
| Red | BKY508RED |
| Red | BKY509RED |
| Red | BKY512RED |
| Orange | BKH201ORG |
| Orange | BKH202ORG |
| Orange | BKH205ORG |
| Orange | BKH206ORG |
| Orange | BKS411ORG |
| Yellow | BKH201YLW |
| Yellow | BKH202YLW |
| Yellow | BKH203YLW |
| Yellow | BKH213YLW |
| Yellow | BKS402YLW |
| Yellow | BKS403YLW |
| Yellow | BKS407YLW |
| Yellow | BKY508YLW |
| Yellow | BKY509YLW |
| Blue | BKH203BLU |
| Blue | BKH204BLU |
| Blue | BKH205BLU |
| Blue | BKH206BLU |
| Blue | BKK302BLU |
| Blue | BKK304BLU |
| Blue | BKK307BLU |
| Blue | BKK308BLU |
| Blue | BKK309BLU |
| Blue | BKK311BLU |
| Blue | BKS401BLU |
| Blue | BKS402BLU |
| Blue | BKS403BLU |
| Blue | BKS404BLU |
| Blue | BKS405BLU |
| Blue | BKS406BLU |
| Blue | BKS408BLU |
| Blue | BKS409BLU |
| Blue | BKS410BLU |
| Blue | BKY501BLU |
| Blue | BKY502BLU |
| Blue | BKY504BLU |
| Blue | BKY505BLU |
| Blue | BKY506BLU |
| Blue | BKY507BLU |
| Blue | BKY508BLU |
| Blue | BKY510BLU |
| Blue | BKY511BLU |
| White | BKH211WHI |
| White | BKS412WH |
| Green | BKK301GRN |
| Green | BKK302GRN |
| Green | BKK303GRN |
| Green | BKK306GRN |
| Green | BKK307GRN |
| Green | BKK308GRN |
| Green | BKK310GRN |
| Green | BKK312GRN |
| Green | BKK313GRN |