Wiseco
Wiseco Pro-Lite Piston Kit - 2-Stroke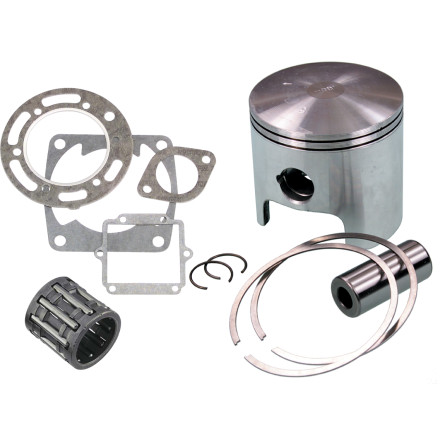 Wiseco Pro-Lite Piston Kit - 2-Stroke
---
18% Off - Save up to $24.99
---
5 Star
187
4 Star
17
3 Star
0
2 Star
4
1 Star
3
Write a Review
Write your review and you'll automatically be entered in our monthly drawing. Include an image or video to DOUBLE your chances to win!
Write Your Review
10 days 22 hours ago
Everett, wa
Wisco 2 smoke piston
Have only used wisco, no problems ever will continue buying.
3 months 19 days ago
Paragon, IN.
Superior Reliability
This is the 4th wiseco piston for my grandsons 85cc dirt bike. He races once a month and pactices at least every 2 weeks.
4 months 7 days ago
Omaha,NE
Great purchase
Perfect for a fresh new top end. Came with everything i needed. Fast shipping and good price. Bike runs better than new.
Over 5 months ago
Florida
Never an issue
I have been using Wiseco pistons for over 30 years for both motocross and off-road and have never had an issue. Applications have been for numerous RM 250s and XCWs over the years. A tried and tested product in my experience.
Best piston made for the money
Sounds really good and tight...
Over 12 months ago
China Grove, NC 28023, USA
Great topend kit
Nice quality and everything in one package
Dont purchase if u have a exhaust bridge
put it in my kx125 04 and it seized up and burnt the ring to a crisp. all measurements were on point, it was broken in, oil holes were pre drilled not sure what happened but it ruined the piston and the new nikasil cylinder. it does come with bearing and all gaskets for topened. i would not purchase if i have a exhaust bridge in the cylinder.
2003 CR250R TOP END REBUILD
Installation was easy, all parts and gaskets came in the kit. Good quality made gaskets. The pro lite piston kit bumped up my compression a tiny bit. And while swapping out reeds i was able to check how the wiseco pro lite piston kit is doing, and it looked perfect after the first track day. About 1 hr on the new top end so far.
Cant go wrong with a wiseco forged piston, and the dual rings is a plus instead of the single racer ring.

10/10 in all aspects
1 year 4 months ago
Noti, OR
Excellent
Excellent quality as expected. Wouldn't expect anything less.
See all bikes that this part fits...
Bearing
| Product Variant | Manufacturer Part # |
| --- | --- |
| Wiseco Pro-Lite Piston Kit - 2-Stroke | B1037 |
| Wiseco Pro-Lite Piston Kit - 2-Stroke | B1042 |
| Wiseco Pro-Lite Piston Kit - 2-Stroke | B1015 |
| Wiseco Pro-Lite Piston Kit - 2-Stroke | B1018 |
| Wiseco Pro-Lite Piston Kit - 2-Stroke | B1082 |
| Wiseco Pro-Lite Piston Kit - 2-Stroke | B1083 |
| Wiseco Pro-Lite Piston Kit - 2-Stroke | B1043 |
| Wiseco Pro-Lite Piston Kit - 2-Stroke | B1080 |
| Wiseco Pro-Lite Piston Kit - 2-Stroke | B1036 |
| Wiseco Pro-Lite Piston Kit - 2-Stroke | B1038 |
| Wiseco Pro-Lite Piston Kit - 2-Stroke | B1016 |
| Wiseco Pro-Lite Piston Kit - 2-Stroke | B1022 |
| Wiseco Pro-Lite Piston Kit - 2-Stroke | B1013 |
| Wiseco Pro-Lite Piston Kit - 2-Stroke | B1014 |
| Wiseco Pro-Lite Piston Kit - 2-Stroke | B1008 |
| Wiseco Pro-Lite Piston Kit - 2-Stroke | B1012 |
| Wiseco Pro-Lite Piston Kit - 2-Stroke | B1005 |
| Wiseco Pro-Lite Piston Kit - 2-Stroke | B1006 |
| Wiseco Pro-Lite Piston Kit - 2-Stroke | B1003 |
| Wiseco Pro-Lite Piston Kit - 2-Stroke | B1004 |
| Wiseco Pro-Lite Piston Kit - 2-Stroke | B1001 |
| Wiseco Pro-Lite Piston Kit - 2-Stroke | B1002 |
| Wiseco Pro-Lite Piston Kit - 2-Stroke | B1000 |
Gasket Kit
| Product Variant | Manufacturer Part # |
| --- | --- |
| Wiseco Pro-Lite Piston Kit - 2-Stroke | C7010 |
| Wiseco Pro-Lite Piston Kit - 2-Stroke | C7008 |
| Wiseco Pro-Lite Piston Kit - 2-Stroke | C7009 |
| Wiseco Pro-Lite Piston Kit - 2-Stroke | C3222 |
| Wiseco Pro-Lite Piston Kit - 2-Stroke | C7007 |
| Wiseco Pro-Lite Piston Kit - 2-Stroke | C7942 |
| Wiseco Pro-Lite Piston Kit - 2-Stroke | C7943 |
| Wiseco Pro-Lite Piston Kit - 2-Stroke | C7816 |
| Wiseco Pro-Lite Piston Kit - 2-Stroke | C7386 |
| Wiseco Pro-Lite Piston Kit - 2-Stroke | C7456 |
| Wiseco Pro-Lite Piston Kit - 2-Stroke | C7690 |
| Wiseco Pro-Lite Piston Kit - 2-Stroke | C7416 |
| Wiseco Pro-Lite Piston Kit - 2-Stroke | C7423 |
| Wiseco Pro-Lite Piston Kit - 2-Stroke | C7333 |
| Wiseco Pro-Lite Piston Kit - 2-Stroke | C7384 |
| Wiseco Pro-Lite Piston Kit - 2-Stroke | C7285 |
| Wiseco Pro-Lite Piston Kit - 2-Stroke | C7298 |
| Wiseco Pro-Lite Piston Kit - 2-Stroke | C7258 |
| Wiseco Pro-Lite Piston Kit - 2-Stroke | C7268 |
| Wiseco Pro-Lite Piston Kit - 2-Stroke | C7242 |
| Wiseco Pro-Lite Piston Kit - 2-Stroke | C7257 |
| Wiseco Pro-Lite Piston Kit - 2-Stroke | C7133 |
| Wiseco Pro-Lite Piston Kit - 2-Stroke | C7134 |
| Wiseco Pro-Lite Piston Kit - 2-Stroke | C7117 |
| Wiseco Pro-Lite Piston Kit - 2-Stroke | C7119 |
| Wiseco Pro-Lite Piston Kit - 2-Stroke | C7105 |
| Wiseco Pro-Lite Piston Kit - 2-Stroke | C7106 |
| Wiseco Pro-Lite Piston Kit - 2-Stroke | C7098 |
| Wiseco Pro-Lite Piston Kit - 2-Stroke | C7099 |
| Wiseco Pro-Lite Piston Kit - 2-Stroke | C7092 |
| Wiseco Pro-Lite Piston Kit - 2-Stroke | C7097 |
| Wiseco Pro-Lite Piston Kit - 2-Stroke | C7090 |
| Wiseco Pro-Lite Piston Kit - 2-Stroke | C7091 |
| Wiseco Pro-Lite Piston Kit - 2-Stroke | C7088 |
| Wiseco Pro-Lite Piston Kit - 2-Stroke | C7089 |
| Wiseco Pro-Lite Piston Kit - 2-Stroke | C7241 |
| Wiseco Pro-Lite Piston Kit - 2-Stroke | C7116 |
| Wiseco Pro-Lite Piston Kit - 2-Stroke | C7392 |
| Wiseco Pro-Lite Piston Kit - 2-Stroke | C7045 |
| Wiseco Pro-Lite Piston Kit - 2-Stroke | C7083 |
| Wiseco Pro-Lite Piston Kit - 2-Stroke | C7154 |
| Wiseco Pro-Lite Piston Kit - 2-Stroke | C7018 |
| Wiseco Pro-Lite Piston Kit - 2-Stroke | C7508 |
| Wiseco Pro-Lite Piston Kit - 2-Stroke | C7120 |
| Wiseco Pro-Lite Piston Kit - 2-Stroke | C7073 |
| Wiseco Pro-Lite Piston Kit - 2-Stroke | C7778 |
| Wiseco Pro-Lite Piston Kit - 2-Stroke | C7072 |
| Wiseco Pro-Lite Piston Kit - 2-Stroke | C7071 |
| Wiseco Pro-Lite Piston Kit - 2-Stroke | C7859 |
| Wiseco Pro-Lite Piston Kit - 2-Stroke | C7861 |
| Wiseco Pro-Lite Piston Kit - 2-Stroke | C7059 |
| Wiseco Pro-Lite Piston Kit - 2-Stroke | C7100 |
| Wiseco Pro-Lite Piston Kit - 2-Stroke | C7112 |
| Wiseco Pro-Lite Piston Kit - 2-Stroke | C7031 |
| Wiseco Pro-Lite Piston Kit - 2-Stroke | C7136 |
| Wiseco Pro-Lite Piston Kit - 2-Stroke | C7036 |
| Wiseco Pro-Lite Piston Kit - 2-Stroke | C7779 |
| Wiseco Pro-Lite Piston Kit - 2-Stroke | C7062 |
| Wiseco Pro-Lite Piston Kit - 2-Stroke | C7467 |
| Wiseco Pro-Lite Piston Kit - 2-Stroke | C7015 |
| Wiseco Pro-Lite Piston Kit - 2-Stroke | C3099 |
| Wiseco Pro-Lite Piston Kit - 2-Stroke | C7003 |
| Wiseco Pro-Lite Piston Kit - 2-Stroke | C7064 |
| Wiseco Pro-Lite Piston Kit - 2-Stroke | C7921 |
| Wiseco Pro-Lite Piston Kit - 2-Stroke | C7065 |
| Wiseco Pro-Lite Piston Kit - 2-Stroke | C7040 |
| Wiseco Pro-Lite Piston Kit - 2-Stroke | C7123 |
| Wiseco Pro-Lite Piston Kit - 2-Stroke | C3096 |
| Wiseco Pro-Lite Piston Kit - 2-Stroke | C7156 |
| Wiseco Pro-Lite Piston Kit - 2-Stroke | C7155 |
| Wiseco Pro-Lite Piston Kit - 2-Stroke | C7280 |
| Wiseco Pro-Lite Piston Kit - 2-Stroke | C7682 |
| Wiseco Pro-Lite Piston Kit - 2-Stroke | C7505 |
| Wiseco Pro-Lite Piston Kit - 2-Stroke | C7012 |
| Wiseco Pro-Lite Piston Kit - 2-Stroke | C7054 |
| Wiseco Pro-Lite Piston Kit - 2-Stroke | C7034 |
| Wiseco Pro-Lite Piston Kit - 2-Stroke | C7857 |
| Wiseco Pro-Lite Piston Kit - 2-Stroke | C7042 |
| Wiseco Pro-Lite Piston Kit - 2-Stroke | C7349 |
| Wiseco Pro-Lite Piston Kit - 2-Stroke | C7057 |
| Wiseco Pro-Lite Piston Kit - 2-Stroke | C7853 |
| Wiseco Pro-Lite Piston Kit - 2-Stroke | C7080 |
| Wiseco Pro-Lite Piston Kit - 2-Stroke | C7936 |
| Wiseco Pro-Lite Piston Kit - 2-Stroke | C3089 |
| Wiseco Pro-Lite Piston Kit - 2-Stroke | C3105 |
| Wiseco Pro-Lite Piston Kit - 2-Stroke | C7016 |
| Wiseco Pro-Lite Piston Kit - 2-Stroke | C7084 |
| Wiseco Pro-Lite Piston Kit - 2-Stroke | C7020 |
| Wiseco Pro-Lite Piston Kit - 2-Stroke | C7139 |
| Wiseco Pro-Lite Piston Kit - 2-Stroke | C7126 |
| Wiseco Pro-Lite Piston Kit - 2-Stroke | C7158 |
| Wiseco Pro-Lite Piston Kit - 2-Stroke | C7762 |
| Wiseco Pro-Lite Piston Kit - 2-Stroke | C7399 |
| Wiseco Pro-Lite Piston Kit - 2-Stroke | C7203 |
| Wiseco Pro-Lite Piston Kit - 2-Stroke | C7855 |
| Wiseco Pro-Lite Piston Kit - 2-Stroke | C7393 |
| Wiseco Pro-Lite Piston Kit - 2-Stroke | C7113 |
| Wiseco Pro-Lite Piston Kit - 2-Stroke | C7764 |
| Wiseco Pro-Lite Piston Kit - 2-Stroke | C7250 |
| Wiseco Pro-Lite Piston Kit - 2-Stroke | C7269 |
| Wiseco Pro-Lite Piston Kit - 2-Stroke | C7337 |
| Wiseco Pro-Lite Piston Kit - 2-Stroke | C7041 |
| Wiseco Pro-Lite Piston Kit - 2-Stroke | C7507 |
| Wiseco Pro-Lite Piston Kit - 2-Stroke | C7135 |
| Wiseco Pro-Lite Piston Kit - 2-Stroke | C7137 |
| Wiseco Pro-Lite Piston Kit - 2-Stroke | C7047 |
| Wiseco Pro-Lite Piston Kit - 2-Stroke | C7851 |
| Wiseco Pro-Lite Piston Kit - 2-Stroke | C7501 |
| Wiseco Pro-Lite Piston Kit - 2-Stroke | C3211 |
| Wiseco Pro-Lite Piston Kit - 2-Stroke | C7030 |
| Wiseco Pro-Lite Piston Kit - 2-Stroke | C3416 |
| Wiseco Pro-Lite Piston Kit - 2-Stroke | C7391 |
| Wiseco Pro-Lite Piston Kit - 2-Stroke | C7094 |
| Wiseco Pro-Lite Piston Kit - 2-Stroke | C7013 |
| Wiseco Pro-Lite Piston Kit - 2-Stroke | C7093-EST |
| Wiseco Pro-Lite Piston Kit - 2-Stroke | C7019 |
| Wiseco Pro-Lite Piston Kit - 2-Stroke | C7678 |
| Wiseco Pro-Lite Piston Kit - 2-Stroke | C7035 |
| Wiseco Pro-Lite Piston Kit - 2-Stroke | C7757 |
| Wiseco Pro-Lite Piston Kit - 2-Stroke | C7039 |
| Wiseco Pro-Lite Piston Kit - 2-Stroke | C7181 |
| Wiseco Pro-Lite Piston Kit - 2-Stroke | C7043 |
| Wiseco Pro-Lite Piston Kit - 2-Stroke | C3085 |
| Wiseco Pro-Lite Piston Kit - 2-Stroke | C7046 |
| Wiseco Pro-Lite Piston Kit - 2-Stroke | C7115 |
| Wiseco Pro-Lite Piston Kit - 2-Stroke | C7058 |
| Wiseco Pro-Lite Piston Kit - 2-Stroke | C7394 |
| Wiseco Pro-Lite Piston Kit - 2-Stroke | C7076 |
| Wiseco Pro-Lite Piston Kit - 2-Stroke | C7191 |
| Wiseco Pro-Lite Piston Kit - 2-Stroke | C7082 |
| Wiseco Pro-Lite Piston Kit - 2-Stroke | C7086 |
| Wiseco Pro-Lite Piston Kit - 2-Stroke | C7087 |
| Wiseco Pro-Lite Piston Kit - 2-Stroke | C7760 |
Piston
| Product Variant | Manufacturer Part # |
| --- | --- |
| .160" Oversize | 806M05200 |
| .040" Oversize | 754M05500 |
| .080" Oversize | 711M06800 |
| Stock Bore | 843M06640 |
| Stock Bore | 783M05400 |
| Stock Bore | 801M06640 |
| .060" Oversize | 573M06750 |
| Stock Bore | 845M05400 |
| .040" Oversize | 864M04700 |
| Stock Bore | 743M06640 |
| .040" Oversize | 871M09000 |
| Stock Bore | 641M05400 |
| Stock Bore | 644M04800 |
| Stock Bore | 856M06640 |
| Stock Bore | 861M04450 |
| .030" Oversize | 526M06675 |
| Stock Bore | 804M06640 |
| Stock Bore | 676M05400 |
| .080" Oversize | 845M05600 |
| Stock Bore | 833M04750 |
| .060" Oversize | 546M08850 |
| Stock Bore | 719M05400 |
| .120" Oversize | 841M05700 |
| .020" Oversize | 702M06700 |
| Stock Bore | 555M05600 |
| .080" Oversize | 746M04700 |
| Stock Bore | 840M05400 |
| Stock Bore | 774M06640 |
| .080" Oversize | 558M06900 |
| .120" Oversize | 833M05050 |
| .160" Oversize | 836M05800 |
| .100" Oversize | 526M06850 |
| .020" Oversize | 560M06850 |
| .080" Oversize | 526M06800 |
| Stock Bore | 836M05400 |
| .080" Oversize | 573M06800 |
| .040" Oversize | 561M08700 |
| Stock Bore | 859M05400 |
| .060" Oversize | 823M06700 |
| Stock Bore | 702M06640 |
| .080" Oversize | 562M06800 |
| Stock Bore | 750M06900 |
| .200" Oversize | 806M05300 |
| Stock Bore | 834M05400 |
| .040" Oversize | 566M05700 |
| Stock Bore | 607M06740 |
| .020" Oversize | 806M04850 |
| Stock Bore | 648M04300 |
| .020" Oversize | 575M08650 |
| Stock Bore | 737M06640 |
| .020" Oversize | 805M04800 |
| .040" Oversize | 726M05500 |
| .020" Oversize | 595M05450 |
| Stock Bore | 671M04600 |
| .020" Oversize | 804M06700 |
| Stock Bore | 669M04700 |
| .020" Oversize | 605M06850 |
| .040" Oversize | 640M05500 |
| .040" Oversize | 799M06750 |
| .080" Oversize | 822M05600 |
| .065" Oversize | 614M06800 |
| .080" Oversize | 834M05600 |
| .020" Oversize | 797M05450 |
| Stock Bore | 858M07200 |
| .085" Oversize | 617M06850 |
| .140" Oversize | 526M06950 |
| .080" Oversize | 786M05600 |
| .050" Oversize | 526M06725 |
| Stock Bore | 631M07200 |
| Stock Bore | 627M05425 |
| .020" Oversize | 782M04900 |
| .070" Oversize | 573M06775 |
| .060" Oversize | 641M05550 |
| .090" Oversize | 573M06825 |
| Stock Bore | 768M06640 |
| Stock Bore | 841M05400 |
| .040" Oversize | 643M04800 |
| Stock Bore | 614M06640 |
| Stock Bore | 766M05200 |
| Stock Bore | 860M06640 |
| .040" Oversize | 645M04850 |
| Stock Bore | 643M04700 |
| Stock Bore | 765M05400 |
| Stock Bore | 711M06600 |
| .020" Oversize | 647M05450 |
| Stock Bore | 651M05250 |
| Stock Bore | 762M05400 |
| Stock Bore | 822M05400 |
| .020" Oversize | 651M05300 |
| Stock Bore | 652M05400 |
| Stock Bore | 755M05400 |
| Stock Bore | 741M05400 |
| .040" Oversize | 676M05500 |
| Stock Bore | 799M06640 |
| Stock Bore | 747M07800 |
| Stock Bore | 556M06740 |
| Stock Bore | 617M06640 |
| Stock Bore | 575M08600 |
| Stock Bore | 571M06700 |
| Stock Bore | 752M04450 |
| Stock Bore | 754M05400 |
| Stock Bore | 782M04850 |
| .060" Oversize | 871M09050 |
| Stock Bore | 561M08600 |
| Stock Bore | 756M06640 |
| Stock Bore | 835M05400 |
| Stock Bore | 681M06640 |
| Stock Bore | 642M06700 |
| Stock Bore | 868M05400 |
| Stock Bore | 823M06640 |
| Stock Bore | 806M04800 |
| Stock Bore | 723M06640 |
| Stock Bore | 797M05400 |
| Stock Bore | 645M04750 |
| Stock Bore | 862M04850 |
| Stock Bore | 562M06600 |
| Stock Bore | 629M05600 |
| .080" Oversize | 797M05600 |
| Stock Bore | 693M05400 |
| Stock Bore | 594M05600 |
| Stock Bore | 856M06850 |
| Stock Bore | 647M05400 |
| Stock Bore | 646M04700 |
| Stock Bore | 726M05400 |
| .020" Oversize | 546M08750 |
| Stock Bore | 677M06800 |
| .080" Oversize | 843M06850 |
| Stock Bore | 805M04750 |
| Stock Bore | 546M08700 |
| .040" Oversize | 546M08800 |
| .080" Oversize | 553M05600 |
| .080" Oversize | 546M08900 |
| .080" Oversize | 841M05600 |
| .040" Oversize | 553M05500 |
| .084" Oversize | 556M06950 |
| Stock Bore | 553M05400 |
| Stock Bore | 557M05400 |
| .045" Oversize | 556M06850 |
| Stock Bore | 838M04750 |
| .040" Oversize | 557M05500 |
| .020" Oversize | 559M05650 |
| .040" Oversize | 558M06800 |
| .060" Oversize | 559M05750 |
| Stock Bore | 558M06700 |
| .080" Oversize | 836M05600 |
| .040" Oversize | 559M05700 |
| .100" Oversize | 561M08850 |
| Stock Bore | 559M05600 |
| .140" Oversize | 561M08950 |
| Stock Bore | 560M06800 |
| .040" Oversize | 823M06750 |
| .120" Oversize | 561M08900 |
| .080" Oversize | 561M08800 |
| .020" Oversize | 561M08650 |
| .040" Oversize | 562M06700 |
| .060" Oversize | 561M08750 |
| Stock Bore | 808M06640 |
| .020" Oversize | 562M06650 |
| .040" Oversize | 564M05500 |
| .060" Oversize | 562M06750 |
| .080" Oversize | 564M05600 |
| .020" Oversize | 564M05450 |
| .040" Oversize | 806M04900 |
| .060" Oversize | 564M05550 |
| .040" Oversize | 568M05500 |
| Stock Bore | 564M05400 |
| .040" Oversize | 571M06800 |
| Stock Bore | 566M05600 |
| .040" Oversize | 805M04850 |
| .020" Oversize | 571M06750 |
| .080" Oversize | 575M08800 |
| .080" Oversize | 571M06900 |
| .040" Oversize | 589M05700 |
| .040" Oversize | 575M08700 |
| .040" Oversize | 804M06750 |
| .040" Oversize | 582M05700 |
| Stock Bore | 595M05400 |
| Stock Bore | 589M05600 |
| .040" Oversize | 603M05700 |
| .040" Oversize | 595M05500 |
| .040" Oversize | 801M06750 |
| .020" Oversize | 601M06800 |
| .025" Oversize | 607M06800 |
| Stock Bore | 603M05600 |
| .024" Oversize | 614M06700 |
| Stock Bore | 605M06800 |
| .040" Oversize | 797M05500 |
| .045" Oversize | 607M06850 |
| .040" Oversize | 616M05500 |
| .044" Oversize | 614M06750 |
| .025" Oversize | 617M06700 |
| .085" Oversize | 614M06850 |
| Stock Bore | 788M05400 |
| Stock Bore | 616M05400 |
| .040" Oversize | 626M05500 |
| .045" Oversize | 617M06750 |
| .040" Oversize | 629M05700 |
| .020" Oversize | 626M05450 |
| .040" Oversize | 782M04950 |
| Stock Bore | 626M05400 |
| .080" Oversize | 871M09100 |
| .040" Oversize | 631M07300 |
| .020" Oversize | 641M05450 |
| .020" Oversize | 871M08950 |
| .040" Oversize | 770M06500 |
| Stock Bore | 640M05400 |
| .020" Oversize | 642M06750 |
| .040" Oversize | 641M05500 |
| .080" Oversize | 642M06900 |
| .080" Oversize | 641M05600 |
| Stock Bore | 767M05250 |
| .040" Oversize | 642M06800 |
| .020" Oversize | 644M04850 |
| .020" Oversize | 643M04750 |
| .080" Oversize | 644M05000 |
| .080" Oversize | 643M04900 |
| .080" Oversize | 765M05600 |
| .040" Oversize | 644M04900 |
| .080" Oversize | 645M04950 |
| .020" Oversize | 645M04800 |
| .040" Oversize | 646M04800 |
| .060" Oversize | 645M04900 |
| .080" Oversize | 762M05600 |
| .020" Oversize | 646M04750 |
| .080" Oversize | 647M05600 |
| .080" Oversize | 646M04900 |
| .040" Oversize | 648M04400 |
| .040" Oversize | 647M05500 |
| .080" Oversize | 755M05600 |
| .020" Oversize | 648M04350 |
| .020" Oversize | 652M05450 |
| .080" Oversize | 648M04500 |
| .080" Oversize | 652M05600 |
| .080" Oversize | 651M05450 |
| .020" Oversize | 752M04500 |
| .040" Oversize | 652M05500 |
| .020" Oversize | 677M06850 |
| .020" Oversize | 676M05450 |
| .080" Oversize | 677M07000 |
| .080" Oversize | 676M05600 |
| .080" Oversize | 740M05625 |
| .040" Oversize | 677M06900 |
| .060" Oversize | 702M06800 |
| Stock Bore | 694M06750 |
| .020" Oversize | 711M06650 |
| .040" Oversize | 702M06750 |
| Stock Bore | 736M06800 |
| .080" Oversize | 702M06850 |
| .080" Oversize | 719M05600 |
| .040" Oversize | 711M06700 |
| Stock Bore | 740M05425 |
| Stock Bore | 712M07200 |
| .020" Oversize | 726M05450 |
| .080" Oversize | 726M05600 |
| Stock Bore | 748M07800 |
| .080" Oversize | 741M05600 |
| .080" Oversize | 752M04650 |
| .040" Oversize | 748M07900 |
| Stock Bore | 670M04650 |
| .040" Oversize | 750M07000 |
| .080" Oversize | 754M05600 |
| .020" Oversize | 754M05450 |
| .080" Oversize | 770M06600 |
| .060" Oversize | 754M05550 |
| Stock Bore | 668M04600 |
| .080" Oversize | 756M06850 |
| .080" Oversize | 783M05600 |
| Stock Bore | 770M06400 |
| .080" Oversize | 804M06850 |
| .080" Oversize | 782M05050 |
| .020" Oversize | 631M07250 |
| .080" Oversize | 801M06850 |
| Stock Bore | 786M05400 |
| .080" Oversize | 805M04950 |
| Stock Bore | 869M05600 |
| .080" Oversize | 806M05000 |
| Stock Bore | 864M04500 |
| Stock Bore | 824M06640 |
| Stock Bore | 746M04500 |
| .080" Oversize | 833M04950 |
| Stock Bore | 855M04700 |
| .080" Oversize | 835M05600 |
| .030" Oversize | N/A |
| Stock Bore | 857M06640 |
| Stock Bore | 573M06600 |
| .010" Oversize | 526M06625 |
| .010" Oversize | 573M06625 |
| .120" Oversize | 526M06900 |
| .020" Oversize | 573M06650 |
| .020" Oversize | 526M06650 |
| .030" Oversize | 573M06675 |
| .040" Oversize | 526M06700 |
| .040" Oversize | 573M06700 |
| .060" Oversize | 526M06750 |
| .050" Oversize | 573M06725 |
| Stock Bore | 526M06600 |
| .020" Oversize | 616M05450 |