Warn
Warn Vantage Winch And Mount Combo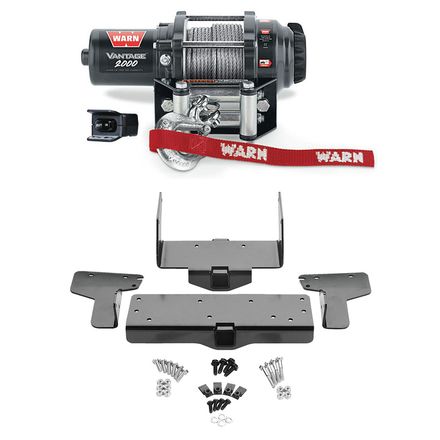 Warn Vantage Winch And Mount Combo
---
18% Off - Save up to $56.44
---
Enter to Win $500
Write your review and you'll automatically be entered in our monthly drawing. Include an image or video to DOUBLE your chances to win!
Write Your Review
big e
Q: Does this come with the wiring and solenoid
TylerGearhead
2 months 27 days ago
A: This comes with everything needed to operate the winch!
See all bikes that this part fits...
Mount
| Product Variant | Manufacturer Part # |
| --- | --- |
| Warn Vantage Winch And Mount Combo | 80371 |
| Warn Vantage Winch And Mount Combo | 95740 |
| Warn Vantage Winch And Mount Combo | 80540 |
| Warn Vantage Winch And Mount Combo | N/A |
| Warn Vantage Winch And Mount Combo | 71881 |
| Warn Vantage Winch And Mount Combo | 74186 |
| Warn Vantage Winch And Mount Combo | 68366 |
| Warn Vantage Winch And Mount Combo | 37812 |
| Warn Vantage Winch And Mount Combo | 84705 / 74180 |
| Warn Vantage Winch And Mount Combo | 74496 |
| Warn Vantage Winch And Mount Combo | 60170 |
| Warn Vantage Winch And Mount Combo | 70326 |
| Warn Vantage Winch And Mount Combo | 60174 |
| Warn Vantage Winch And Mount Combo | 60272 |
| Warn Vantage Winch And Mount Combo | 39555 |
| Warn Vantage Winch And Mount Combo | 35274 |
| Warn Vantage Winch And Mount Combo | 63799 |
| Warn Vantage Winch And Mount Combo | 80368 |
| Warn Vantage Winch And Mount Combo | 63796 |
| Warn Vantage Winch And Mount Combo | 70830 |
| Warn Vantage Winch And Mount Combo | 63801 |
| Warn Vantage Winch And Mount Combo | 70825 |
| Warn Vantage Winch And Mount Combo | 63945 |
| Warn Vantage Winch And Mount Combo | 76192 |
| Warn Vantage Winch And Mount Combo | 84706 / 65160 |
| Warn Vantage Winch And Mount Combo | 84704 / 75660 |
| Warn Vantage Winch And Mount Combo | 63811 |
| Warn Vantage Winch And Mount Combo | 80586 |
| Warn Vantage Winch And Mount Combo | 65098 |
| Warn Vantage Winch And Mount Combo | 62840 |
| Warn Vantage Winch And Mount Combo | 68852 |
| Warn Vantage Winch And Mount Combo | 73680 |
| Warn Vantage Winch And Mount Combo | 70207 |
| Warn Vantage Winch And Mount Combo | 80335 |
| Warn Vantage Winch And Mount Combo | 94510 |
| Warn Vantage Winch And Mount Combo | 81340 |
| Warn Vantage Winch And Mount Combo | 93730 |
| Warn Vantage Winch And Mount Combo | 39308 |
| Warn Vantage Winch And Mount Combo | 92450 |
| Warn Vantage Winch And Mount Combo | 28876 |
| Warn Vantage Winch And Mount Combo | 30476 |
| Warn Vantage Winch And Mount Combo | 92145 |
| Warn Vantage Winch And Mount Combo | 92332 |
| Warn Vantage Winch And Mount Combo | 84155 |
| Warn Vantage Winch And Mount Combo | 85104 |
| Warn Vantage Winch And Mount Combo | 83408 |
| Warn Vantage Winch And Mount Combo | 83870 |
| Warn Vantage Winch And Mount Combo | 83405 |
| Warn Vantage Winch And Mount Combo | 83130 |
| Warn Vantage Winch And Mount Combo | 34901 |
| Warn Vantage Winch And Mount Combo | 93924 |
| Warn Vantage Winch And Mount Combo | 85810 |
| Warn Vantage Winch And Mount Combo | 95350 |
| Warn Vantage Winch And Mount Combo | 87180 |
| Warn Vantage Winch And Mount Combo | 92158 |
| Warn Vantage Winch And Mount Combo | 87714 |
| Warn Vantage Winch And Mount Combo | 91640 |
| Warn Vantage Winch And Mount Combo | 87987 |
| Warn Vantage Winch And Mount Combo | 28880 |
| Warn Vantage Winch And Mount Combo | 88449 |
| Warn Vantage Winch And Mount Combo | 35048 |
| Warn Vantage Winch And Mount Combo | 89050 |
| Warn Vantage Winch And Mount Combo | 39439 |
| Warn Vantage Winch And Mount Combo | 89535 |
| Warn Vantage Winch And Mount Combo | 93414 |
| Warn Vantage Winch And Mount Combo | 90459 |
| Warn Vantage Winch And Mount Combo | 93790 |
| Warn Vantage Winch And Mount Combo | 90930 |
Winch
| Product Variant | Manufacturer Part # |
| --- | --- |
| Warn Vantage Winch And Mount Combo | 89040 |
| Warn Vantage Winch And Mount Combo | 89020 |
| Warn Vantage Winch And Mount Combo | 89021 |
| Warn Vantage Winch And Mount Combo | 89041 |
Find More